Three weeks back, I slogged though mist, rain and fog to Tomales Point at Point Reyes National Seashore. I saw all there was to see, provided it was less than a hundred feet into the fog. I knew a return trip — when the sun was out — would be required. I made that trip on Sunday.
Near the trailhead; it's 4.75 miles to the point over gentle rolling hills. A Goldilocks hike, not too hard, not too easy. Just one caution: the trail is extremely sandy, so you might want to wear your hiking sandals.
The trail has an inland waterway to the east (here), and the Pacific Ocean to the west. None of this was even visible when I was here before. Though I could hear the ocean.
One of at least two herds of elk that live on this narrow strip of land.
Large bull elk poses for a pic.
More entries for the Cool Trees file. These look like they were transplanted from the plains of Africa.
The trail is all sand from here to the point.
Giant cliffs at near the point. The trail goes right up to the edge; watch your step.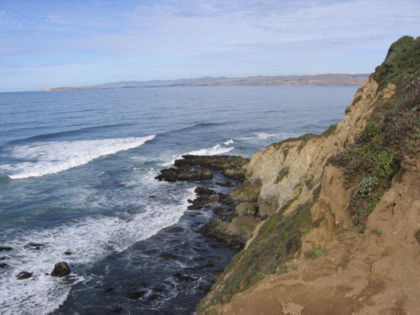 That little black rock is the end of the point.
The ocean pounds the point from multiple angles. One of the prettiest places on earth (though there's a hundred just as spectacular up and down the coast).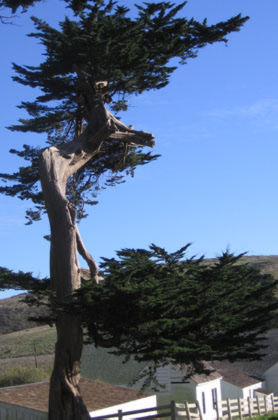 Yet another for the Cool Trees file.
This is one of those hikes that doesn't need a lot of description — the trail's basic and easy, though sandy. There's ocean waves pounding in the distance, the occasional elk, water on both sides. It's pretty amazing when it's fogged in, but on a sunny day it's close to mind-blowing.