Somewhere during a punishing climb at Henry Coe State Park over the weekend, I thought about bowling balls. Namely, how glad I was not to be carrying any.
I grew about a mile from a bowling alley, so I remember a lot about bowling balls: A standard-weight adult ball is 16 pounds. If you've held one in your hands, you know exactly what 16 pounds feels like. And now that you've got the mental image in your head, picture carrying a bowling ball through 10 miles of hills, forests and streams, camping out for a night and carrying it back to where you came from.
I know, madness. Why carry 16 pounds you'll never need? Oddly enough, lots of people who are into backpacking are carrying a bowling ball's worth of too-heavy or unnecessary gear. Why don't they get rid of it? Well, it's not like you can stick three fingers into your pack and pluck out sixteen pounds of excess weight. It takes a lot of thought, ingenuity and willingness to sacrifice certain comforts to gain certain rewards. You can learn this all on your own, or you can take a class, which is what I did early in April.
The best classroom for lightweight backpacking is the trail. With that in mind, Steve from the Sierra Club set up his shave-the-pounds class in two parts: a weekend in a classroom (check out my write-up), and a weekend in the outdoors, which was this past Saturday and Sunday.
To drive home the point of how much going light changes everything about backpacking, Steve chose Henry Coe, home of the most death-march trails within easy driving distance of San Jose. After a 20-plus-mile weekend on those hills, it's clear to me that a 20-pound pack cannot ease the strain of hiking a gravel road straight up a hillside for a mile or so. I always go to Coe I thinking I've climbed the steepest hill in the park, till I hike someplace new and realize I was mistaken. So it was reassuring to tell myself: Thank God I left the bowling ball at home.
Seven guys from Steve's class met at Henry Coe headquarters early Saturday. The first order of business is the weigh-in.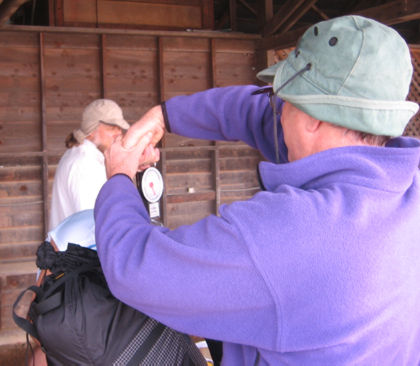 Bart's got about 20 pounds in his overnight bag. Mine had 23, which seemed odd, because the last time I checked, I had 21, but I realized that at the last minute I had thrown in my bivy bag (10 ounces), park map, wallet, and car keys and lord knows what else. Instant extra two pounds. Alas. Our group's packs ranged from high teens to the low thirties.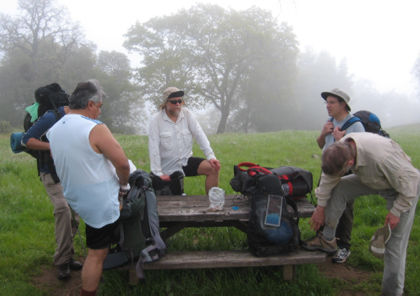 Steve, center, prepares us for his lesson plan. We're only a couple miles down the trail and it's been all downhill, so we've hardly worked up a sweat.
At Poverty Flat, Steve conducts a tarp hanging seminar. Lowell, left, prepares to stake out a corner.
Steve's tarp doubles as a poncho. Not much room under there, and not much protection from bugs in the ground or in the air. But his shelter, stakes and ground cloth weigh about a pound, max, compared to four or five pounds for typical backpacking tent. In mild, non-buggy weather with no rain in the forecast, all you really need is something to keep the wind out of your face while you sleep.
Julio, right, and Lowell marching up one of Coe's oh-so-fun hills. Julio lost 130 pounds by hiking, backpacking and getting his diet together.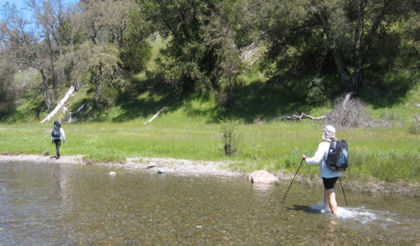 Hiking through a stream on the way to one of the more remote corners of the park. Steve, right, has everything he needs in that little pack of his. One way to cut a lot of pack weight is to go with a frameless pack, which can weigh less than a pound. Packs with frames weigh more but tend to be a bit more comfortable. You wouldn't want to carry much more than 20 pounds in a frameless pack.
These flowers have nothing to do with backpacking.
Hector had the heaviest pack at about 32 pounds, but he's used to carrying upwards of 50 so he was still thankful for the advice on shaving excess weight.
Another stream crossing. Steve guided us to a remote corner of the park that was probably five miles from the nearest campers. A light load lets you walk a lot further, so you can get to places you'd never reach carrying conventional weight.
Another awesome dead tree.
Getting ready to stop for dinner, Steve ponders how many more miles we might get in before bedding down for the night. We emulate the style of long-distance hikers, who break for dinner and hike on for a few miles so the smell of their food doesn't accompany them into their campsites.
Nice backdrop for a dinner break.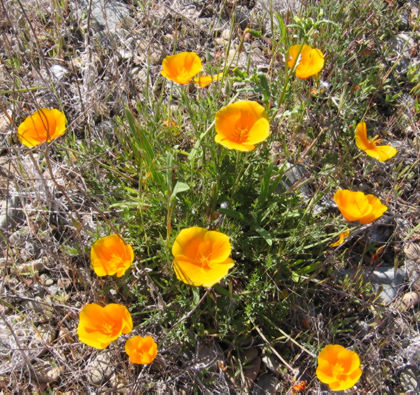 Poppies are popping out all over. Just give 'em some sun and they go crazy.
Steve's plan for an after-dinner hike: Straight up another astonishingly steep hill. The setting sun gave the hills an amazing glow.
We camped out on a grassy glade; this is my tarp, which was a big snug for my taste. But it weighs only half a pound. Fog filled the valley overnight and ensured everything was coated with dew, including my camera's lens. I slept on a bumpy bit of earth but was able to contort myself into a reasonably comfortable position and get a decent night's sleep. The ground was by no means flat, but it was soft, unlike you're average hard-packed, developed campsite. This meant I could leave my full-length ThermaRest at home and use a light insulating pad that weighed a pound less.
Breakfast is about a half-mile down the trail, after we've broken camp. We pack up all our gear wet because we're going to take a long lunch break and dry everything out during the warmest part of the day. Otherwise we'd just sit in camp for hours till the sun got high enough in the sky. May as well be hiking during the wait.
I'm not saying going light will guarantee you'll see such fine scenery. But it's something to aspire to. Thing is, with 40 or 50 pounds on your back, your hiking day is done after six or eight miles. With half the weight you can go twice as far, doubling your scenery intake.
Why is Fred smiling? Last stream crossing of the day! Little did he suspect the hellacious hill he was about to begin climbing. Fred stuffed all his gear into a day pack borrowed from his wife; he slept under a big sheet of plastic — not durable but very cheap. His camp stove was made from an aluminum soft-drink can. He told me he did buy some gear, but the fact that he didn't have to buy a new pack, stove or shelter suggests you don't need to go broke converting to a lightweight style.
Near the top of Middle Ridge. Henry Coe is lovely when it's green. There are no easy ways to get here, but there are lighter ways.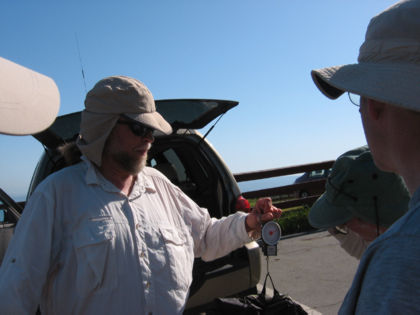 Back at the headquarters, everybody has one more weigh-in.
The guys came home pretty much sold on the idea of shedding excess weight. We walked about 11 miles on Saturday and didn't have that beaten-down feeling you get from hauling a lot of weight over a long distance. Sunday was mostly uphill back to Coe Headquarters and we slogged up some seriously steep trails that would've been downright treacherous if we'd have been carrying big loads. I huffed and cursed my way up them, relieved that if somebody was carrying bowling balls through Henry Coe State Park, at least it wasn't me.