It's about 2 in the morning and I'm staring into the black nylon of my sleeping bag. I should be staring out the little hole that makes this a "mummy-style" bag, but my twisting and turning has entered the Olympic realm and by now I've got the bag completely reversed — which is nice in that no cold air is coming in and it's pitch dark, which prevents a shimmering half-moon from keeping me up all night. As I'm trying to drift back to sleep, though, I keep hearing this light scratching sound which immediately convinces me critters are trying to get inside my tent.
Later I realize it's neither mouse nor marmot no black bear doing the scratching: It's the sound of my eyelashes brushing against the sleeping bag fabric. I wish I could say this helped me rest easy, but easy rest just doesn't happen when I attempt to sleep on the ground. Tortured, paranoid, back-wrenching rest, I get a lot of that. Anyway, resting easy is for sissies and besides, you'll never see the rising sun make a rocky mountainside glow if you're snoozing away in restful dreamland.
The scene of my latest sleeping-in-the-woods experiment was Emigrant Wilderness, which is just north of Yosemite National Park in the Sierra Nevada range. Rebecca from the North_CA Hiking discussion group asked if anybody was interested in an overnighter in this place called Y Meadow Lake and I was the first volunteer. My calculation was that even if they were looking askance at taking a rookie backpacker into the Sierra, they couldn't resist the prospect of somebody else doing the driving. So I pressed my new Honda Element (newly redubbed the Hiker Hauler) into service with Rebecca, her husband David and Steve, who rounded out our foursome.
Getting our gear together at the Gianelli Cabin trailhead, the terminus of six miles of gravel national forest road. The road's in fairly good condition as long as you go slow over the bumps.
David answers the urge to capture some of the scenic splendor from near Burst Rock at the top of the first hill. Our route to Y Meadow took us over three ridges ridges with about 1500 feet of elevation gain over six miles. All of it was over 8500 feet, which made the hike feel more like 12 miles to me. I spent most of the time protecting our group from mountain lion attacks by bringing up the rear.
Steve is trying out a LuxuryLite pack, which has the twin advantages of being extremely light and causing passersby to stare in confused wonder. The pack's inventor cleverly devised a method to distribute weight more equitably by strapping a pod to the front, which from a certain angle makes its wearer look like he might have a promising future in the adult films industry. (We cautioned Steve to keep an eye out for amorous female bears.)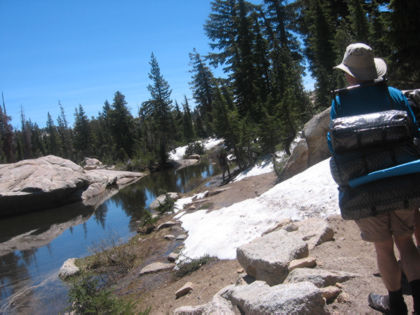 We passed dozens of snow patches along the way.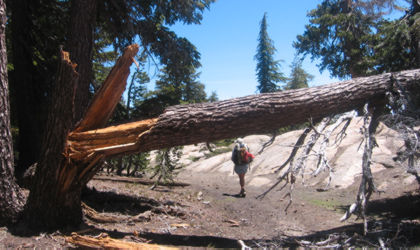 Rebecca passes beyond a broken tree.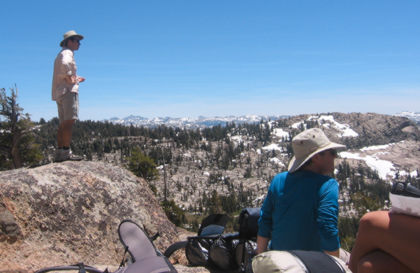 Lunch break atop hill No. 2. The High Sierra is splayed out under a cloudless blue sky. I'm not sure what could have improved on such a scene, though a cold beer would've been nice.
We slogged to the top of another ridge and then picked our way down a rocky trail to the Y Meadow trail, which had quite a bit of snow melting into it in a few spots.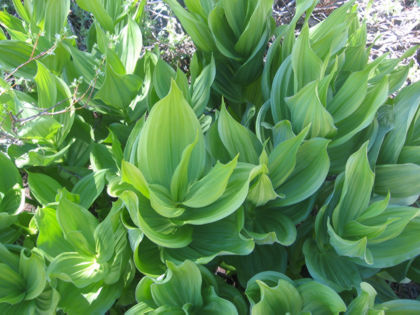 Saw this amazing green plant along the way.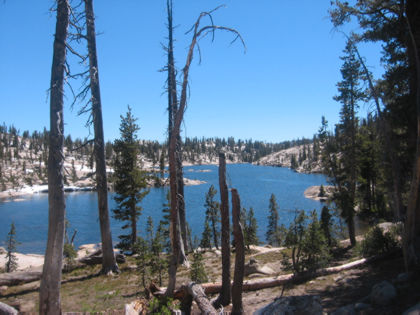 First sight of Y Meadow Lake, with rocky slopes coming up on opposite sides. There's a dam at the far end.
We camped along the lake. Rebecca is perhaps reflecting on having had the smarts to marry a guy who loves to build camp fires.
David tells Steve, "Man, you look smashing in a bug net." Yes, there were lots of hungry mosquitoes, many of whom seemed to have a particular taste for Steve, who was swatting them whenever he sat still for more than five seconds.
David admires his creation. After hiking six miles at warp speed, he settled in for the serious business of finding dead trees and chopping them into burnable bits with a very large knife that would do Crocodile Dundee proud . David is unfailingly upbeat and cheerful, which are nice qualities to have in a guy who counts knife collecting among his varied interests.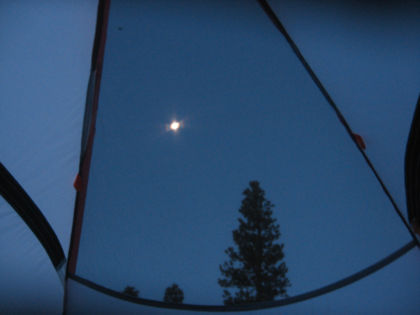 I'm up at 5 the next morning, with a half-moon shining through my tent's mesh.
Y Lake is icy calm as the sun warms the hillside in the distance.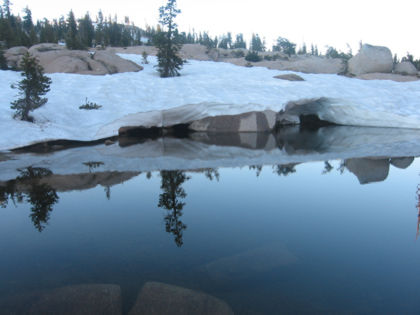 A snow field empties onto the lake.
Another of those "only at sunrise" scenes.
Not long after we were all out of our sleeping bags, the mosquitos attacked in fresh waves, so we got back on the trail as soon as possible.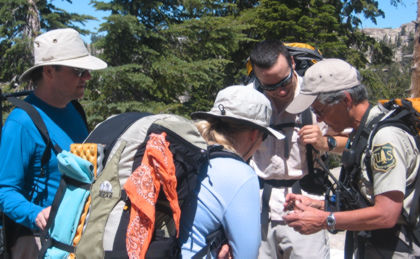 Consulting with a forest ranger about, well, something.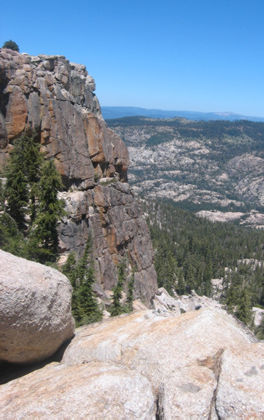 Another look at Burst Rock on the way back to the trailhead.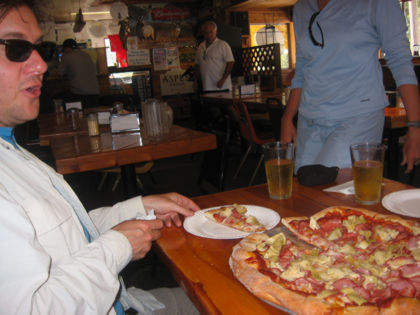 Steve extols the virtues of post-hike pizza.
If you're interested in trying out this hike, see this page by a guy who hiked there in seasons past.
Rebecca's pictures are here.
Steve's pictures are here.