I had some exploring at Hanging Rock State Park in mind — the goal was to park at a remote trailhead and trek over to the Moore's Wall Loop, which has an excellent view of Hanging Rock from the next hill over. Never got there; never came close. Well, I was within the park boundaries; except when I wasn't.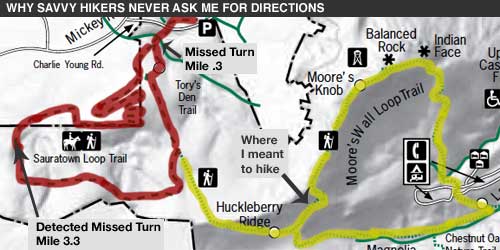 I started out at the Tory's Den trailhead, where my last hike here ended a couple weeks back, glanced at the big map on the signboard and figured the trail markers would do the rest. It was a glorious morning to be hiking, and glorious woods to be walking in: dashes of fall color, empty trails, nothing but breezes, bird songs and one noisy squirrel blasting his way from tree to tree.
Perfect conditions to send a hiker way, way in the wrong direction if he misses his left turn at Mile .3. I was three miles deep into the forest before it occurred to me to consult the map for my next turn. I walked on a bit more and thought this'd be a great time to try some GPS navigation for the first time. First thing I notice: I'm due southing when I want to be southeasting. Then I pan out on the view of my GPS track, compare it to my map and realize: crap, I'm totally on the Sauratown Loop Trail; if I stick to my original plan it's a good five miles to the bottom of Moore's Wall and another four miles after that, then four miles back to the car. Talk about a bliss kill.
Because I'm not Fedak, I do not glory at the prospect of an extra five miles with a thousand feet of climb, so I formulate a new plan: follow the orange blazes, hope my GPS batteries last and pray that I haven't actually strayed onto the main Sauratown Trail — which connects Hanging Rock to Pilot Mountain State Park and goes even further out of my way.
I had to sweat a mile and a half of fretting over the worst-case scenario — that I was truly, deeply lost — vs. the merely annoying scenario, that of retracing all my steps if the right trail didn't show up soon.
The trail did turn up, and from there it was about a mile and half of easy walking back to the car. I'm actually thankful for the wrong turn now, because it gave me a story to tell. The Sauratown Loop is about six miles with lots of up-and-down. It's a fine walk (provided you dodge the horse poop — it's a shared trail) that's long on solitude but short on visual splendor.
I took a few pictures, but knock-your-socks-off photo-ops weren't happening.
See, it's an Eastern deciduous forest in early October — about what you'd expect this far south.
I did like the way my flash lit up this stump.
Not sure what was holding this termite-bitten tree vertical. Looks like horses and deer had scratched off about half of it.
One little vista, the only one on the route.
I love the way these signs always seem to be pointing in the only available direction.
Another sign on the trees.
See, it is a pretty trail. Quite a bit of climbing in some places; my GPS tracked over 1000 feet of ascent over the course of six miles.
I think the Blair Witch put this sign up.
Finally, the trail sign I was looking for, revealing I had walked an extra three miles to reach this point. I head back, scouting for my missed turn.
Here it is: the sign assumes all the hikers and equestrians will be coming from the opposite direction. I walked right past it, missed my left turn and barreled on into oblivion. But it was good kind of oblivion.
Related links:
Google map of the trailhead.

View Tory's Den Trail Head, Hanging Rock State Park in a larger map