I started out Christmas Eve morning at the foot of Mission Peak and ended
it in a lighthouse in the San Francisco Bay.
It was a 24-hour vacation, which might strike some folks as overly abbreviated
but hey, these days we take our vacations where we can find 'em.
In occurred to me Saturday morning that I had climbed Mission Peak dozens of
times since the last time I snapped any pictures up there, so I took my camera
along this time in case something interesting happened. The hike was much like
all the rest I've done there — Mission Peak isn't really a hike, it's a a hill
climb. You huff, puff and sweat your way to the top, then casually coast downhill
to the bottom (A hike is something bigger, more complex, less brutal.) But I
did find a few good frames.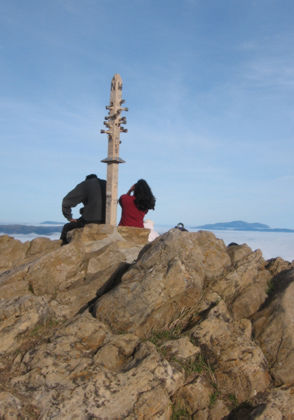 I got to the top before I took any pictures (I was trying to see I could improve
on previous times; I couldn't). The pole with the eyepieces must be shot to
prove you were up there. We had a nice carpet of white cloud layer to dress
up the surroundings. That's Mount Diablo way off in the background to the right.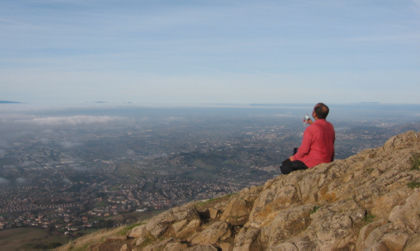 The summit looks out over the sprawl that is Fremont. It looks comparatively
beautiful up here.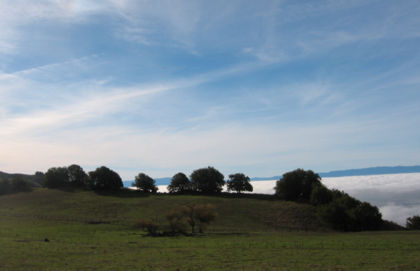 You'll notice the greening of the hillsides. In the Bay Area, we don't really
have winter — we have a really, really long spring that starts in November
and lasts till April.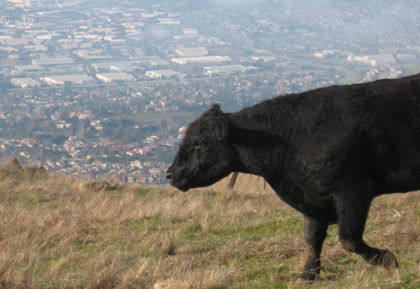 Some of the ubiquitous Mission Peak cattle were a bit testy. This large Angus
bull was walking along near the trail, making these loud grunting noises. Earlier
on the way up I had to intimidate rather large cow to get her to back off. She
seemed to be wanting to challenge me for coming between her and a stretch of
fresh green grass. I yelled "HEY, GET BACK" really loud and this seemed
to remind her that the proper role of a cow in the universe is to be cowed.
She backed off.
A nice view of the summit. It's always nice on the way back down.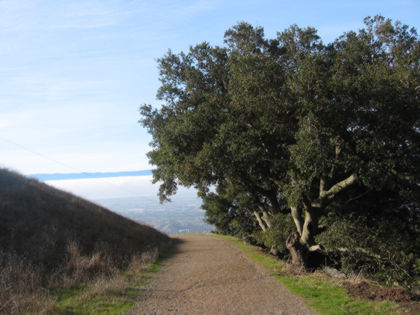 I've passed this point countless times but for some reason it felt like it
need to be photographed this time.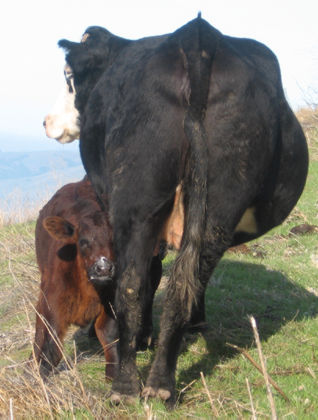 So later down the trail there were cows and calves all over the place. I noticed
this mama had a calf nursing, so I sidled around behind her and waited for the
little guy to do something cute. Well, he looked right at me with that "Got
Milk?" gape of his and made the whole morning even more worthwhile.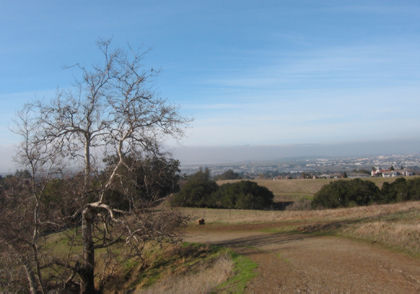 Almost neglected the required tree picture. I believe this one is merely dormant
vs. actually dead; sorry to disappoint.
One last look at the peak. It seems a million miles away till you've climbed
it a few times.
On to the Lighthouse
I got back home, got cleaned up and got ready for another adventure: a night
at the East Brother Light Station in San
Francisco Bay. Melissa heard about this place on TV last fall and decided that
instead of lavishing gifts on each other for Christmas, we oughta just rent
a room here for the night on Christmas Eve. Well, it was $320 a night, the most
I've ever shelled out for a one-night stay, but worth every penny.
Only way to get to the light station is by boat — an open motor launch. The
skipper picks up the guests outside a cafe at the San Pablo Yacht Harbor, which
has seen better days but has very picturesque views of decaying pickup trucks
and rusty auto parts.
The parking lot was full of mud, and the first creature to greet us was a thick-furred,
grouchy old cur. Melissa adores dogs but she's known enough hard cases over
the years to see that this guy was not to be trifled with. He answered her sweet
talk with a low growl. We kept our distance.
The cafe has four more tough-looking canines on the roof. Word has it this
old marina was run rampant with druggies, criminals and other examples of human
scum but some former Special Forces guy moved in, started adopting these hard-luck
dogs and eventually ran off all the troublemakers. They dogs were accustomed
to having people around so they didin't give us any grief, but I wouldn't provoke
any of them.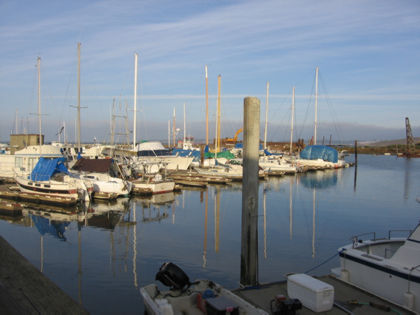 This is about the prettiest picture of the marina I could come up with. Many
of the boats compare favorably to the S.S. Minnow of Gilligan's Island fame.
The hardscrabble aura of the place must be a taste of adventure travel for the
the light station's upper-middle-class clientele.
Elan is our skipper. He and smiling young woman named Katie are the innkeepers,
hired by the company that refurbished the light station and installed a Bed
& Breakfast. His boat looks to be an aluminum-hulled launch that might've
been used by the Navy to ferry admirals to their flagships. It's small but rides
the waves pretty smoothly. It's a wonderful ride in good weather. Less so when
it rains.
The station is on that island over there to the right.
Elan parks the boat next to this ladder; which we climb to get to the station.
Katie, right, and her sister await our arrival.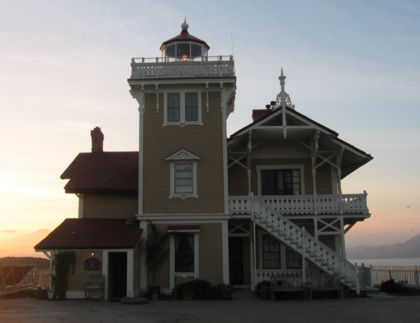 Here's the old light station. There's a working light rotating in that cupola
at the top of the old building.
This big tank is a cistern holding all the island's drinking water, which is
supplied by the rain.
A view of the grounds from the light tower. Those big red things jutting up
on the roof of that building are fog horns. They are loud enough to wake the
dead.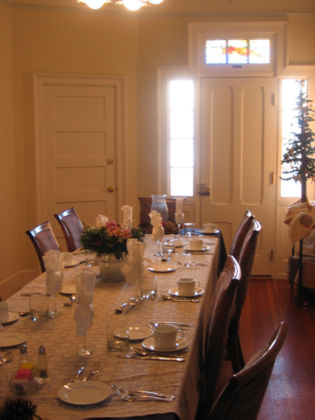 The dinner table awaits the guests. Six of us stay here for the night.
A Christmas tree, of course.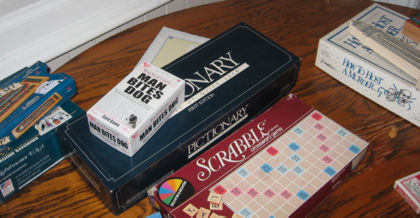 Games for the guests. I took this one because of "Man Bites Dog,"
some kind of "headline" game.
The setting sun puts on quite a show.
I took this without a tripod — how's that for holding still for one-eighth
of a second?
Our room, where we awoke to find the island fogged in.
Katie shares happy regards as we depart.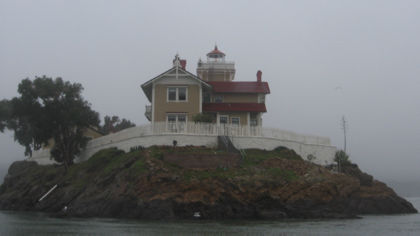 One last look at the island. There's something to be said for a gray Christmas
(like perhaps, "sure am glad I brought my raincoat along").