So I'm minding my own business, surfing the Web like I do every morning, and
I look out the window and lo, out the window it's snowing to beat hell out there.
I didn't take 5,000-plus digital photos in the past two years for naught: I
knew that this early in the morning my digicam's automatic flash would produce
some interested effects reflecting off the falling snow. So here are this morning's
experiments: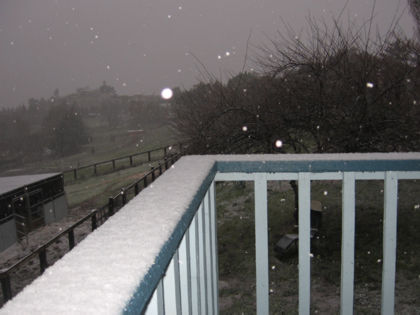 Large flakes become large blobs when the flash hits 'em.
This is what they call a dusting. Somewhere in the high Sierra it looks just
like this except there's 14 feet of snow on top of everything.
"Ice scraper? Why the hell would I need an ice scraper in California?"