San Jose has been rainer than Seattle for the past month, which motivated me
to stay out of the mud for a weekend and do something besides hiking for a change.
Melissa was in the mood for a road trip, so we threw some snacks in the car
and got out of town, though not very far away.
I wanted to show Melissa the very cool walk-in campsites at Big Basin Redwoods
State Park, which is one of the premier camping/hiking/big-tree-gaping sites
in the South Bay. When we got there we found that all the campsites were closed
and gated, but the visit wasn't a total loss.
For one thing, the rains produced a gusher at Sempervirens Fall, which is along
the road to the campgrounds I was scouting.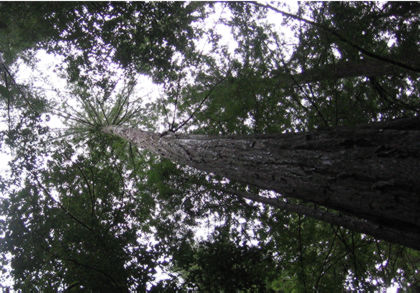 As usual, the tree canopy was fascinating. And really, really tall. Redwood
forests are utterly amazing. And nice to have right down the road.
Big Basin offers one stop on the Skyline-to-the-Sea Trail, which goes from
Castle Rock State Park to Waddell Beach on the coast. The trail is popular with
backpackers — one of those must-do-expeditions that, in keeping with the work-mad
people of Silicon Valley, can be thru-hiked in three days.
From the park we headed down to the coast to check out Waddell Beach.
Cool patterns in the sand.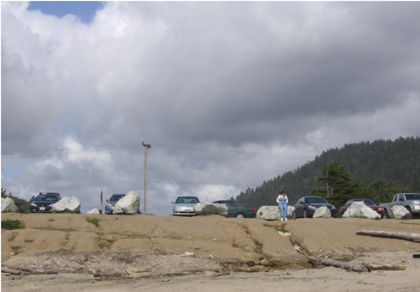 Looking back toward the coastline.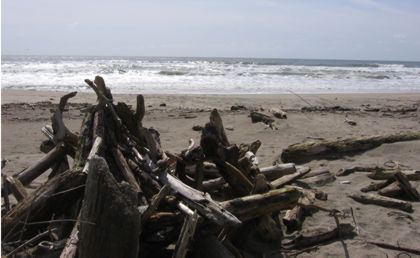 Driftwood tossed together in a makeshift shelter. I'm told the surfers hang
out in these things till the waves get big enough to ride.
What did humans ever do to deserve such swell scenery?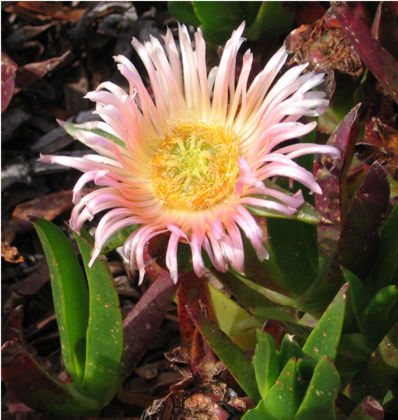 Ice plant in bloom.
Them's the highlights, folks. No hiking next weekend, either; I'm taking a
course on lightweight backpacking that lasts all day Saturday and Sunday. But
maybe by then the monsoon season will start to recede. As soon as that happens,
the wildflowers will go ga-ga, so look for good stuff in the last few weeks
of April.