Back to the dirt paths this week. I tempted fate and revisited Henry Coe State Park almost a year to the day after an ill-advised trek up the steepest trail in the park under a blazing, north of 95-degree sun.
All the advice on Henry Coe in late August is the same: stay home, it's too damned hot. But this time we'd had a week of mucho-pleasant weather in the Bay Area so I figured it might be fun to visit the furnace when the heat's turned down.
See that layer of fog off in the distance? It's making for a nice, almost nippy morning for folks in the South Bay flatlands. I got out of the clouds and noticed: wow, it's hot up here. Well, upper-80s hot, but it was only 8:30 in the morning. I'm going to stop talking about the weather any minute now.
Note the only-in-California blue sky. I didn't see a cloud all day. Back in town there's a haze over the whole valley that washes out the blue but out here at Henry Coe, the skies are perfect.
If you find yourself in Henry Coe on a summer day and are intent on putting in some miles and avoiding a character-building heat stroke, there should be only two thoughts on your mind: where's the water, and can I splash through it? Fortunately there's still some water in the Coyote Creek.
I was standing in the creek about knee-deep when I took this picture.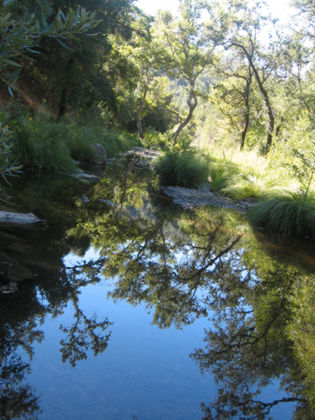 The old adage about not stepping in water if you can't see the bottom applies here. I got in about crotch-deep in a few places. This is in a stretch of Coyote Creek between Poverty Flat and China Hole. There's a trail up on the hillside that's fairly treacherous in places and allows zero splashing around, so I avoided it and just hiked in the creekbed. Well, bumbled around the creekbed, actually.
A few wildflowers can take the heat.
This is my destination: The Narrows. This is another fork of the Coyote Creek that's mostly dry creekbed except for water pooling in a few deep spots. I'm hoping to get some nice pictures of all these cool rock formations.
It's interesting — and aggravating — how much harder it is to take good pictures of rocks, vs. good pictures of trees. Maybe humans just have more of an affinity for living things, so the trees just look better.
I hiked up the Narrows to a place called Los Cruzeros and turned back. It's a few hundred yards over my shoulder from here.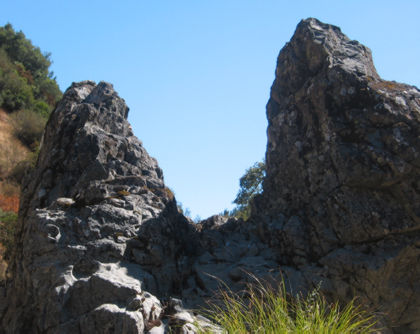 Now this is narrow.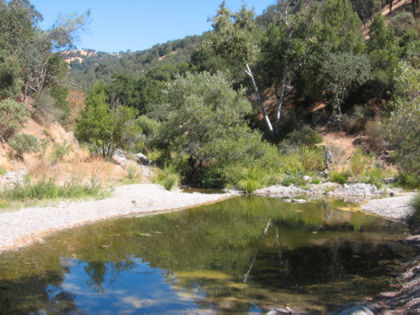 The year-round pool at China Hole (so named because this is a popular swimming hole, though I have no idea what China has to do with it.)
So at this point I've hiked about seven miles and it's another five back to the park headquarters (all uphill, naturally). There is no way home without suffering, so the choice of return routes comes down to which one sucks the least. The options:
Slog back through the creek to Poverty Flat and take Hobbs Road. This saves you three-tenths of a mile and obliges you to hike up one of the meanest, nastiest roads in the park. I avoid this route at all cost (though I did see a bobcat on this trail one time). At Poverty Flat, you could opt for the Cougar Trail, which is shaded but even steeper.
Take the China Hole Trail, which is amply switch-backed, but exposed to the sun for much of the way.
Take the Madrone Soda Springs Trail, which is almost all shaded and has a spring-fed creek that trickles all year (nice place to filter some water if you've run low).
I took the third option and enjoyed a nice, mildly rising hike through a little canyon.
Had lunch next to this broken-down building.
Hiked up a little ways to a sign that said Manzanita Point was a mile distant. There's about 900 feet of climb in this mile, so it's a beast in hot weather. But at Henry Coe, any hill that flattens out in only a mile after less than 1,000 feet of climbing hardly qualifies as a hill at all.
After the mean hill it was a few more miles of merely annoying hills and then back to the park HQ.
My takeaway on this hike was the realization that Coe can be hiked in the depth of summer without succumbing to heat exhaustion, provided you:
Know where the water is. Coe has many year-round springs, many ponds and a few lakes.
Stay out of the direct sun as much as possible — take the single-track trails through the wooded hillsides and stay off the main roads.
Bring twice as much water as you think you'll actually need.
Check the weather forecast for Morgan Hill; if the high is north of 95 you'll probably want to find someplace cooler. Today's high was about 90 or so, but it was noticeably cooler in the shade.
Is it worth all that trouble? Well, unlike most of Bay Area hiking locales, at Coe you can't see any cities, you won't see many people, you won't hear roaring motorcycles, you won't hear gun clubs, and you will see sky (and breathe air) unsullied by all of them.
Yeah, it's worth it.