My work as a B2B technology content marketing writer has taken me far afield from the assignments I was doing back in 2013, when I was just getting warmed up as an independent content guy.
The best way to see what I'm doing professionally these days is to visit these pages at Verb Nerd Industries:
This is the old stuff, if you're curious
You need a writer who can envision the lives of your readers and imagine what they need to be told — in clear, concise, conversational language that matches the tone and voice of your publication, whether it's a website, magazine or content-marketing project.
What I can write for you
Contently profile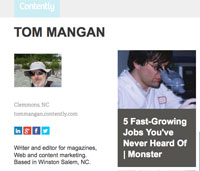 See links to my work at
Contently.com
Articles for magazines and websites.
Ghost-written articles for magazines, business blogs and content marketing.
Promotional website copy.
White papers.
eBooks.
Case studies.
Press releases.
Small-business profiles.
How-to tutorials.
Smartphone app copy.
What I've written about
Jobs and careers.
Higher education.
Business-class two-way radios.
Voice-over-IP (VoIP) systems for small to medium-size businesses.
Content marketing.
Business process outsourcing.
Hiking and outdoor adventures.
Niche home-based businesses.
See my Portfolio for samples.
Bonus: How I enticed hundreds of thousands of people to read about a topic that's as dull as dirt.
What I do:
Editor | Clients | Resume | Rates | Portfolio