I promised a tryout of my new Canon A-70 digital camera. Yesterday I took it
on the road to a place I've been meaning to go for years now: The Blackhawk
Automotive Museum in Danville, a town about 10 miles north of Dublin.
The musem has about 90 cars in it. Most are either racers or playthings of
the rich and famous. Nevertheless they are wonderful examples of style, design
and mechanical prowess.
All of these photos were taken without a flash using existing light. The camera
shutter slowed down to 1/8 of a second to get enough light in. I'm impressed
at how nice these came out. I figured they'd all be fuzzy as hell because of
my unsteady hands, but the A-70 is pretty forgiving. And keep in mind this is
Canon's $300 consumer camera, not one of the expensive models for hardcore shutterbugs.
Simply no way an auto-focus/exposure point-and-shoot film camera would have
done this well with neither flash nor tripod. Interesting aside about the museum:
they let you take pictures but don't allow tripods. I suspect the darkened rooms
with overhead lighting hide a lot of the flaws in the cars, which are really
old and bound to show their age in the harsh light of day.

The foyer
Backlighting creates an interesting effect, and it's still in focus. What I
love about digital is how it allows rank amateurs to get cool shots that never
work on film without tons of tinkering with shutter and aperature settings.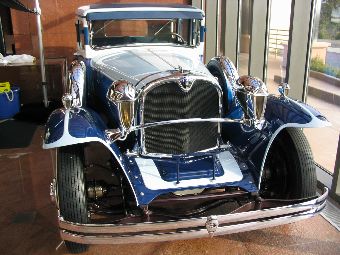 How about those headlights
A 1930 Ruxton with really wacky-looking headlights. It's sitting at the
entrance to the museum.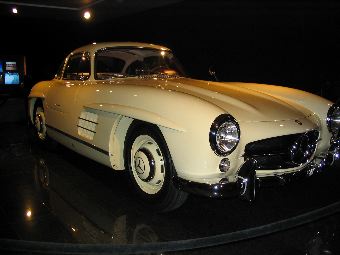 We got wings
1957 Mercedes, the famous gull-wing door model. I was tempted to ask the guys
who work at the museum if they'd open the doors so I could takea picture, but
I chickened out.

Tucker's dream car
1948 Tucker Torpedo, the star of "Tucker: A Man and his Dream."

French twist
1949 Delahaye, one of the great French-built cars of the Post War era.

Stutz deluxe
Stutz Bearcat, one of those most famous open roadsters of the early 20th
century.

Call it a woody
Yes, this car is coated entirely in wood. It's a 1924 Hispano-Suiza "Tulipwood
Torpedo."

Fat man's tires
This the front wheel of a mammoth beast of a sedan that belonged to early
movie star Fatty Arbuckle. It's a 1924 Pierce Arrow with 38-inch tires on
24-inch rims.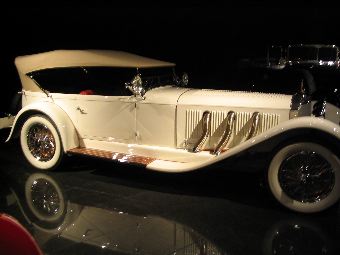 As white as it gets
This 1929 Mercedes-Benz touring car belonged to Al Jolson of Jazz Singer
fame. I heard the tour guide saying Jolson was obsessed with whiteness.

Strictly gangsta
I liked the way these clips held the spare tire in place. Gotta love the
classic Gangster White Wall.

You sure that's not a boat?
I forgot to note the maker of this fine machine, which was once owned by
Indian royalty, if memory serves. Note the back deck more aptly suited to
a speedboat.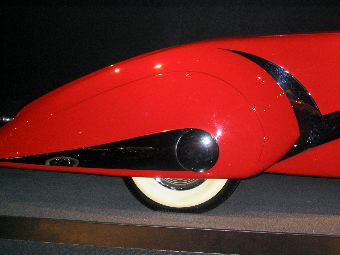 Before there were wings
Stylish rear fender of a dream car built on the frame of a 1937 Cadillac,
which came with a 454 cubic inch V-16 engine.

On the road
One of several bronze statues around the museum.

Outside the museum
The Blackhawk Museum from the front.

The neighborhood
The museum's in a scenic setting — a tony shopping center full of fancy
shops and expensive food.