The Goodguys Rod & Custom Association's 22nd All-American Get-together is happening this weekend at the Alameda
County Fairgrounds in Pleasanton, which is just down the road from us. Thousands
of people and cars show up at a massive car show/swap meet/flea market. These
are some highlights.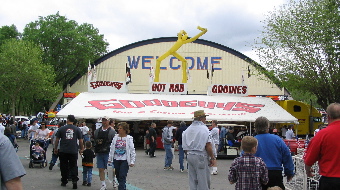 This wacky yellow inflated guy zig-zags about at the entrance to the show.
I was there Saturday, the first day.
This old Ford has a beautiful paint job — though you can't tell so much in
this photograph. I love the torpedo grille on this model.
My dad and I rebuilt a 1965 Ford Ranchero like this one. Ours wasn't quite
as slick but we had the satisfaction of knowing we'd built it ourselves.
In California, people will make a stretch limo out of anything, including a
'57 Chevy.
Some folks are prone to getting carried away with the Stars and Stripes.
The '55 Chevy Nomad was the coolest car ever manufactured in North America.
I strongly suspect this is not the factory paint job.
The grille makes this big ol' Buick look like somebody's crabby uncle.
A chopped-and-channeled '51 Mercury with exquisite custom paint. This body
style was immortalized in the movie "Rebel Without a Cause," though
James Dean drove a '49 Merc. My dad owned a snazzy '50 Merc that he gave to
his brother, who promptly wrecked it.
No word on whether Jack Nicholson posed for this paint job.
I'm pretty sure this is a 1940 Mercury; I just love that robin-egg-blue color.
Seems like it ought to have Humphrey Bogart and Lauren Bacall in the front seat.
There's something vaguely pornograhic about all these cars having their hoods
open and their engines wagging in the breeze — this classy Jaguar seems a bit
shamed by the experience.
Cadillac's tailfins got totally out of hand when the '59s came out. Which makes
this model the second-coolest ever built in North America.
Remember how Bob Seger talked about doing the nasty in the back seat of his
'60 Chevy? Well, this is the back seat of a '60 Chevy. It looks better without
fumbling teens practicing their Night Moves in it.
These dolls could well be possessed by the devil.
Think of "Time" by Pink Floyd. And ask yourself why the organizers
of these things think we all want to listen to classic rock over the intercom.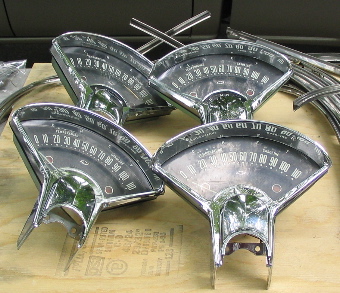 At least half the fun was checking out all the spare parts for sale, like these
speedometers.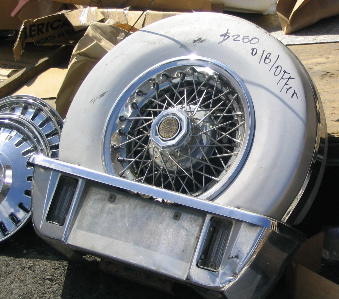 $250 or best offer buys you this swell Continental kit. You must supply your
own Continental. (NOTE THIS IS NOT FOR SALE TODAY — this event was in 2004).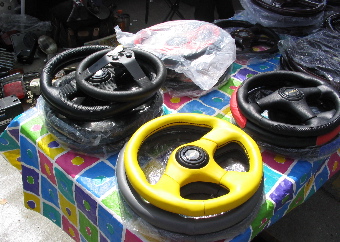 These are necessary because, you know, the car manufacturers have this strange
defect which causes them to install really sucky steering wheels.
At last, some collector cars that I can afford.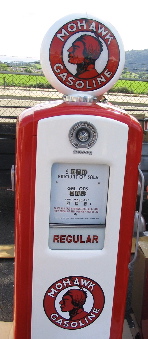 One guy was even selling these really snazzy antique gas pumps.