Got home last night; here are words and pictures from my five days of going to Hollywood, hanging around with a bunch of newspaper types, then heading back home.
Day One
The point of this adventure is to attend the annual convention of the American
Copy Editor Society (ACES for short), which has chosen Hollywood in the
hope that some of its glamour will rub off on our ink-stained profession.
I'm riding along with Craig, sports editor at the place
where I work, who's going to the convention to share tips on how to climb
the corporate ladder and earn the rich rewards of twice the workload, four times
the stress and and an extra $27.50 a week.
In his haste to prepare his presentation notes, he fails to intuit my preference
for a Lincoln Town Car for the 330-mile drive to Hollywood, and instead opts
to drive his Dodge pickup. I go along because it's, well, either ride in the
cab with Craig or in the bed with the luggage, and it's damn windy back there.
Upside is that Craig has brought along his awesome CD collection, so abundant
tunage makes up for lack of salon-length legroom. (Well, there is the small
matter of a free ride all the way there and back because the paper's covering
his mileage tab, but this is California, where gratitude is strictly
optional.)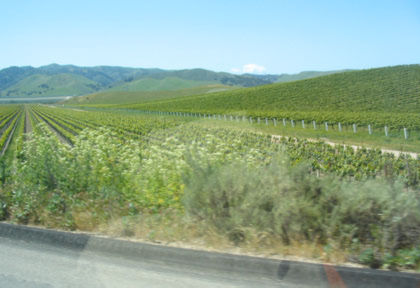 As a warm-up for Hollywood, we stop for lunch in the Santa Barbara wine country,
where the movie "Sideways"
was shot on location.
Lunch is in this Danish-themed village called Solvang
— a location so impossibly cute that the producers of "Sideways"
would've been obliged to create it if it hadn't already been there.
This mannequin server guy is too disturbing to see up close.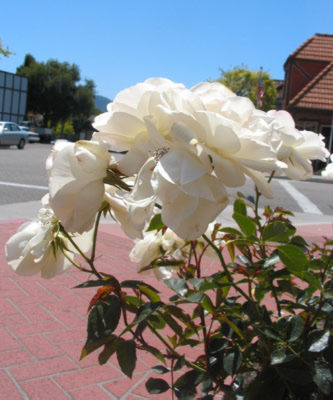 Nice flowers — I guess they have those in Denmark for the three weeks of the
year when it's above freezing.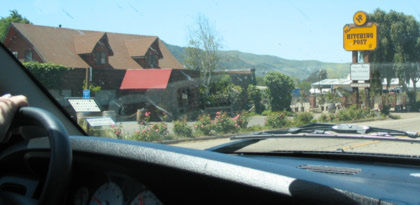 The Hitching Post, where the protagonist of "Sideways" reveals the
movie is not really about his love for wine, but his weakness for the bottle.
Back on the road — we're in Ventura County, where there's no escaping that
annoying "Ventura Highway" song from the '70s getting into one's head
and not going away.
Hollywood's so close we can smell it. Or maybe a cow has died nearby.
Somebody thought it'd be clever for this little sign to mimic the more famous
big one. An exciting career in newspaper page design awaits this deluded soul.
The famous sign is visible from my hotel room. That alone pretty much makes
the trip worthwhile. Hollywood teaches us to value things other than money,
because we'll be spending all we have to stay fed, keep in out of the weather
and still have some left over for the panhandlers and street hustlers.
The hotel is standard business-conference fare, but it's attached to a really,
really appalling "entertainment
complex" anchored by this entryway modeled on a set created for "Intolerance,"
the classic silent movie created by cinema pioneer D.W. Griffith.
I was told these things are scale models of the "Intolerance" sets,
which were actually much larger. When time travel is invented, the first priority
will be to revisit D.W. and beg him to reconsider.
Day Two
Eight hours that might've been constructively devoted to producing worthwhile
newspapers, magazines and news Web sites has been consumed with eight hours
of discussing how to produce worthwhile newspapers, magazines and news
Web sites. The joke is on us, though, because the seats in our offices are more
comfortable than the seats the conference hotel has provided. Our response to
such absurdity is to consume absurd quantities of beverages characterized by
flavors of distilled grains, fermented grapes and brewed barley malt.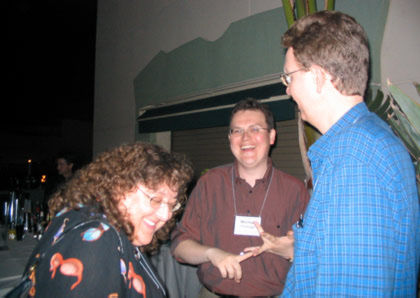 Linda, a former copy chief of mine, reacts to an assertion of Mike, center,
who's primary role in life is encouraging young minds to enter the news business.
Yes, he's as crazy as he looks. Linda and I met Mike at last year's ACES confab
in Houston, where the three of us (and a couple more brave souls) ran off to
see a stellar performance by an incomparable surf-rock combo called Southern
Culture on the Skids.
When I happened upon Mike he was next to his buddy Doug, another molder of
collegiate minds. Mike suggested three guys with glasses would look like
Russian nesting dolls; I had Linda take this picture to test his theory. I think
it holds, except that those dolls look funny and we, from the looks of this snapshot, merely illustrate the fine line between the sublime and the ridiculous.
Day Three
Today's highlight is one of my favorite things in this world: a lunch somebody
else is paying for. The locale is Mel's Diner, which is decorated with images
from "American Graffiti" because another Mel's location was used in
the movie.
Brian, left, yet another former copy chief of mine, taking a break from answering
the most burning question on the mind of Josh, my current copy chief, which
is: "what the hell do I do about Mangan?" To which Brian no doubt
answered: "Move to Kentucky."
Tonight's highlights are the banquet (cool, another meal I don't have to pay
for!) and the silent auction, in which curios are auctioned off to help defray
the costs of providing meals at conferences like these.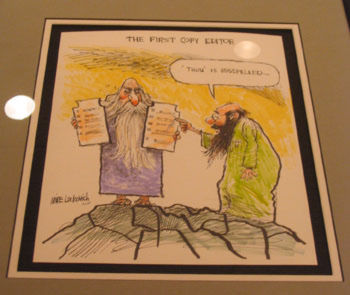 This one depicts the earliest known act of copy editing. The guy on the right's
saying "You Misspelled Thou."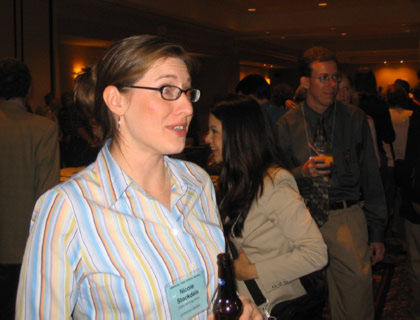 Nicole of Capital Idea fame approves
of the beverage selection.
Courtney is ready for her close-up. She's a former MercNews coconspirator who
now runs the copy desk up in Contra Costa County.
Mary Ellen is the one who recognized me before I recognized her (detailed in
my most recent posting). The guy with the flash bouncing off his head is Phil,
proprietor of the Testy Copy Editors
site.
This sign was a hot item.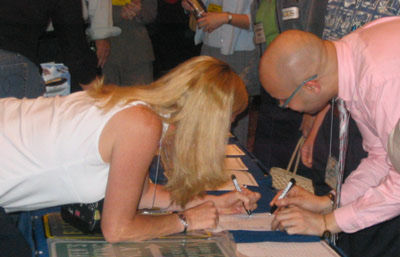 As the auction is about to expire, two competitors for the sign scribble their
bids madly.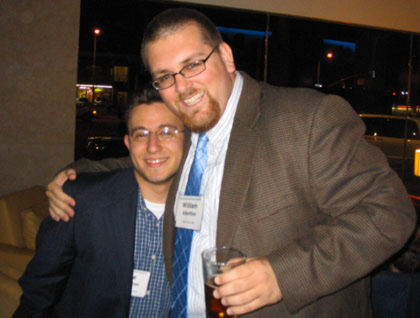 Will from Fresno, right, bought me a drink to say thanks for valuable career
tips like "keep your head down till the shit stops flying.&quot. Pete from Fort Wayne is the other guy.
Day Four
Last day of the conference. My presentation titled "Fitness for Rim Rats"
draws an audience of three, who clapped extra loud when I was finished. Thanks
gals; next time, call all your friends!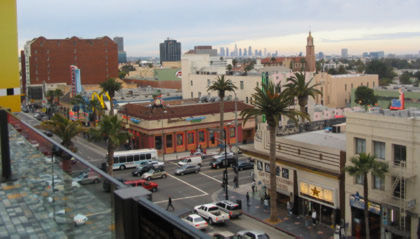 The post-conference bash is at a nightclub with a balcony looking down on Hollywood
Boulevard (the skyline of Los Angeles is in the background). Some us fled to
an old Hollywood restaurant a few blocks down the street, which was rumored
to be a celebrity hangout. One of our crew, a So-Cal denizen named Kate, told
of sitting next to Bob Dylan there. We saw nobody famous, though one bunch of
attractive twenty-somethings in a corner booth might've been professional understudies
who haven't worked since "Melrose Place" got canceled.
It's Hollywood, everybody needs a story, right?
Peter from Tampa and Jim from Albuquerque help me close the hotel bar, which
tightened the taps at the insanely early hour of 12:30. I'm not saying how many
drinks I had; all I'm sure of is there's no way I could've spelled Albuquerque
on the first try.
Day Five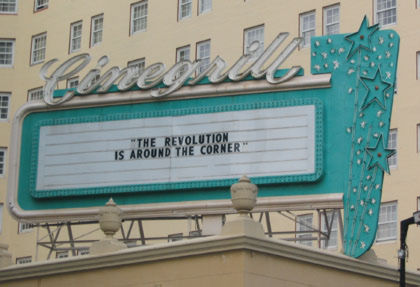 It's Sunday morning, and I'm getting a few last photographs of nearby landmarks.
Certainly this town is hoping the revolution will be televised.
The world-famous Grauman's Chinese Theatre is so big you have to photograph
it from across the street.
Back in the hotel lobby, I'm waiting for Craig to come down and take me home.
The sunglasses help me hide from my public.
Turns out Craig's giving Nicole a ride to the airport, which is just down the
road from Manhattan Beach.
Nicole's seeing the Pacific for the first time. I believe her only regret was
that it was hard to ogle the surfer guys when they were a hundred yards out
to sea.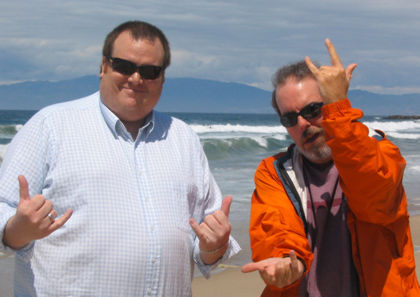 Craig and I do strange hand salutes because we think it's something cool surfer
guys might do. Nicole knows better but she takes the picture anyway, perhaps
hoping that photographic evidence might discourage such things in the future.
Look, it's that wacky guy from the Jack in the Box ads, hanging out at his
beach house!
OK, beach visit over, now it's off to find some lunch.
Craig takes us to a little place in Torrance called Wahoo's Fish Tacos. I'm
down to my last six bucks but this place feeds me for four. My kinda taco joint.
From here it's another few hours of highway, hills and tunes on the truck's
CD player.