OK, here are some pix of the inside of our new place.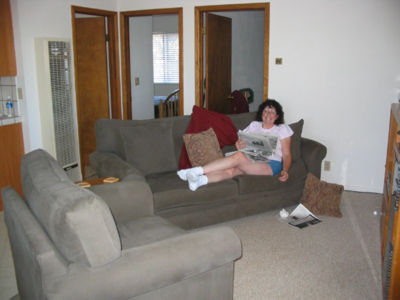 Melissa takes a rare break from her duties of whipping this joint into shape.
Just as well that I've spared you the "before" pictures. They were
too ugly to behold. Now about the only major job left is to hang pictures on
those naked walls.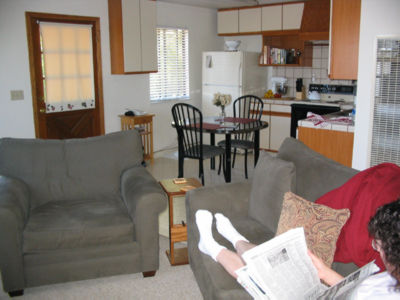 Looking across the place from one corner to the other. Cozy, isn't it?
The master bedroom. Which would mean something if we had, say, Barbara Eden circa 1967 on the premises.
The place from which all folly springs.
The kitchen is rather spacious, which is a good thing because we needed someplace
to put that table and chairs.
The view from the opposite corner. The cottage has six windows; I spent all
day yesterday putting those shades in front of them. They let the sun and the
breeze in fine.