"It's humbling."
That's Tilly, summing up the immensity of the sights at Yosemite National Park.
Here's Dad and Til in the Yosemite Valley.
Dad puts his chin back in place. The jaw-dropping splendor of the place can
be a bit mind-boggling at first. And second, and third. (It still boggles mine
after my fourth visit to the place.) That's the famous Half Dome back behind
him. Used to be a whole dome till a combination of earthquakes and glaceriers
broke it in two. The idea of forces being powerful enough to break mountains
in half is another of the humbling things about Yosemite.
This is the first time I've been here early enough in the year to see the waterfalls
flowing powerfully. We've gone up three times in the fall, when the snowmelt
has nearly dried up so the waterfalls are more like waterstumbles.
Here's an angle on El Capitan that I hadn't seen before. Note the cloud bank
moving across the sky… it looked like a storm was brewing in the valley; turned
out we did see a few sprinkles, but nothing that'd cause Donner Partyesque difficulties.
Dad gaping in wonder again. You could strain your neck if you're not careful.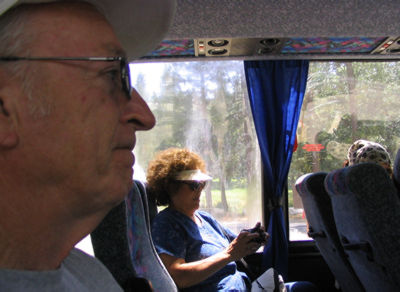 Now we're on a bus to see the Giant Sequoia Redwoods at Mariposa Grove.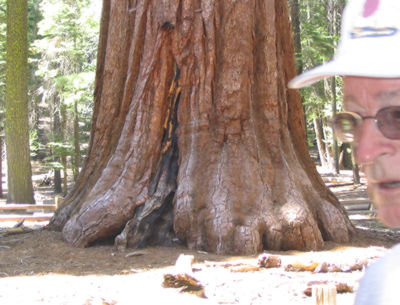 Dad walked into the frame while I was shooting the base of this giant redwood,
creating a priceless image.
Dad and Til pass the roots of a fallen giant. It's really bigger than you can
imagine.
This is about half of it.
There's nothing small about a trip to Yosemite. It's four hours over, four
hours back, and four hours in the park if you day-trip from Silicon Valley.
The park's a hundred miles across and you end up spending half your day on the
road (but what a road!). Really takes three days to get a sense of the place,
and that's before you step foot on a hiking trail.
Coming here provides a perspective the place of a single species — us — in
the grand scheme of things. Trees living here now were saplings before Jesus
was born. Lord knows how long those rock formations have been there … hundreds
of millions of years, probably. New brush is filling up hillsides burnt black
in fires a few years ago. In 50 years a whole new forest will be there.
This morning, the thought of humanity's self-inflicted insanity makes me wanna
scream: people, chill out. Sit down on a rock, stare at a mountainside for an
hour and get over yourselves.