We woke before dawn to open presents, like two kids who'd been waiting all
year for a Barbie Dream House or a Schwinn Orange Crate five-speed bike.
Melissa tends to take on the facial expressions of one whose gifts have been
bestowed by Jesus himself, which makes for fun photography.
Not sure what this was, but Melissa was happy with it.
Floyd's tired of all the fuss.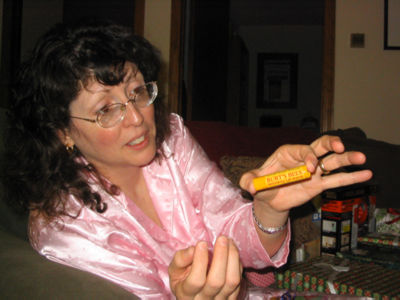 Burt's Bees lip balm from her best friend Beth in Indiana.
That's a Black and Decker laser level — good for getting pictures to hang
straight. I saw it advertised on TV last month and knew Melissa had to have
one.
Melissa needed a watch, so I went to a Web site called Blue
Nile and found her one.
Some of my take: Bob Dylan's "Chronicles Volume 1" and the soundtrack
to "Ray," the biopic about Ray Charles. I've decided his "Do
the Mess Around" is among the greatest rock 'n' roll songs ever made. The
Dylan book is vintage Bob: cryptic here, amazing there, maddening and enlightening.
It's about three chapters of his life … can't wait for him to fill in more
of the blanks. Melissa's mom knitted the socks. The blue thing is a "hydration
bladder" to stow water in a backpack. Handy on the trail to no end.
The aftermath.