It's been awhile since I posted a bunch' pix here, so what the heck. Haven't
done any notable hikes in awhile, but I do have a new camera I'm getting used
to.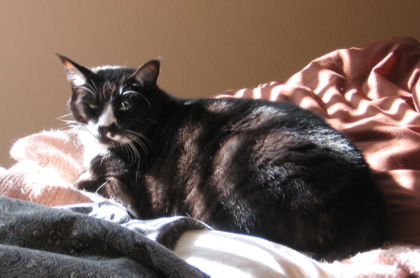 It's in the owner's manual: the first subject of all photography must be one's
cat. Or dog. Or child. Well, we have only one of the three in our household,
so Floyd gets to be Camera Subject A, whether he likes it or not. From the look
on his face I'm guessing, not.
I'm posting this one to prove that Floyd does come out of his hiding
place in the closet. But this is as close as he'll let me get to him. Oddly
enough, though Floyd would sooner gouge his eyes out than allow me to touch
him, he gets very jumpy and irritable if I'm out of the house for too long.
When I go camping he keeps Melissa up all night, running out to the front door
and back, whining and making noises to the effect of "all my things are
not in place here, and this must stop NOW."
Now, for something completely different. A couple weeks back I sent my mom
a link to an ad for a boat somebody
is trying to sell. It's 49-foot yacht built in 1951 for a grocery store
chain magnate. Sometime in the early '90s it came into the possession of a documentary
filmmaker who restored and remodeled it to gorgeous condition. She forwarded
the link to Ed, my stepdad, who immediately called up the guy and told him he'd
be out to the coast the next weekend to take a look at it. Ed has owned dozens
of boats in his life so I knew he'd appreciate this one.
Ed in his element, with boats on all sides.
Mom and Melissa wait for the boat's owner to show it to us.
The guy takes us through the boat, showing us its every detail, lovingly restored
by hand, by him. Shoulda seen the guy's eyes light up, it's like he was explaining
how his son was the quarterback of the local high school team that had just
won the state championship. I almost grabbed him by the shoulders and said "look,
mister, you must not sell this boat. Would you sell your own child?" We
were tempted to put in an offer on it, fantasizing that we could own the boat
and live on it, but there are all sorts of regulations regarding people living
on boats, and the cost of the boat plus the cost of keeping it berthed, insured
and afloat would've been quite a bit more than we're paying in rent. Ed was
even more sorely tempted — there was no part of this boat in any condition
less than immaculate — but the notion of trucking it back to Illinois, where
the water in the river isn't really deep enough for it anyway, eventually returned
him to his senses.
Bottom line: You can see how easy it is for people to lose all sense of proportion
and rationality in the presence of the right boat.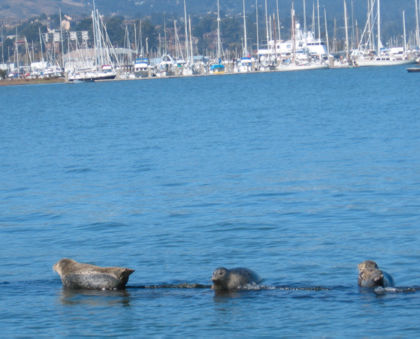 Seals rest on a chunk of lumber in the Sausalito harbor.
We had dinner in a restaurant at the waterfront. Nice view of San Francisco
through the window; I'm glad it's not my job to wash it.
Lots of boats were in the bay to watch the Navy Blue Angels perform.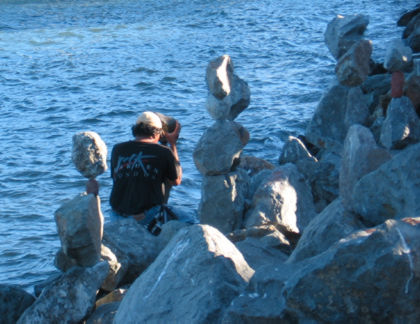 A rock-balancing artist performs for the folks walking past on the sidewalk.
We took a quick jaunt up to the Headlands to gape at the coastline. This is
one of my favorite spots in the Bay Area.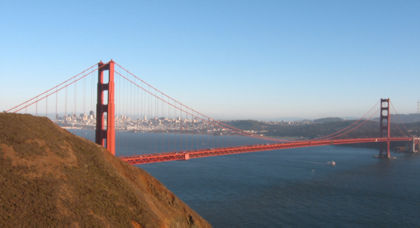 You can't take a bad picture of the Golden Gate Bridge, especially when it's
not fogged in.
We spent the night in a hotel in San Francisco. The red blur is a a very cool
early '60s Chevy convertible.
Something completely different, Part 2.
My longtime online pal Gerald from Germany
is visiting family in the Bay Area this month. We got together Sunday and took
a nice walk around Lake Chabot.
The lake has a marina where people rent boats, canoes and other vessels. We
opted for staying on the ground.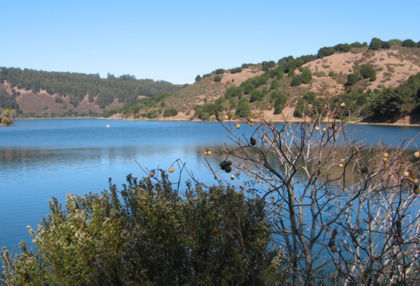 It's quite a scenic little lake, with campgrounds, trails, etc.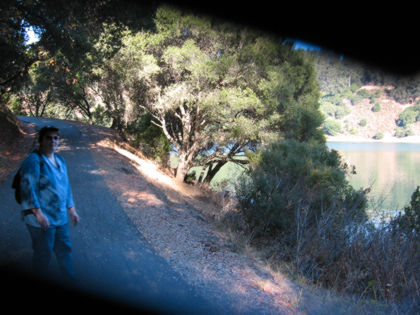 Here' s an intriguing characteristic of my new camera: when the battery runs
down, the lens cover doesn't open all the way.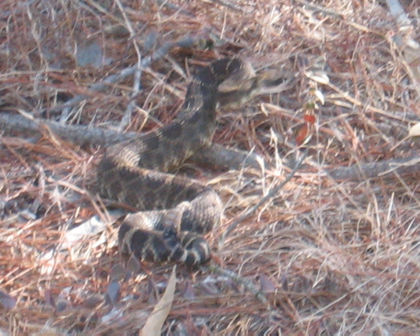 Gerald noticed this rattlesnake before the rest of us. It was perhaps 10 feet
away when we saw it. As we stopped to watch it slither away, it would shake
its rattle at us every few seconds. Suddenly it struck me that for all the rattler's
notorious reputation, it's actually a rather polite little beastie. If you get
too close it turns on the rattle, as if to say "please take note of the
venomous snake in your vicinity, and step away with caution." Vastly superior
to the bite-first-and-ask-questions-later variety of wildlife.
Gerald and Annette, his lovely wife.
After walking 'round the lake we retired to a slurpee shop in Castro Valley.
There were many shops nearby, including a crafts shop full of Halloween decorations.
"In Germany we call this kitsch," Gerald said. "That's what we
call it here, too," I replied.