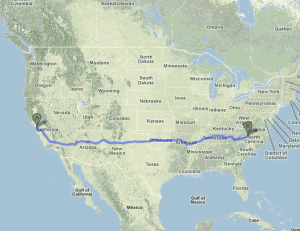 Americans should have "traverse the nation by car" on their life list — the whole shebang of purple mountains majesty, amber waves of grain, obnoxious tangles of traffic (from the verse I would add to update the song for modern audiences) .
I wouldn't recommend the method we employed last week, dashing across in five days. We went that route mainly to save money and reduce trauma for our cat, a full-voting member of the household. What I wish we could've done if unemployment weren't a part of the picture:
Take two weeks
Aim for 250 to 300 miles a day rather than 600. You can do that in five or six hours, leaving time to get off the Interstates and take day trips to the really cool stuff. The only redeeming characteristic of a superhighway is its ability to get you from point A to point B. Everything worth seeing is on the state and federal highways that zigzag across the landscape.
Don't use your own car
Driving your own car will encourage a major compromise: the drive to and from wherever you live. I think it'd be much wiser to buy plane tickets to and from the coasts of your choosing, and rent a car for your driving. Weekly rates are far more reasonable than dailies and you typically can get unlimited mileage. You save wear and tear on your own car and if it breaks down, it's somebody else's responsibility to get you back on the road again.
Don't lock yourself in
Say you pull in for gas at a truck stop in Arizona and see a gift shop of alleged Indian artifacts across the street that you'd really like to check out because you're into kitsch. A hard-and-fast itinerary leaves little chance for checking that stuff out. Some sites like the Grand Canyon simply must be seen, but if fun is the main goal of going on vacation, give yourself a chance to have some.
Time your travels around big city rush hours
The only thing worse than being stuck in your own town's traffic jams is being stuck in somebody else's. Left turns and lane changes that come naturally on home turf can be a white-knuckle nightmare in foreign cities.
Consider a criss-cross route
I'd love to do this in separate trips: San Diego to Portland, Maine, one year and Vancouver to Miami the next. These routes could add several hundred miles and a couple extra days of driving, but you'd get a far tastier range of terrain and weather.
I-40, I-70 or I-80?
I haven't driven the far northern Interstates that go up into Washington state, but I can speak to the three middle routes.
I-40 runs from Wilmington, NC, to Barstow, CA, offering most of the southern United States from a single highway. It passes through must visit music towns of Memphis and Nashville and runs through Indian country through all of Oklahoma and much of New Mexico and Arizona, two states where you could spend months exploring the southern high desert.
I-80 goes from Chicago to San Francisco, crossing a thousand miles of prairie before the terrain gets interesting at the Wasatch Range dropping into Salt Lake City. The drive from Salt Lake to the Sierra is pretty dreary, but crossing the Sierra and driving down to the Bay Area is a wonderful drive (just avoid the weekends; the whole population of the Bay Area seems to head for the hills every Saturday and Sunday).
I-70 Goes from Baltimore to southwest Utah — crossing much of the Midwest farm country, which can be flat and boring, but it gets very exciting coming into the Front Range of the Rocky Mountains at Denver (the mountains loom dark and gray like a distant thunderstorm for several hours before you hit Denver; it's one of the most impressive scenes in North America). I-70 continues through the spectacular Rocky Mountain heights and continues through the amazing canyon country of Utah.
Picking your route may be the hardest part. No matter which one you choose, you'll give up something worth seeing.