The Grand Canyon has a majestic, composed grandeur that reminds me of classical
music. That booming intro to Beethoven's Fifth is the Grand Canyon in four notes.
Bryce Canyon, by comparison, is pure jazz. If you've ever heard a Charlie Parker
saxophone solo — with millions of notes going every which way but somehow hanging
together in some magical semblance of a melody — you can relate to Bryce Canyon.
Bryce represents the remnants of a sea floor that's millions of years old.
Ages upon ages of erosion have created whimsical sandstone shapes called hoodoos.
Like the best jazz, they are way cool.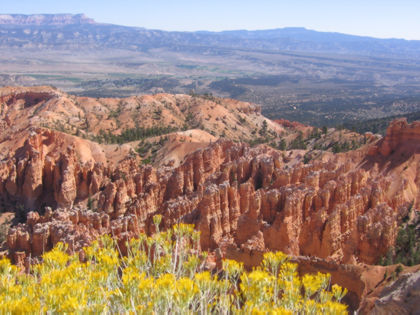 Hoodoos by the hundreds stand beyond Bryce Point in Bryce Canyon National
Park.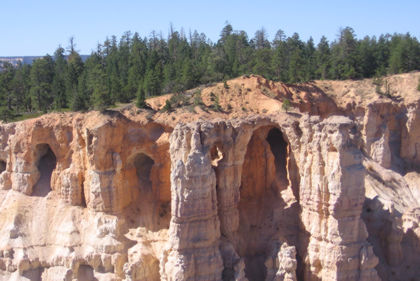 Stone arches are another consequence of seashore erosion.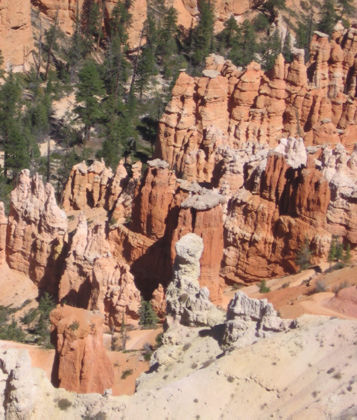 My camera on full zoom captures a few of the Bryce Point hoodoos. We hiked
down among the hoodoos from another location called Sunrise Point. More on that
to come.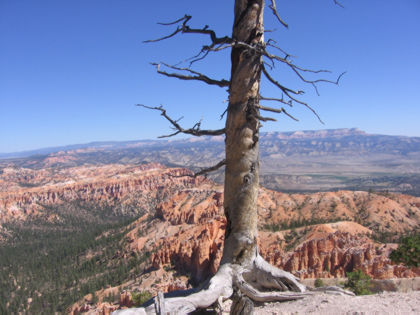 It's like they leave all these dead trees around for my convenience. Nice to
see my tax dollars put to good use.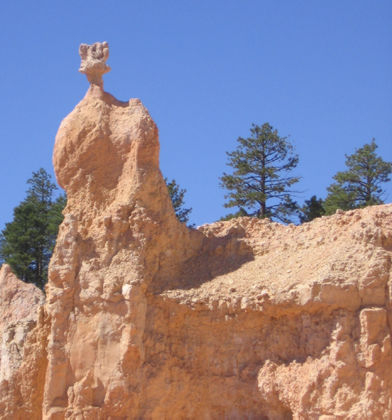 OK, here's a hoodoo below Sunrise Point.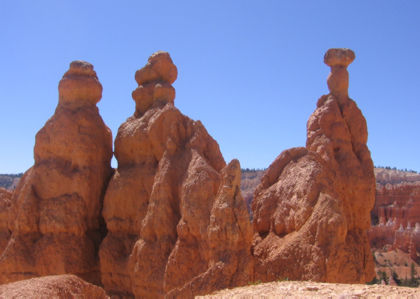 Look, Ma, a whole family of them!
Some look like they're growing right out of the hillside.
One stand of them towers above Melissa.
If you go to Bryce, you have to get off the rim trails and down among these
things. The easiest hike is just under a mile with 320 feet of elevation gain
on the return trip. A nice workout in addition to being surrounded by wacky
stone shapes.
Melissa at trail's end. We had some fun climbing back out.
Easiest thing to say is: wow.
See previous caption
A dead, burnt tree with scenery like this — what more could I ask for?
So those are the Bryce Canyon highlights. On the advice of our innkeeper, we
drove about 80 miles down Utah Highway 12, which was described as one of the
most amazing drives in the country. It didn't disappoint. Terrain changed constantly
along the way; at one point the road went right across the top of a tall ridge
with huge drop-offs on both sides. It had amazing land forms and gorgeous canyons.
It always seemed to me I was seeing the most stunning scenery in places where
there was noplace to pull off and snap a picture. The few pictures I've posted
don't really do it justice.
One of the canyons along the way. This is a few miles up the road from a hamlet
called Boulder.
Layers of sediment pushed into unexpected angles.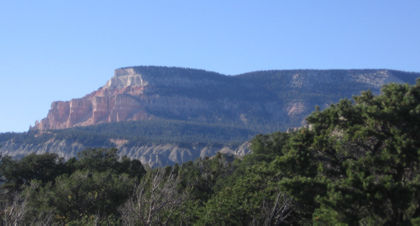 A so-so pic of the Grand Staircase.
A cliff wall about 15 miles down the road from Bryce Canyon.
So those are Tuesday's highlights. Tomorrow we take on Zion Canyon.