There's really no point taking a camera to the Grand Canyon. The damn thing
is too big for the human brain to process; mere digital cameras have no chance.
You take your snapshots knowing full well they cannot be reproduced at a resolution
that conveys one five-hundredth of the vastness of that gash in the planet.
I took pictures anyway because that's what I do, but as you look over these
pix, imagine them filling the largest wall in your home rather than a few pixels
on your computer screen.
We checked out the North Rim of the Grand Canyon because it's only about a
hundred miles down the road from where we're staying. If all you know about
the canyon is the barren desert of the South Rim, the North will come as a major
surprise. It's situated on the edge of the Kaibab National Forest, which has
more in common with the forests of Yellowstone than the sage brush and Joshua trees
of southern Utah.
The meadows along the road to the park are gorgeous. The trees are predominantly
pine. Elevation here is over 8500 feet, which may have something to do with
the cooler temperatures and predominance of high-country plants. The weather
was perfect — sunny, in the high 70s with mild breezes. There's nothing "desert"
about the place at this time of year.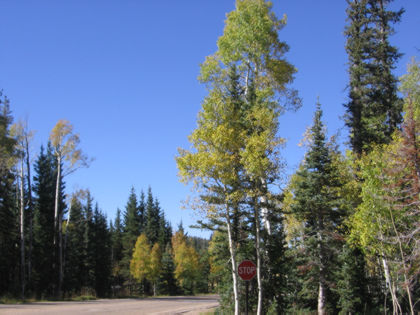 Some of the non-pine species are showing their fall colors.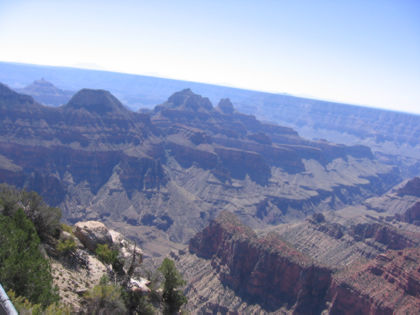 The North Rim, looking out from Bright Angel Point. This is the must-see point
from the North Rim, and just a quarter-mile out from the visitor center. It
does look like all the pictures you've seen, but you have to stand here to appreciate
the stupendous grandeur.
I had better luck shooting certain features — rocks and trees, my favorite
things — with the canyon walls as a backdrop.
Plenty of dead trees in addition to the live ones. Another North Rim surprise
is how much of the nearby canyon walls are covered with greenery.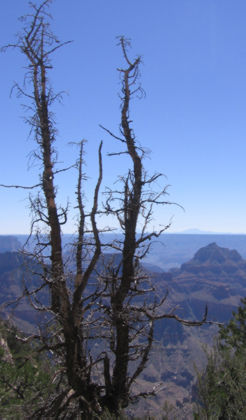 One dead tree is never enough.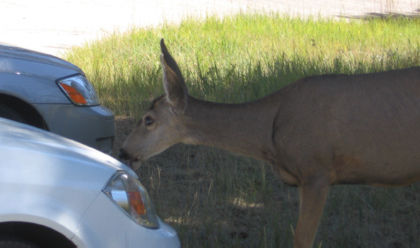 A young mule deer hangs out at a roadside scenic overlook. This beast is about
as wild as your grandma's French poodle.

A group of classic Packard owners was in the park for the day; I got stuck
behind this one for several miles. Funny how much cooler they seem when you
aren't inhaling their exhaust fumes.
Angel's Window.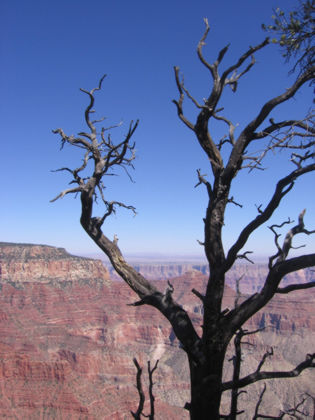 I know, this is starting to turn in to a bad habit.
Make that a very bad habit.
Got some nice blue sky in this one.
That's the Colorado River just above right center. I know, it seems unequal
to the task of digging a ditch this big, but it had untold millions of years
to finish the job.
So those are Monday's highlights. Tuesday it's either Bryce Canyon or Zion
National Park, two can't-miss locales. Stay tuned.