We spent the night in a Nevada border town, which is to say surrounded by people
willfully handing large and small sums of money over to large buildings full
of flashing machines promising free money on the next turn of the handle. It
was good to be out of there.
We took the scenic route, adding a good hundred miles to our trip by passing
through Yosemite and heading down the eastern side of the Sierra. It's an amazing
mountain range, even from the highway, but I was too busy driving to take pictures.
We made it to our first destination — Mount Carmel, Utah, — at about noon
and promptly took naps to sleep off the exertions of the drive (It's harder
than you think to sit behind the wheel of a car for 800 miles.) We passed through
Zion National Park on our way, but I had destination fever, which means no stops
till we get where we're going.
I did snap this shot at Zion while we were waiting for our turn to drive through
a tunnel carved into a mountain side.
This whole area is beguiling — the terrain is not so much amazing as it is
quizzical. It makes you wonder how the land ended up like that. From what I've
read this area used to be under water millions of years ago, and all the strange
land forms are the result of water eating away at the sandstone. We'll see even
more such shapes, some of them downright wacky, in days to come.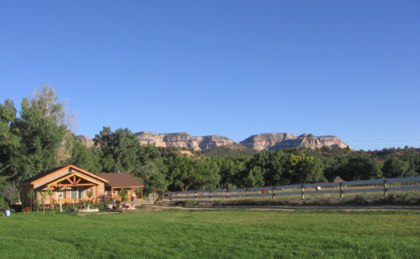 We're staying at a little inn surrounded by a ranch. It has an Internet connection!
Yeah, it also has horses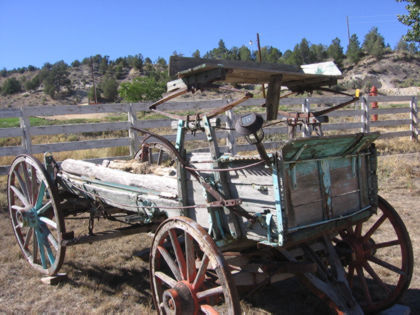 Hard to believe people came out here in these contraptions. Especially with
no air conditioning.
More pictures to come as we see cool stuff in Southern Utah. Stay tuned.