One of the coolest things about the California coastline is all the animals
migrating along it. Seals migrate. Whales migrate. Monarch butterflies migrate.
The monarchs come up from Mexico and spread out across North America. Every
October, thousands of them stop by (well, flutter by) at Natural Bridges State
Park in Santa Cruz. It's one of the most amazing things you'll every see: the
sky filled with butterflies like an old Disney cartoon come to life.
Melissa and I went last year, and this year we took Melissa's mom, Mary, to
monitor the monarchs.
Uh, ladies, the trail's over that way.
This wooden foot bridge goes down into a valley that shelters the butterflies
from the strong Pacific breezes. The bridge also keeps the humanoids confined
to small area least likely to annoy the monarchs.
This isn't really where they rest. They prefer tree limbs way up in the forest
canopy.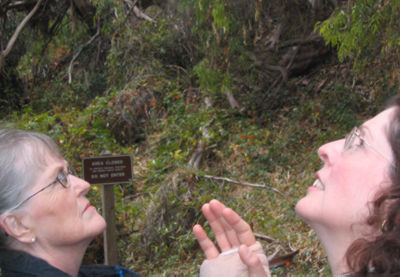 Mary and Melissa making initial Monarch sightings.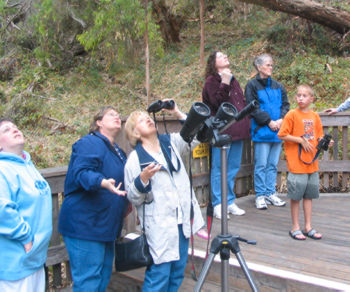 Pictures of the humans are often far more entertaining than the butterflies.
Butterflies fill the sky — people with expensive cameras and high-power zoom
lenses could see the butterflies packed together on tree branches; they actually
entertwine their legs to hold on against strong breezes.
This is about as close as one came within range of my digicam, whose manufacturers
obviously neglected to take butterfly viewings into account.
Another one rests on a branch nearby … this picture looks vaguely artsy but
it wasn't intentional; just too much backlighting.
A volunteer at the park explains how around 9,000 butterflies came last year
but only 2,000 have arrived thus far. The monarchs come from Mexican mountains
that are rapidly being deforested, and it doesn't help that theri sole food
source — milkweeds — often gets killed off by herbicides. If you're thinking,
"yeah, there sure used to be a lot more monarchs around when I was a kid,"
you're right. It's us doing them in.
Back up at the park's headquarters, an exhibit shows a monarch caterpillar.
It wasn't moving, so I suspect it's been freeze-dried or something.
You can't go to Natural Bridges Stage Park without going down to the beach
and checking out what's left of those bridges. There's a hole in that chunk
of rock, carved out by millions of years of saltwater pounding against it. Those
are pelicans up on top of the rock, which is white from their poop. Which makes
walking down to the beach an aromatic experience that compares favorably to
a field trip at a wastewater treatement plant.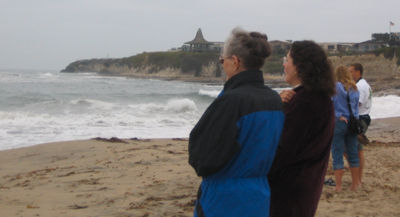 Having adapted to the smell, Mary and Melissa admire the crashing surf.
Does this jacket make me look fat?
Melissa's million-dollar smile (the cast is from the surgery she had to fix
her carpal-tunnel difficulties.)
These two chunks of rock used to be connected by natural stone arch, but I
suspect one of the recent earthquakes knocked it down.
We left the beach and headed up California Highway 1. Pigeon Point Lighthouse
is one of our favorite stops. A couple years back, Melissa bought her mom's
twin sister, Marie, a shelf-size replica of this lighthouse, so it made sense
to take her sister over to get a look at the place.
Mary approves of the decision.
There's a little hamlet called Pescadero up the road a ways. We stopped in
to check out the local arts and crafts, many of which are made locally.
A house converted into a curio shop.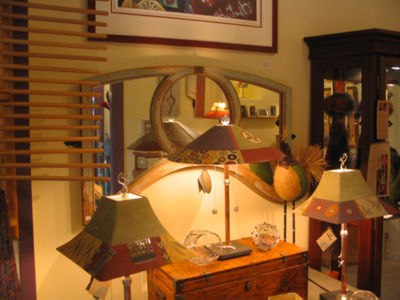 Turning off the flash produces warm hues you might not expect from a digital
camera.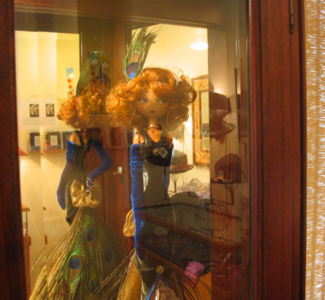 Art deco doll in cabinet. Cool.
A shop called "Made in Pescadero" sells furniture handmade by local
folks. Slobber-inducing to people who are into such things.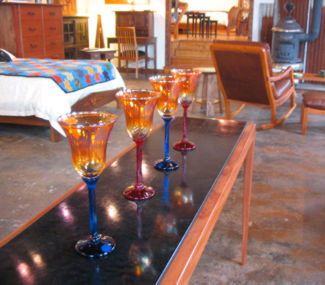 Pretty glasses on a table.
This is a local landmark called Duarte's Tavern. They make wonderful soups
and pies, and there's always a waiting list to get a table. Tasty meals, reasonably
priced; a rarity in these parts.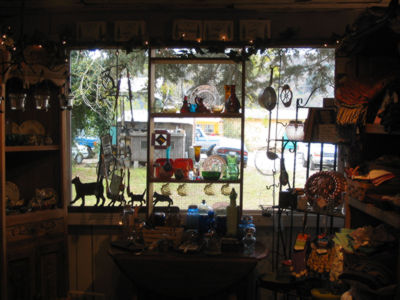 Another curio shop up the street a ways.
A stained-glass angel keeps an eye on the place.
You can't miss in a shop that sells Buddha cats.