The rainy season arrived last week, which turned the trails nearby to mush…
I resorted to walking the road down the hill to Ed Levin County Park — about
five miles each way, so it was a nice workout. I see the same sights every morning
on the way to work and back so it's not exactly the most exciting walk, except
when the cars zip past too fast and too close.
I took the camera along so we'd have fresh pix, but before we go outdoors,
we have to share a moment with Floyd.
This is about as relaxed as I've seen him lately. Usually he runs away when
I get too close to him.
OK, back down the road.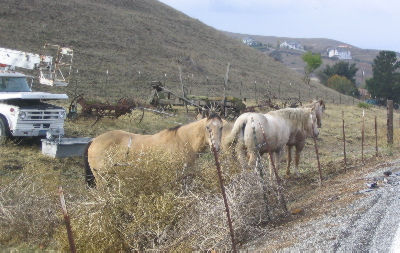 Horses hang out next to a retired utiltiy truck. There's zillion-dollar homes
way back in the distance but around these parts we still have the charm of old
broken stuff decorating property along the roadside. You just don't get that
in the suburbs.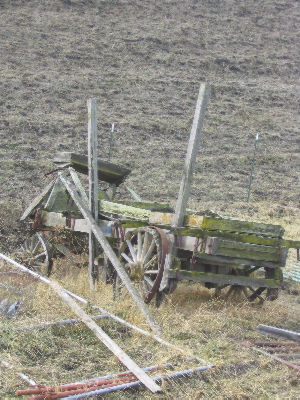 Horse to farmer: "You want me to pull what?"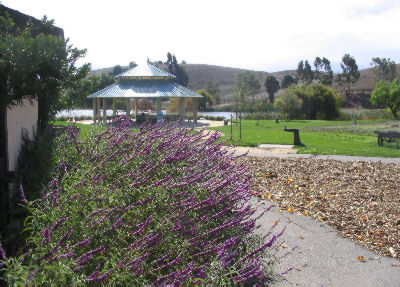 A gazebo and flowers at Ed Levin County Park, which was mostly empty when I
dropped by.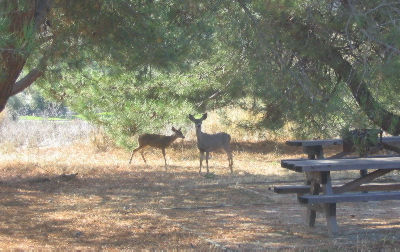 Well, there were some deer hanging out.
I've walked up those hills a couple times, but had no such inclinations yesterday,
having walked five miles already to get to this point and facing another five
uphill to get back home.
Here's an old cemetery whose headstones have all been vandalized. Children
are such fun sometimes.
Nice clouds.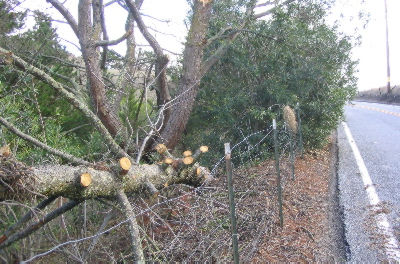 The storm that blew through last week knocked this tree across one lane of
the road.
That's it for this week, see y'all next time.