The fact that we live in a glorified hunting cabin did not deter Melissa from
crafting a Thanksgiving feast with turkey and trimmings. There is the small
issue (in here, all issues are small) that the kitchen is also the dining room,
so it's hard to find pretty pictures when the background is full of the industrial-strength
implements of holiday excess.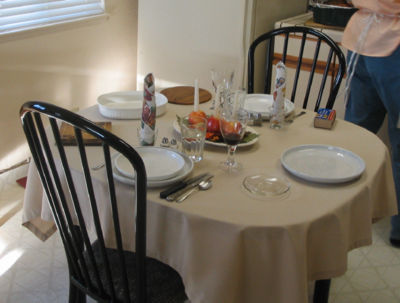 This is as elegant as it gets around these parts. Melissa kept the table understated
so as not to detract from the food.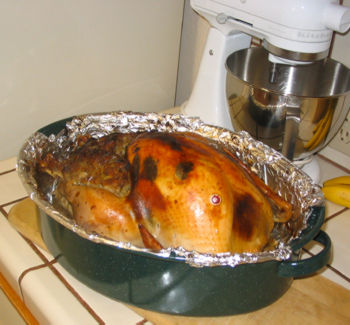 There it is: the boid. Melissa spread butter under the skin and basted it about
a million times. There was no dry turkey breast in these parts, thank you very
much.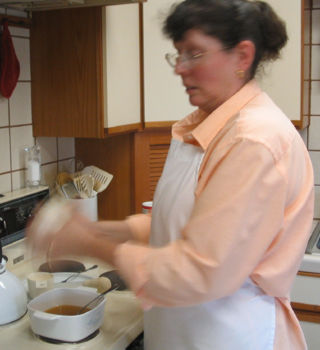 Melissa gets the gravy ready. Not that this turkey needed gravy, mind you.
It was just one of those nice-to-have things.
Melissa's homemade pumpkin pie — she made the crust from scratch and added
upmteen spices and secret ingredients to some canned pumpkin. Scrumptious.
It was crowded on that table, and most of the food hasn't even arrived yet.
Candles in apple cores form the centerpiece.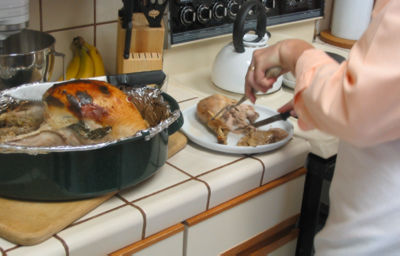 Trimming a leg down to the bone.
Melissa's thankful that she can finally start eating some of this stuff, which
she spent all day cooking.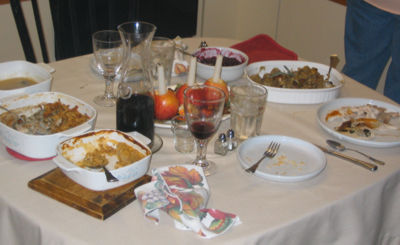 The aftermath.
Oh, and to Whoever's in charge of such things: thanks for the sunset.