The Wine Country is Disneyland for grown-ups: it promises large quantities of things we require — alcoholic beverages — and small quantities of things we've outgrown, such as bone-rattling thrill rides.
What happens in the Wine Country is that people who know just enough about wine to be dangerous but not enough to avoid swallowing go from one Napa Valley vineyard to another and pretend they can appreciate the subtleties of a pinot gris. Seems like the cops could walk through the vineyard parking lots sticking DUI tickets under everybody's windshield wipers and giving Breathalyzer tests to everybody as they exit — it would pay for lots of shiny new Glocks and cruisers, and the vintners would have to find honest work.
I try to avoid the Wine Country on summer weekends, when the roads are choked with wine-snob wannabes from the world over, but I made an exception this weekend because I knew Mike and Kathy of FOMFOK fame were camping at Bothe Napa Valley State Park, which promises the only good lodging deals for 50 miles in any direction. You may end up sleeping on the ground, but you save 200 bucks a night. That frees up money you'll need for the 12-dollar cheeseburgers. I asked Mike if there was room at his campsite for one more camper and he said sure, come on up.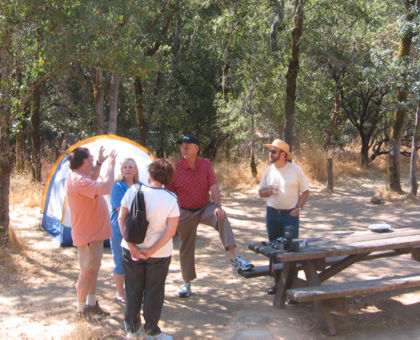 "The bear was this standing this tall just before I felled him with one arrow to the heart," Mike tells an appreciative audience. Mike and Kathy slept in that tent back behind him; their friends Scott (that's him in the yellow hat) and Cathy slept in a Coleman pop-up camper in the site next door.
From the campground, nine of us set out in search of wine to sample. Mike led us to the Sterling Vineyards, which charges 20 dollars a head for a three-minute gondola ride and tastings of five wines. Prices like these ensure you'll be broke long before you're drunk, which saves the local taxpayers a fortune in law enforcement expenses.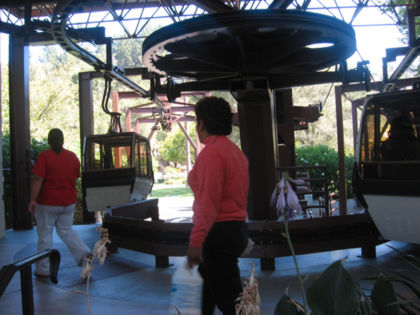 These little cable cars take folks up to the winery, offering expansive views of the Napa Valley. All wisecracking aside, the Valley is a gorgeous place, especially in the morning when the sun's burning off the fog that settles in overnight.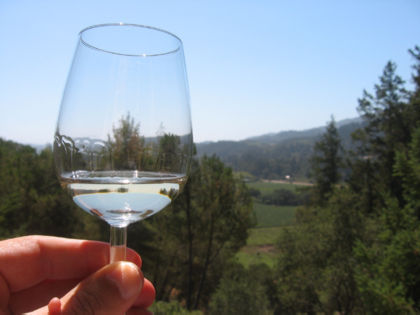 Once you buy the 20-dollar lift ticket, five tastings are free. How's that for a deal?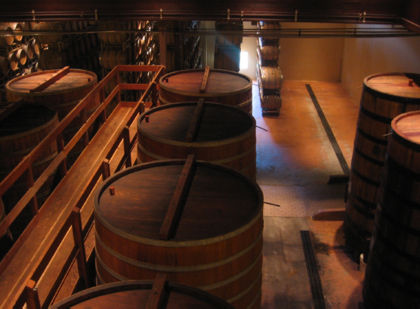 Giant wooden barrels hold enough wine to keep the U.S. Marines drunk for a decade. Well, actually, 12 days would be a closer estimate, if any of them were wine-drinkers. (I'm guessing you get drummed out of the Corps once the brass learns that you know Cabernet Sauvignon is a grape.)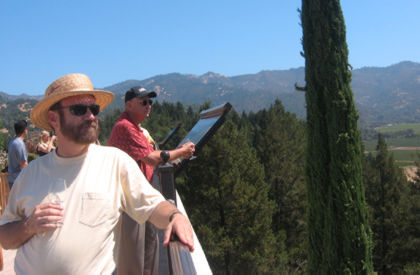 Scott, and Gary behind him, take in the view.
(All wisecracking aside, Part II: This is a fun winery tour, and the wine's pretty tasty too. Go during the week to save five bucks in gondola fares.)
My camera batteries died a few minutes later (I brought spares, but they were dead, too. Alas). From here we went up the road a couple miles to Calistoga and grabbed lunch at the Calistoga Inn. Food was pricey but tasty, and the beer brewed on site was excellent. (Though you might expect otherwise, it appears the vintners have not banded together and prevented the introduction of brew pubs to the Napa Valley).
After lunch I bought camera batteries and our nine-some splintered into two twosomes who were getting the full treatment at a Calistoga spa, and the fivesome I joined to check out another winery.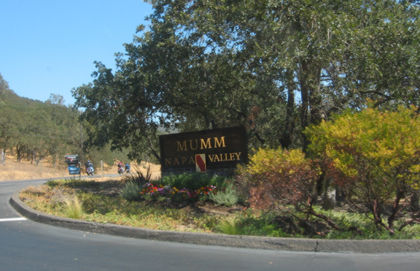 Mumm specializes in sparkling wines.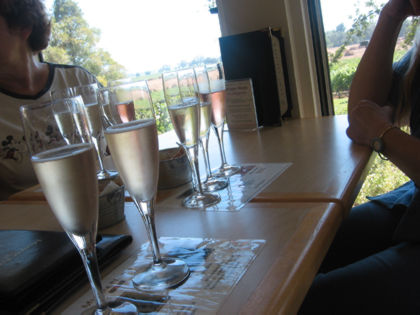 They look like this poured in flutes.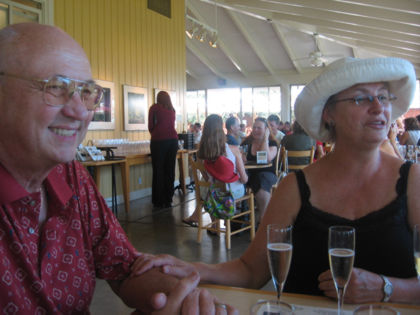 We tipped glasses in honor of newlyweds Gary and Molly. Gary has worked in the wine industry, can tell the good from the bad, and can convey his knowledge without a trace of snobbery. Fortunately for the valley, my blog has few readers so word of this bizarre character flaw will not get around.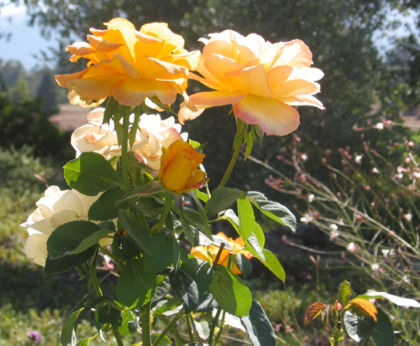 They plant pretty flowers next to the vineyards because, well, let's face it: a vine is not that sexy.
After that winery tour we headed back to the campground; Gary, Molly and company had other places they needed to be, so I had the campsite to myself until Mike, Kathy and company returned.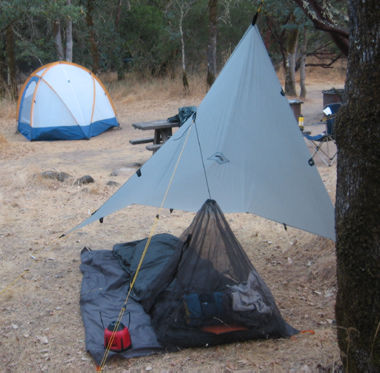 I kept myself busy experimenting with ways to hang my tarp. The weather's so warm and dry at this time of the year that I probably could've gotten by with a blanket and a few plastic garbage bags thrown on the ground, but that would've deprived me of a chance to play with all my gear. I can't just leave it in the closet, unloved, now can I?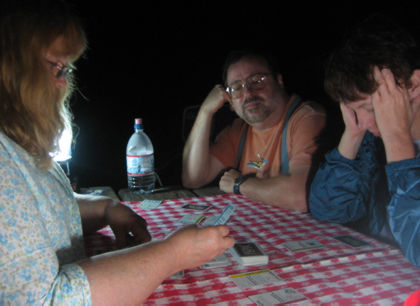 A late-night card game keeps us occupied till Quiet Hours kick in at 10 p.m. Mike is a cunning and occasionally diabolical card player, which can be fun as long as no wagers are involved (and as long as you don't mind losing.)
Come Sunday morning, everybody else was ready to head back to town. I consulted my handy California highway map and was pleased to learn I was right down the road from Mount St. Helena, the highest hill in these parts. Might as well get a hike in, right?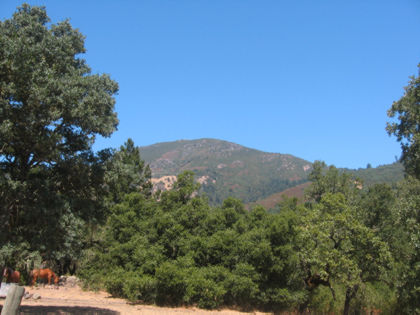 The peak isn't exactly stunning from this angle, along Highway 29, but the view gets better once you get on the trail, which is about 10 miles out and back with 2,000 feet feet of elevation gain. I arrived unprepared for a 10-mile hike, so I just set off up the trail turned back when my water supply was half gone (got about seven miles in). Didn't make the summit this time, but that gives me an excellent excuse to return.
The Mount St. Helena trailhead is in Robert Louis Stevenson State Park, which has no water and no bathrooms. The first three-quarters of a mile is single-track trail up a densely wooded hillside; from there a fire road goes a little less than five miles to the summit.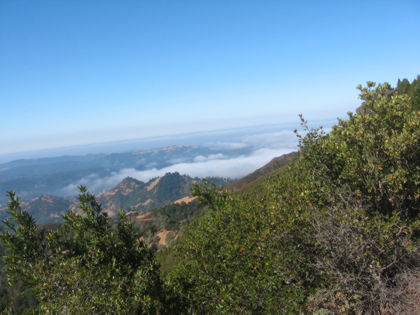 Once you get up on the road, the views looking down toward the valley open up. Hiking on roads is usually a drag, but this mountain has a bunch of cool rock formations and cooling Pacific breezes blowing most of the time (in any time but the height of summer, you'd want to bring a windbreaker and a dry shirt to put on at the summit so you don't freeze your bellybutton off).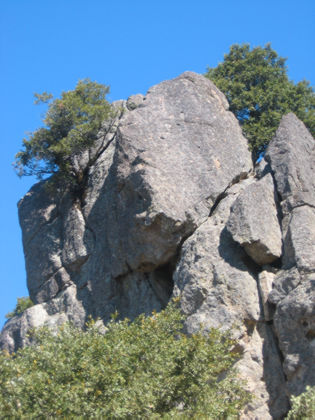 You know me, I'm helpless not to take a picture of trees growing out of rocks.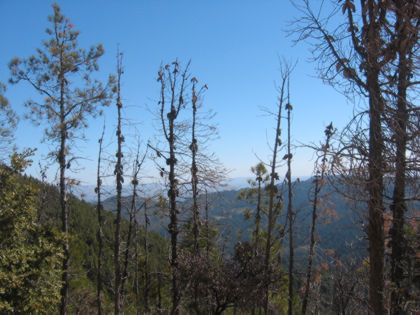 Perhaps these trees' spirits would be lifted if their pictures were posted online.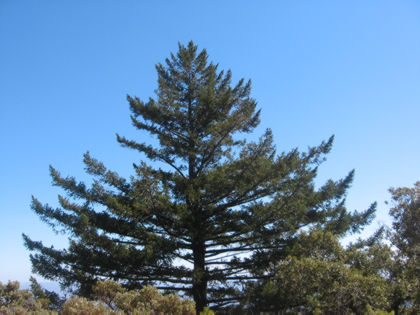 This one looks like what happens if you let your Christmas tree grow for 35 years.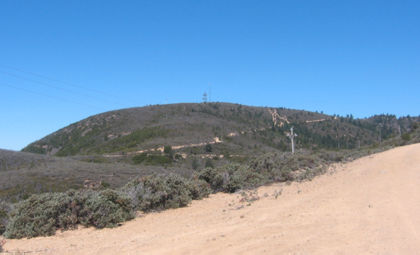 The summit is beyond that hill over there, about another mile and a half of walking. At this point I'm thinking, let's see: I'm on this hill for the first time with no map, nobody knows I'm here, and summiting means six miles in the hot sun with about 30 ounces of water and no snacks for energy. I figured the 130-mile drive back to San Jose would be just a tad safer if I wasn't dead tired from the hike, so I turned back here.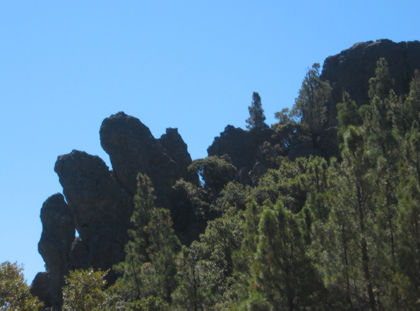 One of the great things about an out-and-back hike is seeing things you didn't notice because they were behind you. This rock formation is only visible in this direction — you walk right past it on the way up.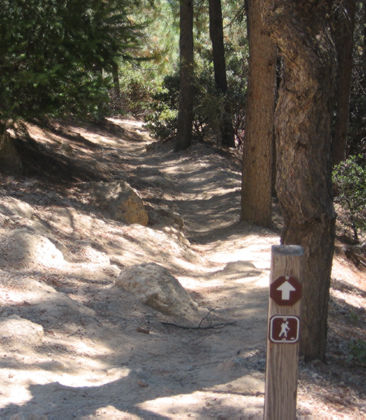 This is the beginning of the single-track trail back down to the parking lot. On the way up it's a good idea to take note of nearby rocks, trees and such to make sure you don't miss the turn.
A few more Mount St. Helena links:
Tom Stienstra profiles the trail.
A trail map is here.
An even better map and more pictures are here.
The Hiker Hauler makes a strange reflection on somebody's horse trailer.
Yes, for the 9,247th time, I know the way to San Jose.