"Is there ANYPLACE else on earth you'd want to be right now?"
The guy's breathing heavy with a look of orgiastic bliss on his face. As far as I know he has not just successfully seduced Eva Longoria, but you wouldn't know that from his slack-jawed expression.
"Can't think of any," I tell him.
Theoretically, there could be better places to be, but they wouldn't be this close to the main road. The place is the Point Lobos State Preserve, which is just south of Carmel on State Highway 1. The preserve extends out into the Pacific Ocean from a collection of rocky cliffs. It has booming surf, wildlife galore, lovely tidal pools and cool ocean breezes. All you have to do is turn west at the sign, pay your 9 bucks for parking and a map, find yourself a parking space, and start hitting the trails.
If you're unaccustomed to the splendor of California's coast, you might find yourself wandering around dazed like that tourist we saw. And even if you're a jaded veteran of a hundred Coast Highway road trips, you might feel compelled concede: this has to be one of the coolest spots in a state run rampant with them.
The pictorial highlights: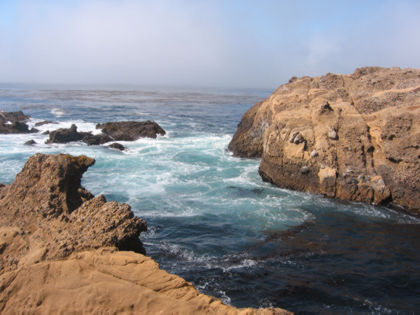 The surf crashes and swirls around offshore rocks and forms luscious blue tidal pools.
The best camera is a pitiful match for the sights, sounds and smells of this place. Might as well have a cheap point-and-shoot like mine. You'll come home with good shots but they won't come close to conveying the experience.
Pelicans fly in bomber formation. I was happy to see they weren't advancing in the direction of my new car.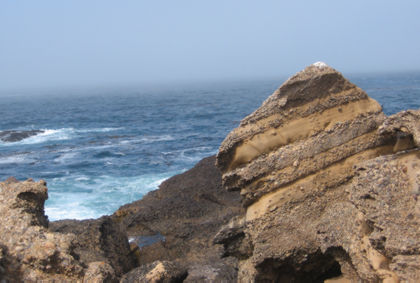 Sandstone layers fill fascinating rock formations.
Millions of years of erosion leave a sand, gravel and seashell aggregate.
The ocean does strange things to the shore — someday all those zillion-dollar mansions in Malibu will look something like this.
A fog bank moves inland. Generally it's less foggy in the winter down here on days when storms aren't coming in. We enjoyed a mix of sun and fog that made the visit all the more captivating.
The sun burns off some of the fog, creating a shimmering effect on the shallow waters.
Near the trail, a squirrel figures heck, if they're dumb enough to throw me free food, I might as well take advantage of it.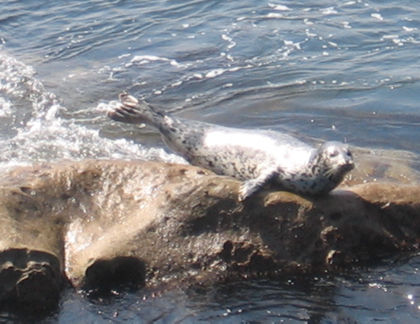 The seal says "real mammals never accept handouts" from mere humans. You can't convince me that humans are the top of the evolutionary chain as long as seals get to swim around all day, kick back in the sun and ponder how much less complicated life is when you have flippers instead of fingers.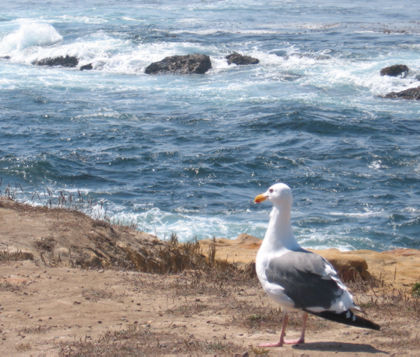 We lunched near the territory of this sea gull, who ruled this patch of coast with an iron bill. Normally if you toss a crumb, gulls will converge by the dozens around but none bothered to challenge this guy. He had the place to himself, but he was all alone, gullwise. Sort of a metaphor there, I think.
Whalers' Cove has clear water and kelp forests, perfect for scuba diving.
Must be a good place to be: it has great dead trees too.
Blue-green waters fill a pool at the base of the cliffs.
A lizard pauses for a close-up.
Yeah, it's a wonderful place to be. A few considerations before you visit:
Parking is scarce; if you try coming here on a weekend, expect to park along the highway and walk in. Crowds are much smaller on week days.
The preserve has miles of well-groomed trails, but you'll want to spend so much time stopping and gawking that you won't get much hiking done.
Dress for the Pacific. It's cool and breezy here all year no matter how warm it might be elsewhere in the state.
Bring binoculars for wildlife viewing. Sea otters abound but they'll be too small to see without magnification.
Don't expect to see the whole place in a single day.
The Web site for the preserve is here.