"Oh, crap, did that thing say Sunday?" some part of my brain was
asking another body part, the one which was at this moment asking the American
Airlines ticket agent why the automated ticketing system was refusing to print
out my boarding pass.
"Do you have an itinerary of any kind?"
"Yeah, right here."
I pull the printout from my pocket and hand it across the counter.
She's mouthing the words "this reservation is for Sunday" but my
ears already know what my own brain has concluded:
This was Monday. Same airline, same flight number, same airport, same bad-case-o'-dumbass
me, who has just missed his flight back to wife and place of employment by exactly
24 hours.
Seems somebody got the date wrong back in March, when he bought tickets for
a Labor Day weekend visit to the folks back in Peoria.
Fortune smiled on me in that there was a seat available on Monday's flight.
Fortune smiled on American Airlines to the tune of 450 bucks.
"Don't you like it when the one to blame is me and not you?" I asked
the ticket agent.
That made her smile.
Seeing the folks back home is always humbling. You can't put anything over
on people who remember your spilled cornflakes and poopy diapers. But I felt
pretty good about this visit — I was 30 pounds lighter than the last time they'd
seen me and I had a raft of tales to impose on those who hadn't read the same
stories here. A weekend of food, memories and expounding on the State of Things.
As the author Tom Robbins said, the International Situation is Still Desperate.
Good thing; elsewise we'd have nothing to talk about at these get-togethers.
So I walked into O'Hare International Airport with the easy confidence of
a guy operating under the delusion that he has his shit together. Fate inevitably
has other plans for such people. Melissa calls this tuition: the price you pay
learning not to be such a moron the next time.
(Misfortune is manna from heaven for storytellers, I tell you!)
There are pictures this week, though they are mostly family — pictures of
kin gathered on a Midwestern lawn tend to be as exciting as the grass growing
in one, and I promise these will be no different.
My sister, Delisa, met me at the airport before dawn on Saturday. We saw the
sun rise through the window of her gargantuan van — populated by her 4-year-old
twin boys, Jonathan and Sean, also known as the Holy Terrors.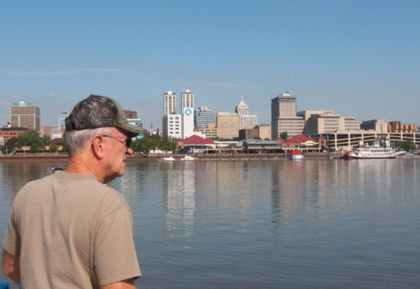 My dad took me down to see the Peoria riverfront on Sunday morning. There used
to be a big ol' ugly powerplant on this site; now there's a small riverfront
park.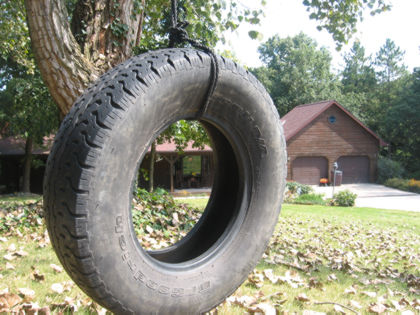 My mom's place has a tire swing, which comes in handy for entertaining the
Holy Terrors.
There's also a trail through the woods out back. I think Mom had some dead
trees shipped in just for this occasion.
This is mom's party tent. If Mom had Martha Stewart's millions, she'd wipe
the floor with her. (And Martha'd be thankful for the clean floor.)
That's my cousin Dan in back with his wife Becky in front. Those are four of
his five young'uns (the eldest isn't so young anymore, actually; she's married
and about to give birth.) Why is Dan so happy? Could be that the statute of
limitations has expired on all of our youthful transgressions.
Delisa, like me, has full confidence in the infallibility of her opinions.
"The sun never sets on cool people," says Matt, my kid brother.
Sean learns to play catch. It might've helped if I could set an example and
catch a few myself.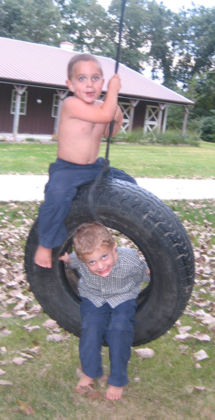 Sean and his brother Jonathan encourage me to push them on the tire swing.
"Uncle Matt pushes us higher," they say.
Matt's girls, Hannah and Karrah, address their public.
When it's all said and done, Delisa does the dishes.