Every year for the past four, this millionaire from San Francisco has been
bringing the world's greatest bluegrass performers to town and inviting everybody to come
see them — and the admission's free. Just bop over to Golden Gate Park, pull
up a patch of grass and listen to two days of amazing picking and fiddling.
Originally it was called the Strictly Bluegrass festival but it evolved into
the Hardly Strictly Bluegrass Festival — which is where I spent most of Saturday
and Sunday. One nice side benefit of this free festival is that you can walk
right up to the front of the stage and take pictures of the performers. Two
days of this gave me a fresh appreciation of what concert photographers go through
— it takes exact timing to anticipate when an interesting expression will appear
on a musician's face, then you have to hope there's no microphone in the way
and reconcile yourself to the fact that the minute you set the camera down,
something really cool will happen. The highlights:
Saturday:
Imagewise, the day got off to an auspicious start when I took the BART train
to San Francisco on Saturday and noticed this little baby peeking his head behind
his carrier and making impossibly cute faces at me.
OK, enough of full-cuteness mode. Back to the main topic:
The festival is on four stages, and as I approach the first one, I hear this
guy named A.J. Roach singing — I kid you not — about dying of black-lung disease.
His band seems pretty cheerful, considering the subject matter. Maybe they
think "if he keeps this up I'll have no choice but to launch my solo career."
A.J was a capable mountain wailer but I had to see who else was mixing things
up elsewhere.
These jumbo hula hoops are always popular.
Here's the Hot Club of Cowtown, a really swinging Austin, Texas, string band.
I had to leave before I developed a crush on the blonde fiddle player.
It was a day for Emmylou Harris sightings. That's her in the black cowboy hat.
She closed the show Sunday.
I was wondering what it is about bluegrass that ignites an irresistible urge
to dance. Best I can figure is that the rapid-fire plucking of guitar, mandolin
and banjo strings becomes a kind of percussion, which just seems to set toes
tapping, legs twisting, hips shaking. (OK, so I'm asking you to accept the premise
that percussion makes music danceworthy … it's just a thought, but I'll stuck
with this theory till a better one comes along).
Speaking of pickin', here's a couple guys from Hot Rize attempting to warm
things up. They were a pretty hot combo, but no match for what the weather gods
sent us this weekend: Cold, windy, damp — hell on any exposed extremities,
and hard on wooden musical instruments that kept expanding and contracting and
getting out of tune.
The Banjo Stage draws a nice crowd.
Kevin Welch, center, Kieran Kane, left, and their fiddler, whom they called
Fats (because he's the skinniest guy in six counties, I suspect). Their set
was better suited to a small, smoky room in a bar rather than the expanse of
the outdoors. If you're into singer-songwriters who don't suck, check these
guys out. Excellent lyricists who harmonize well. One of the funniest moments
from the weekend happened during their set: Between their songs, one of the
bands at the next stage over receives a thundering ovation, and Welch says in
this droll twang of his, "sounds like they're having more fun over there
than we are." Yeah, you had to be there.
After these guys finished, Nick Lowe, who had some hits in the '80s, came on
the same stage — his name alone attracted twice the audience and triple the
applause but he didn't seem nearly as good as Welch & company. Could be
an example of fame distorting reality, or merely me identifying with the unfamous.
These kids in front of us were a hoot: constantly raising hell to their mom's
chagrin.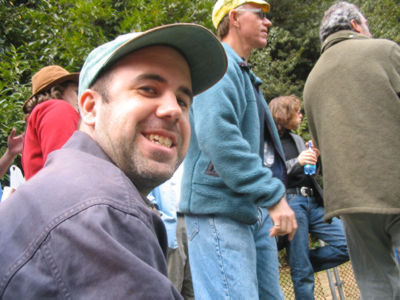 Shay, a guy I work with who knows more about bluegrass than anybody else I
know. He used to work for Rounder Records, which handles tons of folk/roots
bands. He's always seeing former clients of his at these concerts.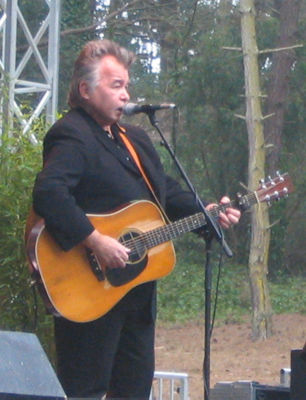 John Prine, who dusted off an anti-war song of his from the Vietnam Era. It
goes like this
"But your flag decal won't get you into heaven anymore,
they're already overcrowded from your dirty little war,
Now Jesus don't like killin',
No matter what the reason's for,
And your flag decal won't get you
into heaven any… more"
Prine's voice sounds like a gravel road but he's still got a lot of singing
left in him. He played a fabulous set — lively, sarcastic, well paced, covering
a 30-year career. He's the real deal … catch him if you get the chance.
Emmylou, center, guest stars with Buddy and Julie Miller. Buddy's a fabulous
guitar player and Julie's a bit of a space cadet but she's got fine pipes. I
caught a few of their songs and wished I'd have seen more. With four stages
and dozens of bands there were lots of tough choices: I had to miss Steve Earle
to see Prine, and I never even made it over to one of the four stages. But nobody's
complaining at these prices.
Saturday's headliner, the living legend and godfather of bluegrass, Ralph Stanley
— center, holding his hands to keep 'em warm. He did the a capella version
of "Oh, Death" from "O Brother" that was a bit too haunting.
The lyric goes, "Oh, death, won't you spare me over for another year,"
and I got the feeling that Ralph — who's been at this for half a century —
was hoping his song might ward off the Reaper.
Sunday:
Lest you worry that all his music distracted me from my hiking, rest easy:
I walked four miles from City Hall the park site both days. I invited the folks
at Walk South Bay to come along for Sunday's walk.
That's the San Francisco city hall up ahead. It's uphill most of the way to
the park from here, but the hills are mild compared to what I'm used to. Only
two of the Walk South Bay folks took me up on my invitation: Gilad, an immunology
researcher at the University of San Francisco (he's one of the mosaic of scientists
searching for a cure for AIDS) and Angelika, a research assistant at the university.
She's from Germany, he's from Israel — a true international couple and wonderful
company for a walk through the city.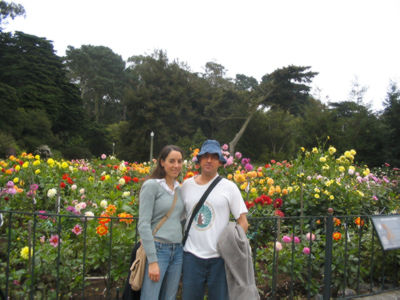 We stopped at the botanical gardens in Golden Gate Park — they are truly stunning.
Gilad and Angelika stopped by the bluegrass fest for awhile, but they found
they weren't dressed warmly enough to stand still and watch music, so they kept
on walking another couple miles down to Ocean Beach. I'm hoping I'll see 'em
on another hike.
OK, back to the festival:
Here's the Texas singer-songwriter Jimmie Dale Gilmore, who played an extremely
polished set. He sings in a high register that reminds me a lot of Willie Nelson,
except Jimmie Dale has a smoother voice — the pitch without the crackle. This
guy proves why you have to peel past the layers of fame to find to the really
interesting musicians. Willie Nelson is an icon for sure, but the key to his
appeal is not his fame or his hit records: it's his distinctive musical style.
Willie can make anybody's songs sound good, and the same is true of countless
indie musicians like Jimmie Dale Gilmore who barely scratch out a living playing
music. It takes a lot more patience to sit through songs you've never heard
before but the payoff is hearing something amazing for the first time.
Steve Earle sits in on a songwriters session. He's singing a song about a 19th
century juvenile delinquent; earlier he sang that song of his written from the
perspective of a guy about to be executed by lethal injection. Amazingly powerful
song, really gave me the chills. (When Steve trots out his causes at every show
the audience is silently saying, "Shut up and sing, dammit" — and
it's like he reads our minds and knows it's going to take some kick-ass performing
to melt that annoyance away. Then he does it.)
Ricky Skaggs, center, and Kentucky Thunder. They play fast and furious, tight
as a snare drum.
Del McCoury, right, and his band. The best bluegrass combo I've ever heard.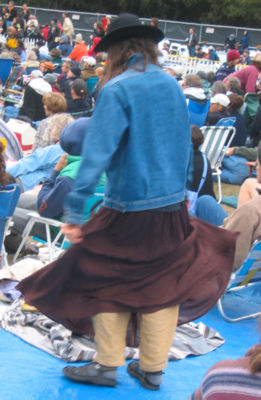 A dancer nearby swings to the twang.
The Gourds, another good-time Austin band. I stayed for a couple of their songs,
then headed home.
Yeah, it was cold, windy, and all-around terrible weather for an outdoor music
festival. But the only regret I have is a kind of buyer's remorse that happens
when you're grooving along to one band and hear a huge round of cheers for a
different band closing its set at a nearby stage. Even then you realize somebody
else is having a good time over there so it's hard to feel too terrible about
missing their fun, especially when you know they're missing yours.