The winner of the Two-Heel Drive challenge to relate readers' most extreme hiking experiences is one Thom Gabrukiewicz, who emerged bloodied but not bowed after a backpacking adventure in Northern California's gorgeous Trinity Alps.

Here's the link to Thom's original post.
Here's how the final voting shook out: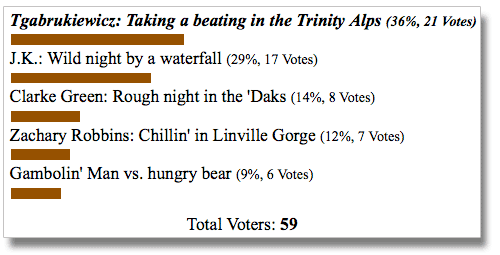 You'll notice that 59 votes were cast — it didn't escape my notice that every time Thom posted a "please vote for my tale" plea to his Twitter feed, his vote count bumped up a few notches. See, that's the kind of initiative that built this great nation of ours.
Fifty-nine doesn't sound like much, but bear a few things in mind:
1) This is the Internet, where amusement rules and anything which imposes any sort of difficulty triggers a mad rush to the "back" button.
2) This contest required voters to read five stories, then decide which one they liked best. People hate to read on the Web, so this drives down the vote totals in any "pick the best story" contest.
3) People had utterly nothing to gain from participating in the contest if they weren't one of the finalists.
All of which boils down to: Having nearly 60 people jump through all those required hoops is, frankly, pretty remarkable.
So anyway, if you were among the Two-Heel Drive Elite who voted in this contest, submitted an entry, or both, buy yourself and extra beer or otherwise reward yourself for being a part of something so cool that most people could not be bothered to participate (this is, by the way, the definition of cool).
Related posts: