The San Francisco Bay Area's mild climate, varied terrain and abundance of developed trails make it one of the world's best places to hike nearly every day of the year. Even the rainy season of December-March has its benefits: Storms cleanse the skies of hovering smog, opening up fantastic views of the bay, the Pacific Ocean and even the Sierra peaks nearly 200 miles away.
Two-Heel Drive chronicles my Bay Area hikes from 2004 to 2009. I also wrote a series of park profiles for the San Jose Mercury News, produced a page with links to professionally produced hiking maps, and authored a series of hiking guides for EveryTrail.com. These pages represent a rough guide to what I've learned along the way.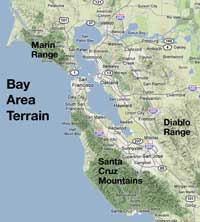 Geography, terrain
The Pacific Ocean, the San Francisco Bay and the region's three mountain ranges define the terrain for local hikers. The Diablo Range forms the region's eastern border, running north to south through Contra Costa, Alameda and Santa Clara counties. The Santa Cruz Mountains run south from San Francisco through San Mateo, Santa Clara and Santa Cruz counties on the west. The Marin Range runs north of the Golden Gate Bridge through Marin County and up to the Wine Country. How they differ:
Diablo Range: Hot in summer, muddy in winter, gorgeous in spring. Little shade, often strenuous trails. Best time to go: Springtime during wildflower season a few days after the last rain. Best avoided: July through mid-September. Trail quality is middling — many are old ranch roads where cattle still graze. Views of open terrain, however, are excellent. Click for my Diablo Range hikes.
Santa Cruz Mountains, Pacific Coast: Forested with Douglas Fir and Redwood; cool all year, cold in winter. Hiking in the redwoods is great all year: thick tree canopy blocks rain in winter, and sun in summer. Trails throughout these mountains typically have excellent grade, design and maintenance. Vistas are a bit more scarce compared to the Diablo Range because so much of the hiking is under tree cover. The coast, however, has amazing scenery. It too is cool all year, but is very foggy in the summertime. Trails through flat, sandy areas can be much more strenuous than they appear. Click for my hikes.
Marin Range. Intriguing mix: Near the ocean, weather is most like the Santa Cruz range; eastern extremes are more like the Diablo Range. Trail quality is high, but you need a map and/or guide book: people have hiked these hills for generations and have created many undocumented spur trails. Click for my Marin hikes.
What to watch out for
Poison oak is the bane of Bay Area hikers: it appears near narrow trails pretty much everywhere.
Ticks are common, especially in grassy areas in the spring. Have a friend do a tick check when you're done.
Rattlesnakes show up occasionally on Diablo Range trails. You shouldn't have any trouble if you give them lot of room to escape.
Mountain lion warnings appear at almost all Bay Area parks. The big cats do roam these hills — they are not an endangered or even threatened species — but people almost never see them. Memorize the warnings, especially if you're hiking with small children.
Two-Heel Drive hikes, by region:
Diablo Range | Santa Cruz Mountains | Marin Range