You'll have to take my word for it that this was worth doing: I really and truly attended the grand opening of a parking lot on Saturday. Another 50 or so people were there, which means either we were all nuts or that maybe it really was worth doing.
Why a grand opening for a parking lot? Here's the scoop: A local government body called the Santa Clara County Open Space Authority has owned this patch of acreage called the Rancho Canada del Oro Open Space Preserve for some years now. There have been a couple trails through the preserve but the only way to reach 'em was to hike more than three miles from Calero County Park. The Open Space Authority just finished a spanking-new parking lot and trailhead next to Rancho Canada del Oro, and held a dedication, ribbon-cutting and inaugural hike Saturday morning.
So now those remote stretches of trail can be hiked without the long slog out from Calero park. The trail is remote, shady and generally gorgeous. A bit of a climb to the top of a ridge but nothing too terribly taxing.
Folks gather for munchies, hot chocolate and welcoming speeches from Open Space Authority folks.
The trail is open to horses and hikers. Good thing they're such pretty beasts; helps us forget that their hooves chew up the trail when it's soft from the winter rains (not like it's the horses' fault; they just come along for the trailer ride; next thing they know there's a saddle strapped on their backs and people are sitting up there, kicking them in the ribs).
I found out about the grand opening at Dan Mitchell's blog. He's a San Jose guy who posts lots of pictures from his backcountry travels. He mentioned he might drop by so I drove over to the new parking lot, wondering if I'd bump into him. He showed up. Turns out he looks pretty much like the picture on his blog — I just looked for the guy hefting a ton of photography gear.
Here's Dan consulting with his teen-age son via cellphone. I got the feeling his son was developing an independent film of which Dan was about to become executive producer.
So what about the hike? Well, Dan and I spent much of the hike chatting about hiking and camping so I didn't get all that many pictures. But these few will suffice.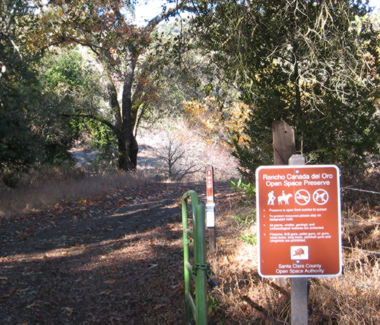 We took the Longwall Canyon Trail, which goes uphill from here to a ridge overlooking Silicon Valley.
Rather colorful patch of dirt, if I do say so.
Dead tree pic, because there has to be one.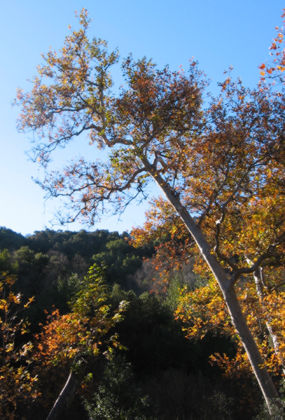 The leaf-bearing trees haven't lost all their leaves around here. The trail's in a canyon here so it's out of the wind.
Another tree nearby had lost all its leaves, though.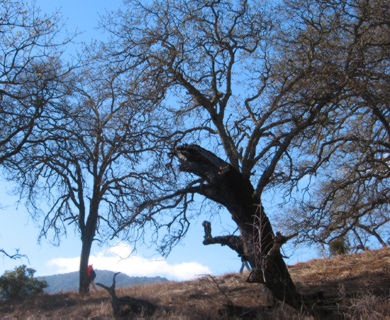 More interesting trees near the top of the ridge.
From here this looks like pretty rugged country, though once you hike back down to the parking lot, it's only a couple miles back to the main road, and a few more miles back to town from there. The Bay Area has a raft of open space preserves so folks like me will always be able to find patches of wilderness without having to drive four hours to the Sierra. No craggy, snowcapped peaks, unfortunately, but other than that, pretty easy on the eyes.
Dan never did get much use of all the camera gear he hauled along, but that'll give him an excuse to come back. I'll be sure to link to his pictures when he does.