We drove, we drank, we hiked, we dined. We slept under a stupendous autumn moon, snacked at the foot an immense exctinct volcano. Good times, as Winehiker Russ put it.
With no further ado, here are my pictures from the first-ever International Outdoor Blogger Ho Down:
Friday night: Tom of Trout Underground
admires the campfire.
Saturday morning: Gumboot Lake is a lovely little body of water. Four determined fishermen from the campsite next door piled into this rubber raft in search of bites. To Tom's chagrin, no fishing transpired among Ho-Downers.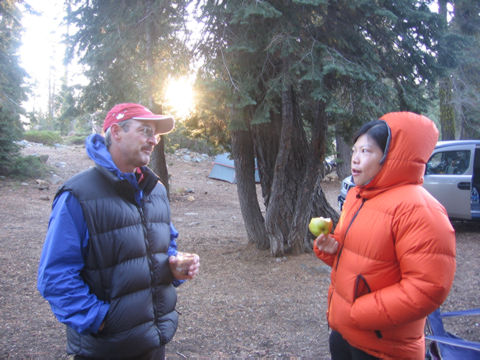 Rick of Best Hikes and Szu-ting (AKA
Little Po) chat amid the morning chill. It was 38 degrees in my tent when I got up just before dawn.
Like I said, lovely lake.
Special guest blogger: Wally the Wonder Dog. He's a mix between a bassett hound and a black lab, which gives the impression his legs were left in the dryer too long.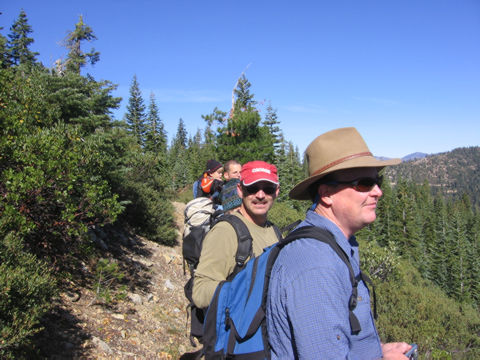 The hike: We headed up to a small section of the Pacific Crest Trail and hiked along a ridge to a place called Seven Lakes Basin.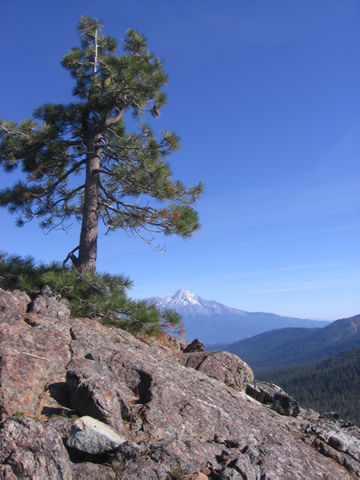 Mount Shasta in the distance.
Climb_CA and The Boy. He may be all about the 'tude at GoBlog, but he's an impressively doting father (to say nothing of his strength as a hiker: he went everywhere the rest of us did with The Boy in a backpack carrier and hardly broke a sweat.)
Fall color at the rim of one of the Seven Lakes.
Rocky scenery on the trail back to camp.
The gang minus Your Photographer, from left: Rick, Climb_CA, Szu-ting, Tom (kneeling), John Fedak (whose ankle is mostly fine) and Winehiker Russ
Fedak explores an ammo box full of goodies left for Pacific Crest Trail thru-hikers.
Back at camp, Szu-ting and Rick further The Boy's education.
First course of Russ's excellent gourmet dinner.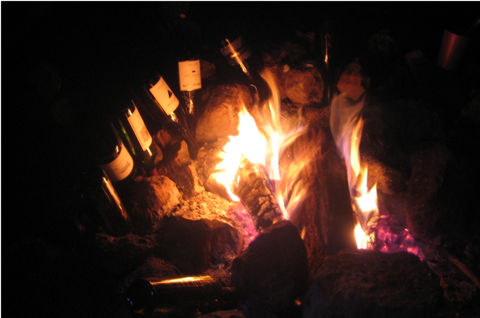 Expended wine bottles around the campfire. Yeah, we all were a bit tipsy. After all the hiking, eating and drinking I went to bed and was asleep about 13 seconds after my head hit the pillow. Woke up the next morning detecting a definite draft and noted that I had neglected to zip up my sleeping bag. It was only 36 degrees in there, so no big deal.
Szu-ting attends to fanning-the-flames duty.
Sunday: We do one more hike, a mile and a quarter up to Horse Camp.
Uh, yeah, it goes that way.
The Sierra Club keeps this stone hut at Horse Camp
He looks like a chipmunk but he's actually a squirrel, Russ informed us.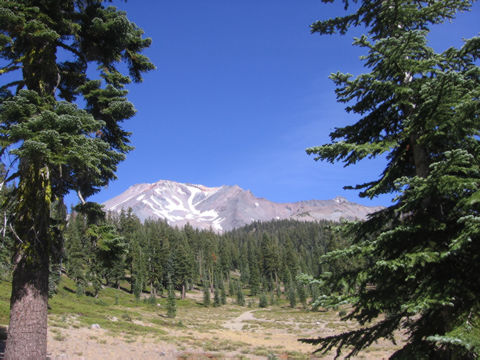 OK, one last look at the mighty peak.
UPDATE: Rick's pix here.