This week we revisit Russ Beebe of CaliforniaWineHikes.com, whom I accompanied last month for a swell hike at Henry Cowell Redwoods State Park, followed by a wine tasting at a vineyard near the park. Russ was a co-conspirator in my weekend at Mount Shasta earlier this month, when he took it upon himself to prepare an excellent gourmet meal over a Coleman camp stove for about a half-dozen outdoor-blogging types. I knew I'd never be able to return the favor, foodwise, but last week I did figure I could at least offer to give Russ a round trip ride to a Bay Area trailhead of his choosing. (Note to Google surfers wondering if they should hire Russ to guide their wine hike: yes, do it. Today's hike describes terrain much like the countryside you'll be hiking in, though the Wine Country is even more scenic).
Russ picked Skyline Ridge Open Space Reserve, which runs along along State Highway 35 in the Santa Cruz Mountains on the west side of Silicon Valley. The Peninsula Open Space District operates a raft of these preserves in the hills nearby. All offer excellent hiking, running and mountain biking trails that are well maintained. Scenery is wonderful, especially on a day with cirrus clouds airbrushing the skies.
Weather was about as close to perfect as I could imagine, and I'm speaking of a locale that has a six-month run of excellent weather every year. Simply an excellent day to be out on the trail.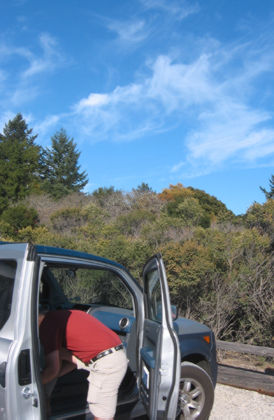 Russ changes into proper footwear in the Hiker Hauler, which appears to have been designed precisely with this activity in mind.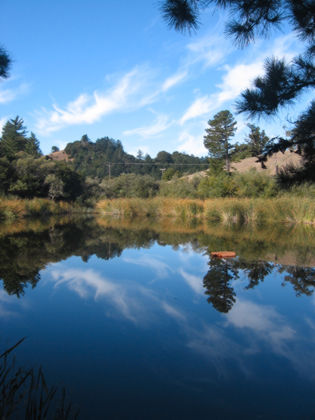 We hiked about a mile and a half to Alpine Lake, which shone like a mirror in the windless glade. This picture is proof enough that you don't have to travel to the Sierra to get eye-popping scenery.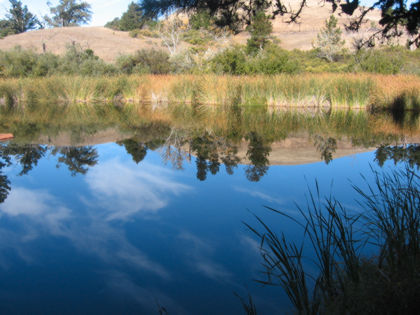 Lakes this photogenic oughta be on America's Top Model or something.
California buckeyes dangle from an oak that has lost its leaves for the season.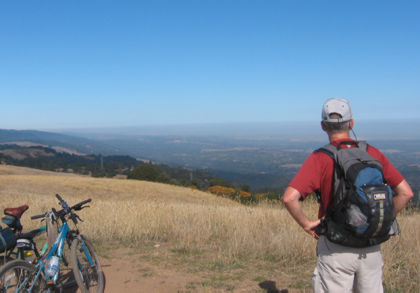 We hiked north to the nearby Russian Ridge Open Space Preserve, then trudged to the scenic overlook atop Borel Hill. A little hazy up here today — in winter after a few days of rain knock down all the crud in the air, the view is even more impressive.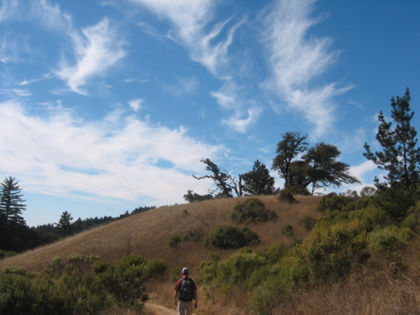 More of that cool-cloud action happening.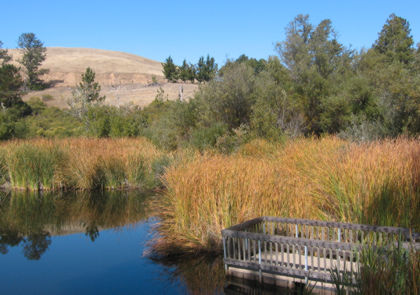 We came back by the lake on the way back; the cattails are also taking on an autumn-color tinge.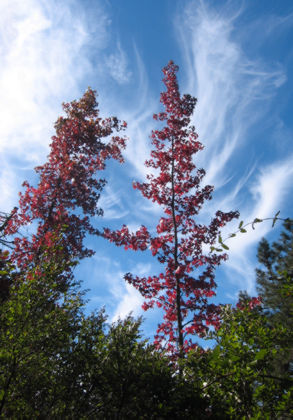 These trees — whose redness stands out like a sore thumb at this time of year — are a non-native species, Russ told me. Figures, for true fall colors we have to turn to alien invaders. On a day like this one, though, I'm not complaining.