Every week it's a new class of Outdoors 101 in the University of the Great Outdoors.
Hiking is the land-grant college — economical, close to home, plenty to offer to motivated students, just tough enough to weed out the slackers.
Backpacking, by comparison, is the Ivy League — expensive, difficult and kindest to those with an inheritance (that is, a mom and dad whose genes bequested the legs, lungs and stamina required to lug 30 or 40 pounds of camping gear across miles of tortuous terrain.)
I got my first overnight backpacking lesson over the weekend. It's about time I got around to it — only took me 30 years to act on an impulse born in a Boy Scout troop I joined solely for the camp-outs. I was such a terrible Scout that I earned only two merit badges and never advanced beyond Tenderfoot. But I lived for pitching a tent and getting out in the woods.
Back in the early '70s, I read a book about an 18-year-old guy who hiked from Canada to Mexico on the Pacific Crest Trail. For awhile I wanted to be that guy, till girls, beer, rock 'n' roll and the inevitable full-time jobs of adulthood moved backpacking to my brain's back burner.
Shopping for outdoor gear in the past year seems to have awakened that old urge. I'm in REI in search of a small pack that'll hold enough provisions for a day hike but I'm seeing the big backpacks, the tents, the sleeping bags, the camp stoves, and I'm thinking: Dammit, I'm finally going to do what I've put off all these years.
Last winter I had bought a backpack, tent, sleeping bag and sleeping pad before it occurred to me that I hadn't slept on the ground since 1977. I wondered if three decades of sleeping on beds had made me soft. I tried my tent out for the first time a month ago and the results weren't hopeful: Mostly I twisted, turned and suffered all night, squeezed into my alleged two-person tent with the only person on earth who can tolerate being three inches from my shoulder when the snoring starts.
Melissa slept fine, it turned out, and wanted to keep on camping — provided we got us a tent with more elbow room and cots to keep our spines in alignment. I can't believe my luck: My darling wife has taken a liking to one of these outdoorsy guy ideas of mine. I sleep better on the cot, though the tent flapping in the wind keeps me up half the night.
So I'm set for car-camping, but when it comes to backpacking, I'm on my own. Melissa never fantasized about hiking across a continent and has certain feet and knee issues which keep her off the trail. She'll help with my menu but I'll have to do all the heavy lifting.
Heavy lifting is what backpacking is all about: you can "go light," but you have to learn to do before you learn to do without. That means piling as much stuff as you can stand into your pack and hitting the trail. After five or six miles with 40-50 pounds strapped on, it's much easier to decide how much you need that stove or that second change of clothes.
I tried my pack out earlier this year a couple times and learned straight away that I needed to get a lot stronger before I did any backpacking in Northern California. So I started doing training hikes a few weeks ago, with a bunch of old sweatshirts and a couple 10-pound dumbbells stuffed into the pack to make things interesting. It worked out to about 40 pounds, which I hauled about two miles up Mission Peak and back down every other day or so. Lots of folks on the trail asked me what I was training for, hoping for an interesting reply like "Kilimanjaro," I suppose. Best I could come up with was "just getting in shape for summer."
A couple weeks of this torture had me ready to at least broach the idea of going on an overnight backpacking trip. So on Saturday I hiked to Eagle Spring Backpacking Camp, which has four campsites tucked behind the eastern slope of Mission Peak. It's a new campground so not many people know about it — which means there are site reservations available on a holiday weekend. Most of the rest fill up weeks in advance around here.
It's all uphill from Sunol Wilderness Regional Park — around 1,700 feet of elevation gain over six miles. I wrote about this hike last year and it hasn't changed much, so I'll just post stuff from my camp-out.
Pitched my tent overlooking this valley. A strong breeze helped dry out all my sweaty clothes.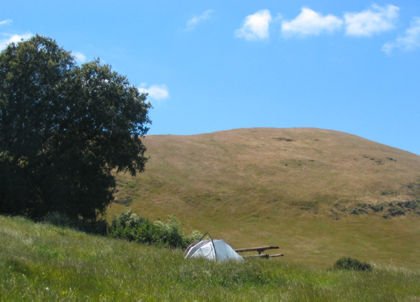 Three guys slept in this little tent and lived to tell. That's Mission Peak in the background.
Roughing it for me is going a whole weekend without my latest issue of the New Yorker. Since I was solo camping I had plenty of time to read it cover to cover.
Had to post this one because Melissa says it looks like a postcard.
The grass is really tall, thanks to all the rain we've had this spring. When it all dries out in August, though, it'll go up in flames at the tiniest spark. I plan to be camping somewhere else when that happens.
Still a few wildflowers hanging in there.
Here's the campground from the trail to the Mission Peak summit. Long way down there, eh?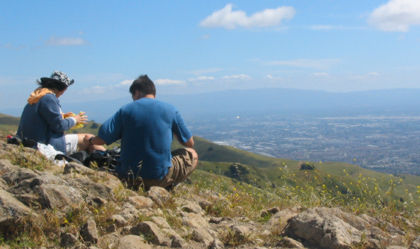 Hikers at the summit re-energize for the return trip. The cool thing about camping nearby is being able to walk up here without working up a huge sweat and reaching the summit without having to feel thankful your heart held up all the way.
Not a bird, it's a hang-glider. Also known as: slightly crazy person who doesn't understand why airplanes have engines and fuselages.
So those are the highlights of Day One.
Night One is another 10 hours of twisting and turning trying to get comfortable, hoping to tune out the sound of the wind whipping the rain fly, not remembering many dreams — except the scary one in which I sense a large animal in the tent with me. Swell.
It gets a bit chilly overnight, but my sleeping bag is this evening's saving grace. I'm all toasty warm while contorting myself into a position that will make me comfortable enough to sleep. I finally find the perfect position at about 4 a.m. At 6:15 the sunrise is warming the tent and I wake up feeling mostly rested. I must've slept most of that time, I suppose.
The dawn is glorious, as it can be only in the countryside away from civilization. Mornings like this make you forget the night before.
Here's sun warming the side of my tent.
The sun hits the hillside at a certain angle you see only at the day's beginning. Gorgeous.
Time to pack up: Beware the dreaded gaping maw of PACK-ZILLA!
I got lost on the way back to Sunol — there's only one possible wrong turn and I took it. Got a nice look at a couple dandy horses who seem to be so well-behaved that their owner doesn't bother to close the gate.
After I got back on the right trail it was all downhill for about five miles.
All in all, an excellent dry run. And more motivation to master that sleeping-in-the-wilderness thing.