No hikes or camp-outs of note this weekend. For the past month or so I've been doing a couple training hikes a week with 40 pounds in the backpack and I keep thinking there'll be some time when it doesn't feel so damn heavy. The point is to at least get used to the idea of hefting all that gear up and down trails to campsites available only on foot (or hoof).
When I was getting ready for my first overnight backpacking trip over Memorial Day weekend, I was only half-joking when I told Melissa my backpack would feel fine as long as I could get by without food or water. I've been putting off the business of equipping a trail galley because I've been hating the idea of adding any more weight to my pack.
But I learned two essential details on that first trip:
You've got to have something sturdy to keep your food in — and keep the critters out.
Hot meals beat the hell out of cold ones.
I improvised with a Rubbermaid container to hold the food, which consisted of anything that didn't require cooking. The universe of such foods that are worth the effort required to chew and swallow is, shall we say, small.
This weekend the good folks at Mel Cotton's Sporting Goods in San Jose had a big 20-percent-off sale, which was all the encouragement I needed to remedy the trail-galley situation. Here's what I picked up: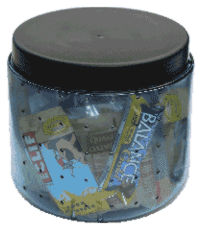 Bear Vault Solo. This is like a great big cookie jar made of seemingly indestructible plastic. It holds about a four-day food supply, which seems like plenty to me. Bear-proof containers like this one are three things backpackers hate: heavy, bulky and expensive. They are also required on almost all the really cool trails in California, because all those trails go though the haunts of black bears. If you get caught on the trail without a bear-proof container, there's heck to pay from the people who run the national parks and forests. Bear Vault makes a much bigger version of this container — it's like 50 percent more space and only $10 more expensive, but I didn't think I'd need the extra weight or bulk on the weekend outings I'll be doing. Some folks prefer putting their food in bags and lashing it to a tree limb. It's definitely a lot lighter, but there's always the hassle of hanging the food. With a big canister like the Bear Vault, you just leave it outdoors a safe distance from your tent, and if any bears wander by they might smack it around a bit but they won't get in. And if it keeps bears out, it's certain to thwart raccoons, marmots, squirrels and other furry varmints. While researching anti-bear containers, I came across a company that invented a bear bag called the Ursack made of the same material that goes into bulletproof vests. The bag has won raves from customers (though the national parks people haven't approved it yet, saying it 's not totally bear-proof) but the company has one small problem: The entire global supply of the mega-tough fabric has been requisitioned by the U.S. military. Thanks, George.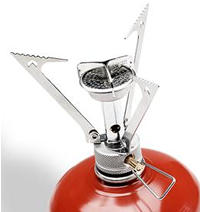 MSR Pocket Rocket. It's more blowtorch than stove, but it's cheap, light and well-reviewed. It screws into the top of a fuel container. You hold a burning match by the burner, open the valve three-quarters of a turn and presto: major flame action. It'll boil a liter of water in three to five minutes, depending on how high you turn on the flame. An eight-ounce canister burns for about an hour at full-blast. There are bigger, fancier stoves that are a tad more versatile, but I was swayed by its simplicity. Canister stoves have one downside: you can't use a windscreen with them, because heat buildup near the canister — which is highly pressurized — is apt to cause an explosion. Here's a good guide to choosing a backpacking stove.
Storm Lighter. This is a high-tech lighter billed as wind- and rain-proof. The flame fairly roars when it lights, but it will stand up to a breeze. One of those things you hope you never need (and you hope doesn't fail you when you need it most.)
MSR Titan Kettle. It's titanium, which means you pay through the nose for the strength and lightness, but it's also a pot, kettle and cup all in one, the only pot I'll really need on the trail. Yesterday I used it to prove that I do in fact know how to boil water.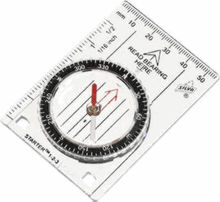 Silva 123 Compass. OK, not a galley item, it's not like I need to know True North to find the dinner table. I picked it up while I was at the store because I figured I needed at least a basic compass on the trail. Yesterday I even figured out how to use it with a map. Here's a guide to compass basics.