"No camper has ever been turned away from Andrew Molera State Park," Teresa told us. Teresa's the co-founder of the East Bay Backpacking Club.
She planned an easy weekend trip at the park, which is perched on the Big Sur portion of the California coastline. She hadn't been to the park in a couple years, but back in the day, everybody who showed up to camp was allowed to camp.
My plan: drive down the coast to the park and meet up with Teresa and whoever she brought along. The plan seemed due for the shredder when I pulled up to the ranger's hut at the park's gate. "Campground full," the sign said. I don't know what made me think a sign would lie about such a thing, but I parked the car, strode over to the gate and double-checked. "I've been turning people away all morning," the gate guy told me.
Within seconds a woman walked up and said "Campsite 22's open."
"I"ll take that one," I told the guy, and within a couple more minutes I had my campsite; what I didn't have was any evidence of Teresa or the backpacking club. I figured they'd be along, though, so I slapped on my pack and headed over to Campsite 22, an easy hike of less than a half-mile. The trail to the camping area is all wooded and shady but Campsite 22 may as well be in the Sahara Desert, for all the shade nearby. It's sunburn city, but at least there's a cool, stiff breeze coming in off the Pacific Ocean, which is about another mile west of the camping area.
After I got my tent set up I headed back to the park gate to leave a message for my fellow campers. When I got there I saw the park's department guy explaining to yet another carload of campers that they'd have to look elsewhere. And who should those campers be but Teresa and her entourage.
"Hey, it's Tom," I tell 'em, waving. "Oh, yeah, we're with HIM!" Teresa tells the gate guy. How's that for luck?
OK, let's check out some pictures.
While Teresa and her co-campers Lourdes and Gloria set up their tents, I took a little hike down to the ocean.
The Big Sur River empties into to the Pacific about a quarter-mile from here.
A fine spray rises from the crashing surf. By the way, "Big Sur" has no relation to the word "surf." It translates into "Big South," which is what the Spanish settlers of the Bay Area called this huge open wilderness to the south.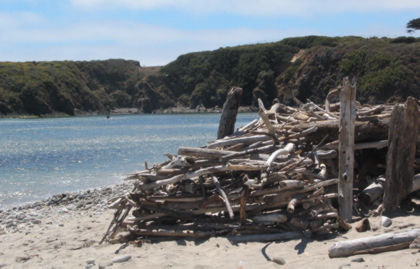 Industrious beach visitors build wind shelters out of driftwood. It's a good place to be on a day like this, when the winds compare favorably to a sandblaster.
The Big Sur River forms this tidal pool just before it flows into the sea.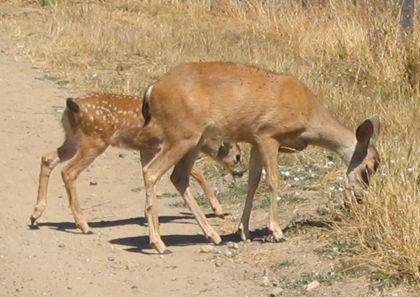 Back at the campground, a mama deer and her fawn graze. They pretty much ignored me, which means they've been hanging around campsites too long. Mother nature tends to provide mountain lions to correct such errors, so think about that the next time you feed some wildlife. It's good in theory that you're being nice to nature's creatures, but in the real world, a human-pampered Bambi is cat food.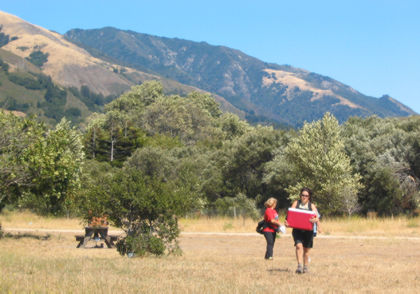 Lourdes hauls a cooler full of goodies from the parking lot. I heroically hauled a bundle of firewood to cook dinner over. Before dinner, though, we had to hike down to the ocean again.
Teresa's hair does wild and crazy stuff thanks to the stiff breeze.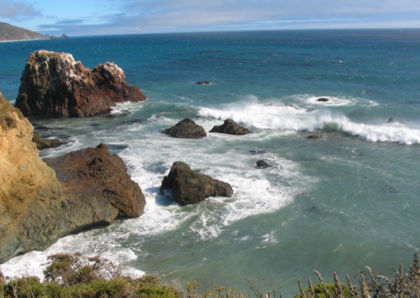 More waves crashing. I could watch those things for days, if I could get somebody to keep bringing me beer and cheeseburgers.
Ventana Wilderness lies to the east of Big Sur. It has tall hills and tons of trails, but it heats up like a furnace in the summertime so it's not much fun backpacking there at this time of year.
Lourdes uses her Swiss Army knife to check the chicken, which cooked for more than an hour over the open flames. It was worth the wait.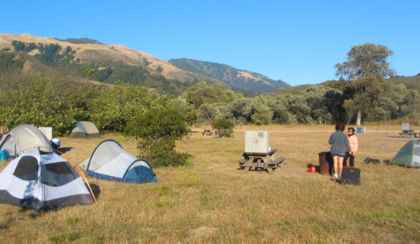 Our campsite for the night. By now it's really starting to cool off.
The setting sun gives the mountains a golden glow. After dark the stars put on an amazing show.
Next morning, a squirrel stops by looking for a snack. They're cute, but those teeth can chew through anything. I saw a couple nosing around my tent and decided it was a warning that my luck was about to run out, so I decided to break camp and head back to San Jose.
The scenery's so stunning that I couldn't resist the urge to stop and take a few pictures on the way home. This is one of those bridges you see in those movies featuring people driving up the California coast.
One more look at the Big Sur coastline. Another of those images which explain why so many people come to California but so few leave.