Weather last week was wonderful, except when it was gorgeous. I checked the San Jose forecast around Tuesday — blue skies and highs in the 70s through the weekend triggered my inner Boy Scout, which made it impossible to think of anything but a camp-out.
There is an easy way to camp out, which is to drive the car to a campground, pitch your tent, build a fire, toast some marshmallows, pop open a beer, soak up the sound of birds in the trees and critters in the forest, retire to the tent with its cot and pillows from home, and fall asleep serenaded by the sounds of the night.
The hard way is to cram as much as you can stand to carry into a backpack, hike seven miles through dry creeks and canyons to your campsite, pitch your tiny pup tent, twist and turn all night trying to get comfortable sleeping on the ground, serenaded by the sounds of mammalian creatures trying to get into your food supplies.
As Mother Nature's hostage, I chose the latter.
Saturday morning, I drove as far as the headquarters of Henry Coe State Park, which has some of the most brutal hill hikes in the region but also has some of the most scenic, uh, scenery. From there it was about seven miles or so to a remote notch in a hillside called Hidden Spring.
The months since early June 2005 have mostly been a matter of resting up from my last Henry Coe camp-out in preparation for my next one. The park is simply spectacular in early spring, when the hills are green, the creeks are flowing and the wildflowers are in bloom. I figured, yeah, well, sure it'll all be brown and blah but dammit, it's the third weekend in November and it's not raining, so I'm hitting those trails one last time before the winter rains hit.
I was pleasantly surprised to find an abundance of fall colors, and the usual vistas of rugged hills and ridges. Henry Coe is all ridges — up them and down them till to reach your campsite or pass out trying.
About 2.5 miles from the park headquarters, I hiked down a steep hillside on the Soda Springs trail. The springs used to be a tourist destination many decades ago; there's nothing down there now but a creek, a broken-up old shack and some kind of stone shelter.
Here's the stone shelter. From here the trail zigzags across a creek for a mile and comes out at China Hole, the prettiest spot in this section of the park. Don't try this route in the spring when the creek's full of water, unless you have an incurable urge to to hike with cold, wet feet for a mile.
One of the puddles at China Hole. This was all under water last spring when I was here.
The China Hole Trail continues up the ridge to the right near here. It's about two miles to my campsite from here. It's pretty much all uphill, but only about 600 feet of elevation gain. A cakewalk by Henry Coe standards.
Caught the afternoon sun shining through some leaves.
Found the turnoff to Lost Springs Trail, hiked down about six-tenths of a mile, found my campsite — the privy even had toilet paper!
So I've got all my stuff set up by 1 p.m. Nothing to do but kick back and soak up the sights and sounds.
Oh, wait, where's that Lost Spring?
Ah, found it. It's about a four-minute walk further down the trail. It looked perfectly clean and drinkable but I was a good Boy Scout and used my water filter.
I took a little afternoon hike, capturing this image of the setting sun illuminating a tree.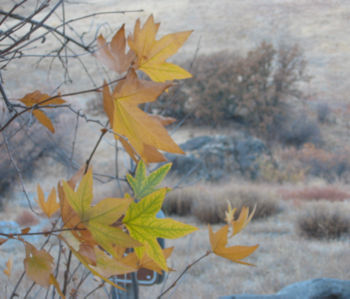 One leaf hasn't gotten the "it's time to turn brown" memo.
The required dead-tree picture. I saw so many examples of interesting live trees that I didn't trouble myself with shooting many dead ones this time.
Those are the Day One pictorial highlights. A few other observations:
I'm reading a movie review in the New Yorker (hey, it's lightweight and employs the world's greatest writers; an excellent trail companion) and one passage makes me laugh out loud. The sound of my voice is like a trumpet — that's how quiet it is out here. I hear voices a couple times and catch a glimpse of somebody's jacket on the trail; humanity-wise, I've got this hillside all to myself.
A breeze passes through the treetops and dozens of yellow leaves flutter to the ground like the prelude to snowfall. I look down from my magazine awhile later and one of the leaves has come to rest on my thigh.
The hillside is coated with dry leaves, which crinkle every time an acorn falls. Just beyond my range of vision I hear creatures moving about; probably birds, squirrels, raccoons, etc. At one point I hear a massive rustle of leaves — something big is moving across the hillside, like deer or coyotes, but I see nothing. Friend or foe, I have no idea. But I know they're out there.
I cook my dinner after sunset and dine in the dark. All the while I'm hearing rustling in the leaves. I have one of those little lights that straps to the forehead — the beam dies at about six feet out. Every time I shine it in the direction of the noise, it stops. Whatever they are, they're paying attention.
I turn in around 7 p.m., figuring this'll give me about 12 hours to get 8 hours of sleep. After awhile I hear the distinct chattering of raccoons in the general direction of the picnic table, where all my food is encased in a hard plastic bearproof container. "What kind of moron hauls these things to a place with no bears?" they mutter between curses. Answer: a moron who wants to keep the rats, mice and lesser omnivores out of his breakfast. (Most folks keep their chow in a bag hanging from a tree branch, but I'm getting in practice for camping in the Sierra, where anti-bear boxes are required.)
Early in the morning, around 5 a.m., I hear a shrieking sound, either a bird or a coyote, and the sound of something large moving near the tent. I'm buried so deep in my mummy sleeping bag that I can't get turned around to take a look until it's gone. I'm guessing it was a coyote, because I've heard birds shout out warnings when the wild canines were lurking about.
Day Two: back to headquarters.
Warm sun feels good after waking up to temperatures in the 40s.
I hike down to a site called Los Cruzeros. From here there's a rock scramble called the Narrows that loops back to China Hole.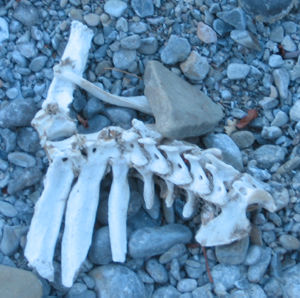 One critter never made it home.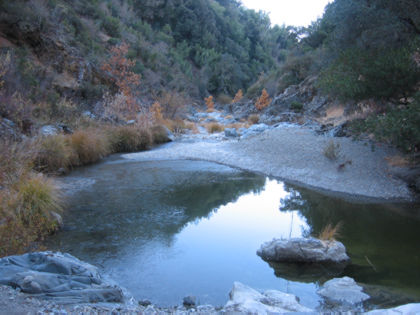 Most of the pools have a thin sheen of ice. This canyon fills with rainwater in the spring, making for a very wet, rocky journey for all who venture out this way.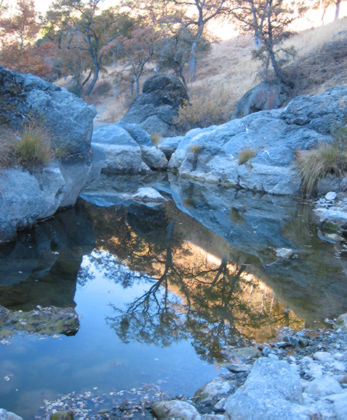 Back at China Hole, the ice has melted. Four guy were camping near here; they looked really cold. I was fortunate to be moving and carrying about 25 pounds in my pack, so I was plenty warm. But the water in my bottle was fresh-from-the-fridge cold.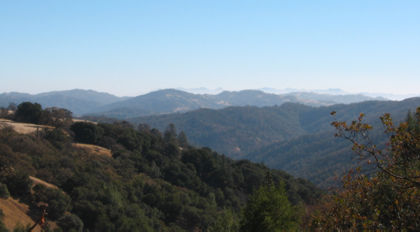 From China Hole it's five miles, uphill all the way, back to the park HQ. This shot looks out into the park from the Corral Trail near the HQ. Henry Coe is a vast place; it stretches to the far peaks in this picture and beyond. It's easy to see why some folks become so enchanted with the place. It's pure wilderness about an hour from San Jose. The zones nearest the park entrances have springs, ponds and privies to ease the adjustment to the wilds.
If you're thinking of hiking at Henry Coe, here's the best advice I can think of: Stay off the dirt roads and stick to the single-track trails. The roads were built for motor vehicles and are too steep for puny people moving under muscle power. The trails were built with hikers in mind, and the worst of them are only half as bad as the roads.
Also, worry about water: The creeks fill up in early spring, making many passages precarious; then they dry up in the summer, taking away a prime water source. But the park has lots of natural springs that flow all year; you just need to know where they are, and how much water they have in them. The rangers at the park HQ can fill you in. I've hiked the meanest, steepest road in the park at the height of summer — even with plenty of water, I don't recommend it.
But I highly recommend Henry Coe. Just be a good Boy Scout and be prepared.