While the bells are still jingling in my head, I might as well gloat over the
hiking-related stuff I got for Christmas.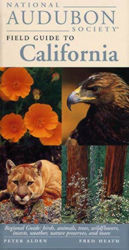 Melissa gave me the National
Audubon Society Field Guide to California. It's got the most common flora/fauna
you'll see on land around these parts, and a few you might see at sea. A bit
heavy for backpacking, but nice to have along on a day hike. Here's
a complete list of National Audubon books.
The rest is stuff I bought for myself.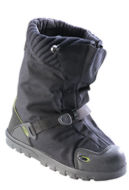 Neos
Explorer overshoes. These are like galoshes — pull 'em over your shoes
and you're ready for mud, snow and other inclementness. I need 'em because the
trails I prefer to hike on in the winter get ankle-deep in mud, and it's better
to have one set of boots designated for mud duty. These are pretty expensive
at $70 bucks, and they're pretty heavy at 2.5 pounds. Also insulated, so they
may be pretty warm for use in snow-free zones. But I'll try 'em out this year
and report back.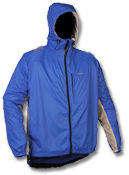 Montane
Lite-Speed jacket. Last time I went on a really tough hike and the weather
turned against me with rain and high winds, I pulled on my trusty Marmot Precip
jacket and got way too hot and sweaty within minutes, creating that wet-on-both-sides-of-the-jacket
effect we know and love. So I started looking at water-resistant "wind
shirts," which seem lighter and better suited to heavy-breathing outdoor
activities. Backpackinglight.com recommended this jacket from the UK-based Montane.
It's super light at only 5 ounces and comes with a little stuff sack and a clip
to hang it from a daypack in a handy place. Only oddity for U.S. consumers is
that the zipper is on the opposite side, but it's not a deal-killer.

LL
Bean Polartec Powerdry base layer shirt. I've also been looking for better
wicking fabrics in my base layers. I have a couple shirts from REI with MTS
fabric that always seem to get soaked through, so I did some poking around to
see if anybody else offered better alternatives. Patagonia's famous Capilene
fabric gets lots of raves, but I saw a few sites that said Polartec Powerdry
is even better, so I ordered a couple versions of this shirt: one in silk weight
and the other in medium weight. These are in the mail, so I'll have to report
back on how well they do.