I've got another snow-camping outing planned for the first weekend in March at Lassen Volcanic National Park. This one includes a seven-mile hike with full pack and snowshoes at above 8,000 feet, which means I need to beef up my hiking regimen to get ready for that heavy-duty haul.
So Saturday I did the best 12-mile hike in my neighborhood, from Ed Levin Park to the Mission Peak summit 6 miles away. The first three and a half miles at Ed Levin rise about 2000 feet; after that it's just one foot in front of the other till you get over to the peak and back.
I took the camera along to give me an excuse to rest up now and then. It was a perfect day for soaring raptors, I saw a couple red-tailed hawks and other large birds of prey. The ground squirrels were making themselves very scarce.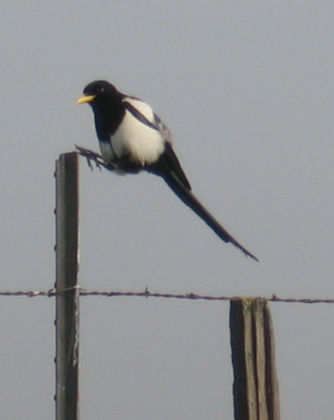 One of the most common birds around here is the yellow-billed magpie. They love to sit on fence posts and chitchat; I crept up to this one and caught him in mid-hop from one post to another. My guidebook describes them as "tolerant of humans," which probably explains why he let me get this close.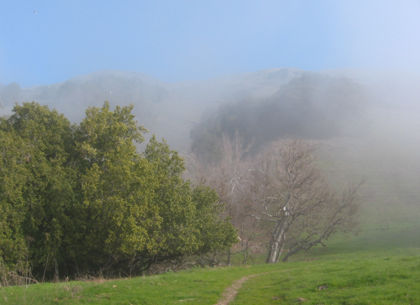 Fog drifts across the hillside.
Cows are your constant companions at Ed Levin. An angus bull the size of a small buffalo was hanging around nearby; I left him alone.
The view isn't always this good up here. Sometimes it's better.
A pic at the Mission Peak summit, just to prove I was there.