Another Sunday, another ramble with Mike and Kathy's hiking club at Sunol Regional Wilderness. You can't go wrong at Sunol, though we have tried, time and again. Mention Sunol to anybody who hikes in the Bay Area and wait for the smiles of recognition. If you get no smile, it's because they haven't been there. It has hills, canyons, rocks, trees, birds and scenic splendor around every second corner. It's almost never crowded here, except during wildflower season.
We hiked for a couple hours this time with only mild climbs and a visit to the Alameda Creek spilling over the rocks in Little Yosemite. Uneventful, in a good way, which means nobody fell in the creek or got chased by angry cows.
I don't know why, but I just like this picture.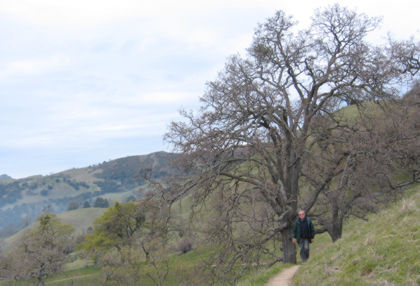 This is Dirk, who's been hiking with Mike & Kathy far longer than I have but our paths never crossed till today. He was born in Germany in 1939; suffice to say he grew up during interesting times.
There's something inherently visual about this watering trough. The reflections in the water just beg you to snap off a few frames.
See, my enthusiasm for dead trees is catching!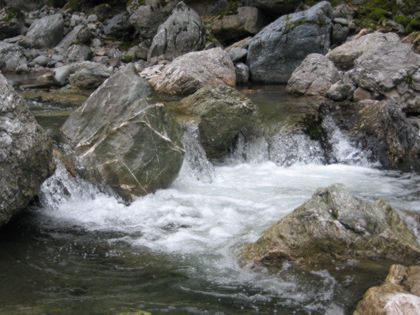 Dirk and I scrambled over a bunch of boulders to get down to the Alameda Creek. It wasn't in full roar because it's been a fairly dry winter (a condition being corrected as I type this; it's supposed to rain all week).
Dirk was highly enamored of these tree roots growing right up against the rocks. They look like driftwood still attached to the tree.
Our small group bumped into a large group of hikers from another club. Mike showed them his "club cards" (like business cards, only for the club); they were suitably impressed.
Mike is concerned that nobody has taken a picture of one of his trademark silly poses in some time.
FOMFOK charter member Gwen took the rest of this week's pictures.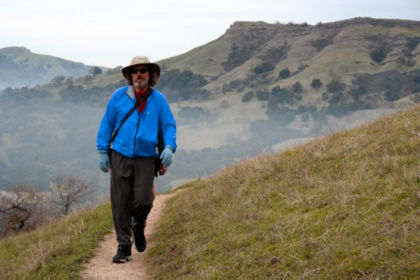 Yours truly, with Flag Hill in the background (which is a good place for Flag Hill to be; the trail up there is brutal).
"I only have one pace," Gwen explains. Which means she has plenty of time to rest up and take people's pictures as they attempt to keep up.
Hereford alert!
Kathy and I make sure MIke isn't trying to smuggle any cattle out of the park. .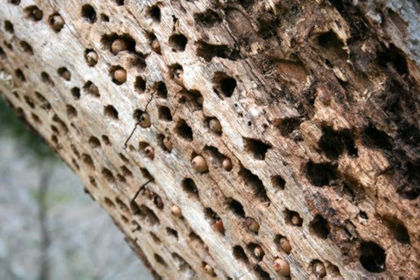 Industrious acorn woodpeckers leave their marks.
Non-rolling stones do gather moss.
UPDATE: Mike's account of this hike here.