It snows hard on the hills around Silicon Valley every second year or so. We got zero snow last year so I figured this weekend's snowstorm — coming this late in the winter — is about the most we can hope for this year, which made me think I'd better go out and take some pictures of the snow on the hills where I hike most often — Ed Levin County Park and Mission Peak. After all it might be a couple years before we get more snow, and who knows what I'll be into then?
Naturally there's no easy way to get to the snow — it's two miles and a thousand feet of elevation gain before noticeable accumulations start showing up. I figured there'd be a mad crush at Mission Peak of hikers wanting to see snow, so I went the long way, from Ed Levin.
The hiking component of the trip was 12 miles of mud-slogging, cowcrap-dodging drudgery. But the weather cooperated magnificently, as it does so often in these parts, which made for some downright amazing scenery. As usual, my pictures capture a mere sliver of the experience.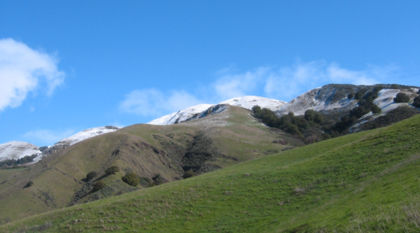 A little more than a half-mile in, the peaks look like the scene of a very large powedered-sugar spill.
The first bits of snow. Cows seem to delight in turning these shady, bucolic spots into mud bogs. They make me wish for hooves, rather than the hot-and-heavy insulated NEOS overshoes I'm wearing to keep my feet warm and mud-free.
At a bit less than three miles and about 1800 feet up, the snow's starting to get thick. A couple large, majestic Angus bulls mill about. The one not in the picture stood so still as I walked by that I wondered if he might have been a show bull trained to pose when people get close to him.
I had something Saturday that every landscape photographer prays for: bright sun, blue sky and big, billowing clouds. Fresh snowfall is gravy on a day like this.
This scene looking south along the hills provides wonderful shots even when there's no snow or clouds. Around here all you need is a camera and the physical capacity to click the shutter button. Mother Nature takes care of the rest.
My overshoes leave gargantuan footprints — makes it look like Frankenstein's monster's been hiking up here.
Snow frames the rocks on this hillside getting close to the Monument Peak summit.
Monument Peak summit is up in this general direction. You know you're almost there by the large, ugly TV transmission station and tower not far from here.
This is looking back toward the Monument Peak tower as I head toward Mission Peak. It's after 11 a.m. by now and this is just about the last of the snow I"ll see on the trail. Which is a drag because it's really muddy under that snow and really easy to hike on top of it.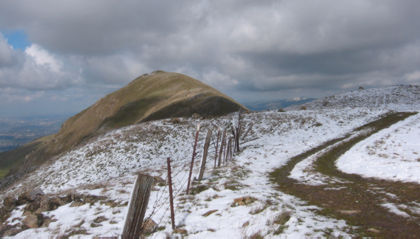 Mission Peak in the distance. It was snowcapped in the morning but by now the sun has melted it all away.
An unexpected, cool shot of clouds reflecting on the waters of the San Francisco Bay.
A bunch of hikers at Mission Peak summit. An oddity of the existing light and my camera's automatic settings caused them to appear in silhouette.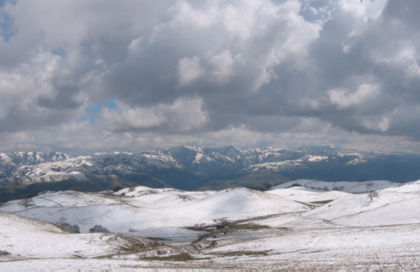 A coating of snow makes the peaks in the distance look positively alpine. But the clouds make it an interesting photograph.
The hike back from Mission Peak was mostly through muddy trails, but there was one last snowy stretch on the road up to the Monument Peak summit. Only one set of footprints appeared in the snow when I got there, which was refreshing to know that a) somebody as crazy as me had already done this, and b) such bouts of lunacy are rare in this region.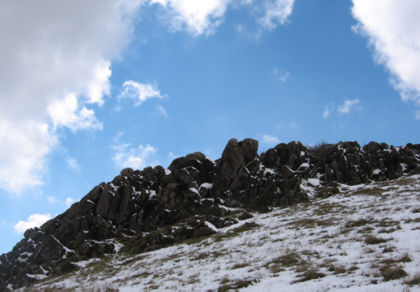 Clouds frame the mysterious rock pile at Monument Peak summit.
My camera's batteries died not far from here, which was just as well. The snow was melting, the trails were getting muckier, I saw only one cow in an interesting pose. Good place to call it a day, except that I had another four miles to hike. At least it was all downhill.