Seems like it's rained every day for the last three weeks. I was so fed up with hiking in the mud that I skipped my morning hikes all week, so I was ready for some trail time this weekend. Mike and Kathy's hiking club had the Pinnacles National Monument penciled in for Sunday, and it turned out to be a day not to be missed. Sunny, breezy, the usual impossibly blue California sky.
The Monument site is a day-hiking park that tends to draw crowds. It's a great place to bring a group because there's so many people on the trails already. It's not like you're going to get much solitude. Nor would you need it. Forests, deserts, mountain ranges, they're all about the solitude but the Pinnacles is more like a geologic tourist attraction. The rocks are so big, and so strange, that people seem small and ordinary by comparison. So much so that having quite a few around is not really a big deal.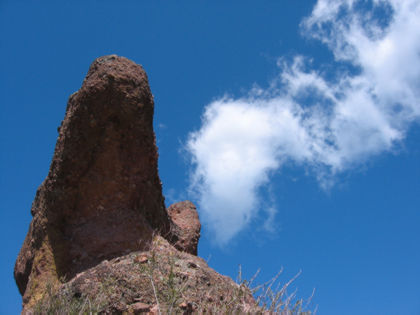 Wacky rock formations resulted from continental plates colliding and breaking up a massive volcano. More recently, wispy clouds cooperated nicely all day.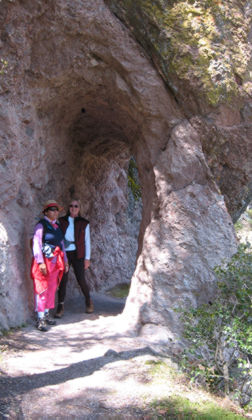 Chris and Riffi near the place where parks department personnel thoughtfully bored the trail right though the hillside.
Lots of color happening in these rocky parts of the trail.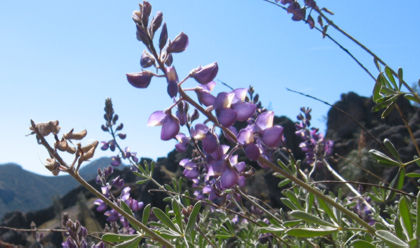 Wildflowers were sparse — it's been too cold and cloudy for them to bloom.
A bunch of buds are hoping for a few more warm afternoons. With all the rain we've had, the flowers will probably go nuts once it warms up for a couple weeks.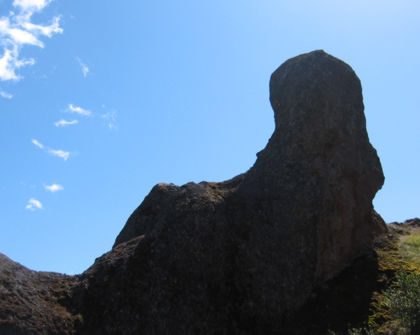 Looks like somebody left their Henry Moore sculpture lying around.
The section through here gets narrow, steep, rocky — interesting in an "if I fall I'm toast" kind of way.
Dave rises from the nap required to recover from the climb.
Wow, talk about your smokin' rocks.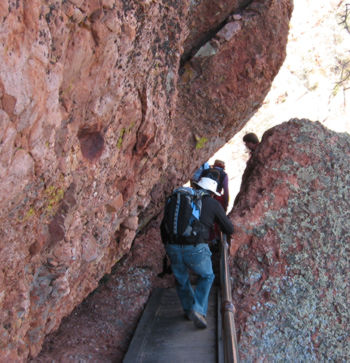 Bend over and waddle like a duck and you make it through this stretch just fine.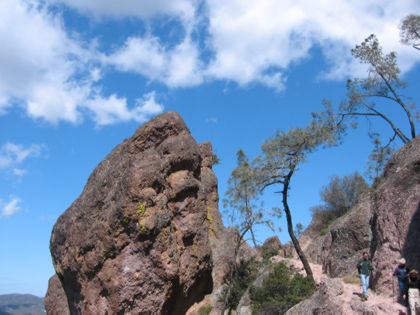 It's just one fine rock after another around here.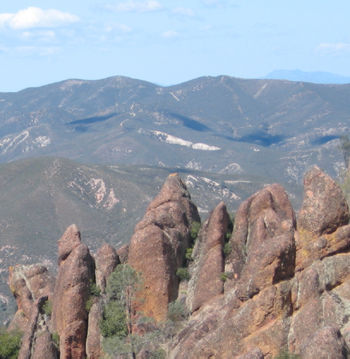 I don't know how these rocks got so vertical — guess I should've picked up one of the brochures and read it. Kinda takes the wonder out of it if you know too much about the underlying geology, though (I consider this a highly useful and convenient excuse for remaining ignorant).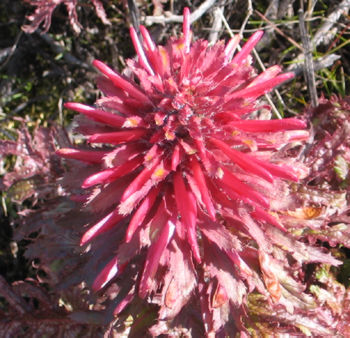 One more dash o' color.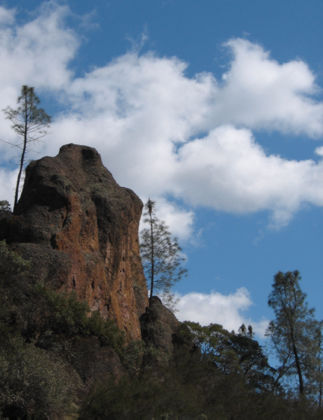 Did I mention what a beautiful day it was?
Another self-portrait, because I took one on last year's Pinnacles hike.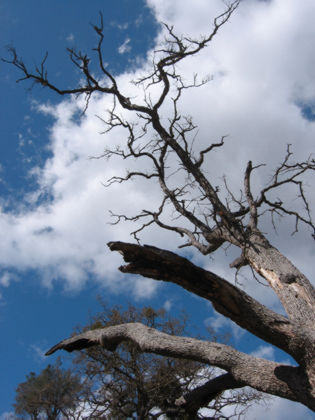 And now let us praise great snags.