The only thing easy about Henry Coe State Park is the decision to go there. Easy because you can camp out almost anywhere you want without reserving a campsite. The odds are heavily in your favor that you'll have much of the park's 55,000 acres to yourself. I hiked 26 miles across two days over the weekend and saw maybe a dozen people. Camped next to pond with nobody but me and some wild turkeys on the opposite bank.
The plan on Saturday was to hike up to a couple lakes about 10 miles into the park — Coit Lake on the north and Kelly Lake about a mile south of it.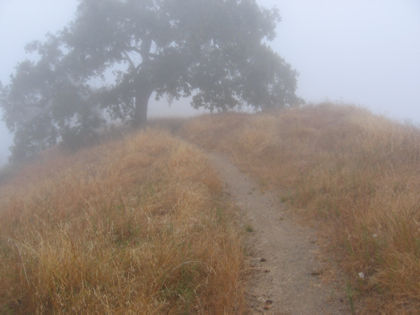 I started out about 8 a.m. in pea-soup fog from the park's Hunting Hollow entrance. Hunting Hollow is in a deep valley between steep ridges; only way to get out of it is up. Easiest way up is to hang a left on the Lyman-Wilson Trail about a three-quarters of a mile from the parking lot. As Coe hills go, it's not too bad. On a cool moist morning you might imagine that icy-cold Cokes are available in Hell.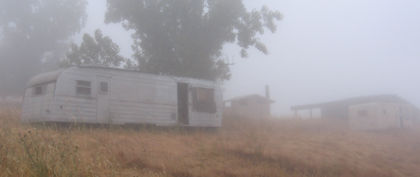 I made my way to a place called Wilson Camp. Nothing left of it but a couple old trailers and old cabins. The trailers looked like a good hard shove would turn 'em into a pile of kindling. The camp may have seen better days, but it's got a nice privy and a couple springs nearby.
Not far from here is a major trail junction, with one trail, called Wagon Road, heading due north in my intended direction, and another, Vasquez Road, heading northeast and then southeast. I hiked down what I thought was Wagon Road in thick fog and came to notice the strong Pacific breeze was hitting me on the right side of my face, which would be impossible as I was certain I was heading north. Finally I broke out my compass for the first time since last summer and sure enough, I was going south — on Vasquez Road. I got my map out, double-checked my route and started doubling back. Well, at least I hadn't walked even further.
On the way back it occurred to me that if you're fogged in and can't see nearby landmarks — ridges, waterways, mountain peaks, etc. — you're essentially flying on instruments. Which means if you have instruments — map and compass — you have to actually use them; otherwise you might as well be hiking blindfolded.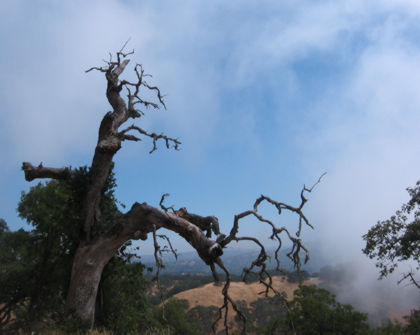 Foggy summer mornings are heaven for shutterbugs because we know all the cool cloud formations will show up when the fog burns off.
A representative shot of the Wagon Road trail. It follows a ridge for miles and miles, offering wonderful views of the sprawling, rough terrain. It's hilly but mild by Coe standards.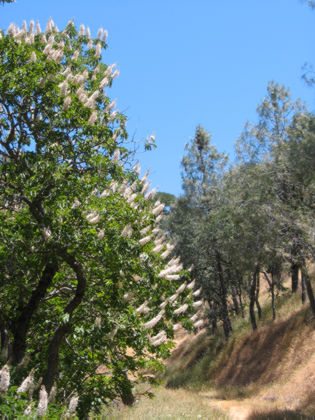 White cones of blooms from a tree along the trail.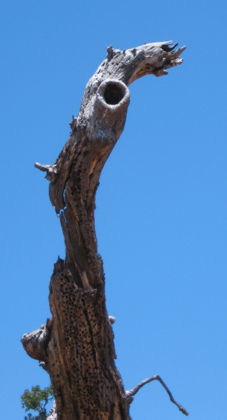 My favorite snag of the day.
Even the occasional crag decorates the ridge line.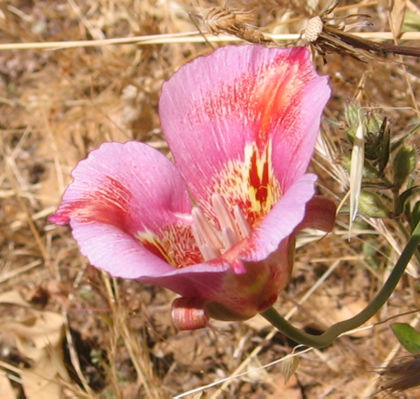 Good weekend for mariposa lilies. Saw a whole bunch of 'em.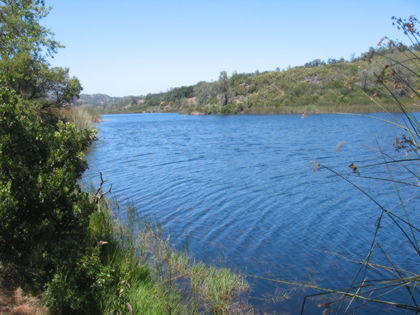 OK, Coit Lake at long last. Three guys were camped on the opposite shore and were floating around the lake in inflatable tubes. This seemed to me to be a violation of a fundamental rule of nature: floating without beer. Unthinkable. (Hauling beer for 10 miles over these hills would have one benefit: you'd never live to experience the hangover.)
I ended up camping next to a pond down the road from Coit Lake. Almost Waldenesque except for my outbursts of profanity when a certain tent pole refused to do as it was told.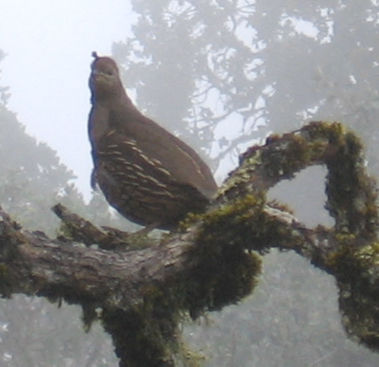 Look, Ma, a Quail!
And a bunny!
And a Deere!
So Sunday morning is much like Saturday: more pea soup. Kelly Lake is back there beyond those old trees.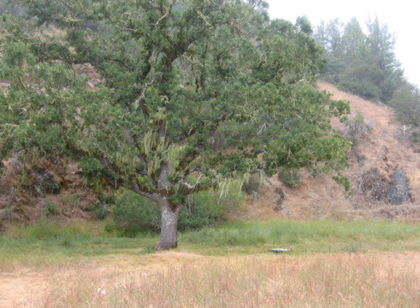 Happened across this really nice campsite not far from Kelly Lake. I'll camp there the next time I'm out here. Coit Lake is bigger but Kelly is prettier.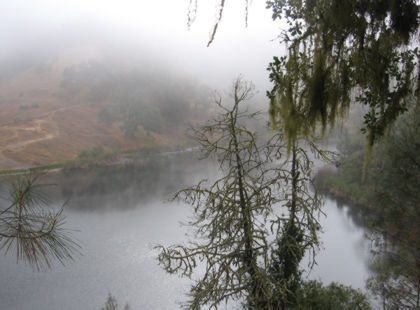 The trail up from Kelly Lake is mucho steep. Actually, of all the hiking I did over two days, this was the only really nasty stretch, and it doesn't last long, a mile at most.
More fog-burning-off scenery.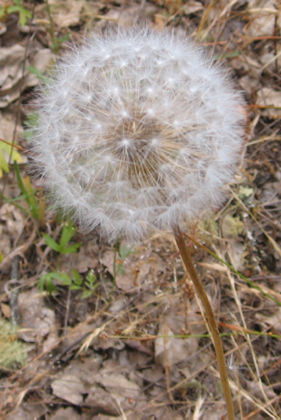 Lots o' dandelions going to seed around the park this weekend.
I headed down the Grizzly Gulch Trail, which is one of the prettiest ones I've seen at Coe. It's a little-used trail, grown over in some places, but it tracks down a gorgeous valley full of trees, wildflowers, streams, occasional rock formations. You could probably camp out here for a week and never see anybody.
But you might see the bobcat. I came up over a rise in the trail and saw the tawny, bobtailed feline leap across the trail into the underbrush. There and gone in one second flat. Couldn't have been more than 20 yards away — my best bobcat sighting to date.
Deer carcass picked clean by buzzards and others carrion eaters (no wisecracks about members of Congress, OK?). I doubt it's a mountain lion kill, mainly because I don't think a lion would leave it out in the middle of a rail.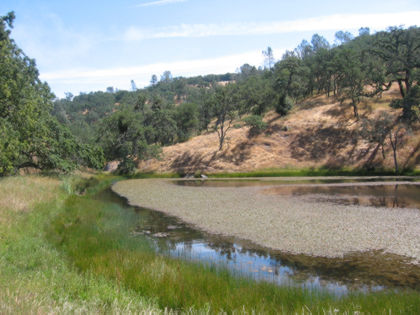 One of a couple nice ponds along the Grizzly Gulch Trail.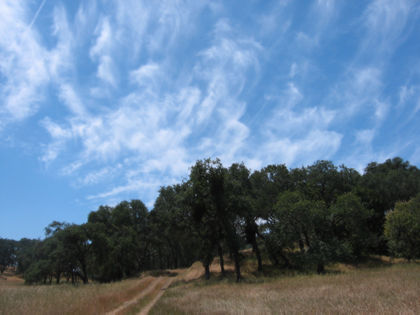 More clouds painting cool pictures.
And if they're framed by a dead tree, all the better.
So which do you like better, pictures of bucolic countryside….
… or pictures of bucolic countryside with dead-tree branches cleverly inserted into them?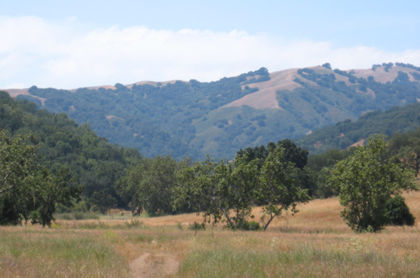 This is the broad meadow looking toward the Hunting Hollow entrance to the park. After 14 miles, I was happy to see any hill I didn't have to climb. (My feet were even happier.)