So it was back to the Carr Lake Trailhead at Tahoe National Forest this weekend for a fun three miles to Penner Lake. Scenery was fabulous, especially for whetting one's appetite for the jaw-dropping vistas of the High Sierra. We weren't all that high — under 7,000 feet the whole way — but the air was thin enough to give the heart a workout on mild hills. I went with a group who call themselves Nor-Cal Hikers. I've been posting to their online forum for the past few months, so I had to show up for an actual hike so they'd know I was a real person and not somebody's 9-year-old son posing as a balding, 40something white guy who has a bad hiking habit.
Feely Lake is the second lake along the way, after Carr Lake. There were many more along the way, each brimming with cold, clear snowmelt.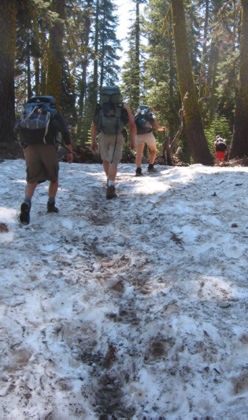 Biggest patch of snow along the trail. It's just slippery enough to remind you you're walking on little ice crystals.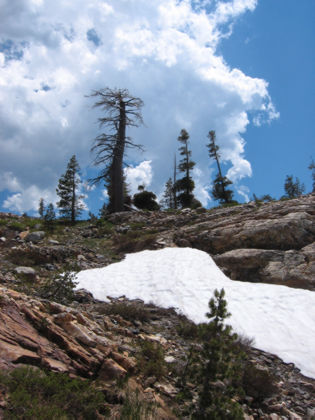 The afternoon was sunny and hot — toasty enough to create billowing clouds that would evolve into thundershowers before the day was out.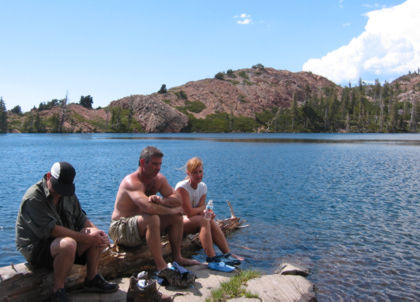 Three of my fellow campers at Penner Lake. From right, Theresa, who organized the hike; her husband, Dale; and Cary, who obeyed the law which states that guys within inches of a shoreline on a Saturday afternoon must wet a line in a quest to snag scaly creatures from the lake's depths.
He did hook one brook trout and cook it up for dinner.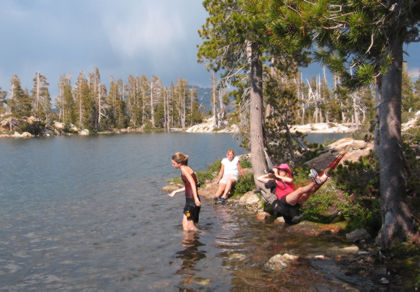 The hardiest campers proved their mettle by taking dips in the freezing water. Paige kicks back in the hammock while her daughter Taylor tests the waters. I left my mettle at home.
Storm clouds build over the ridge beyond our camp site. Along about this time I realized the folly of leaving my tent's rain fly at home. I knew it would rain for sure if I left my tent set up and my gear unprotected, so took it down, stuffed everything back in my pack and covered it with my tent's ground sheet. I figured preparing for rain created excellent karma against rain actually happening; I was only slightly wrong — we got about 10 minutes of rain in big, splashy drops. My sense is some other campers beyond that ridge got a good soaking.
After dinner we attended to dessert for grownups: margarita snow-cones!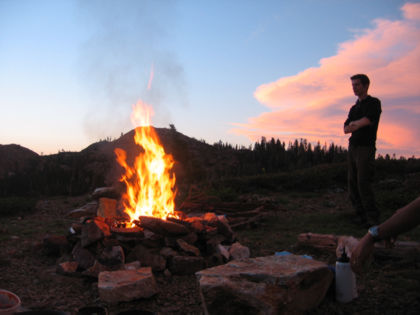 Chuck admires the campfire.
Sunset puts on an admirable show of its own.
I took this shot without a tripod, just resting my camera on my knee. Good thing tequila is such a natural born muscle relaxant, otherwise I probably couldn't have held the camera steady enough.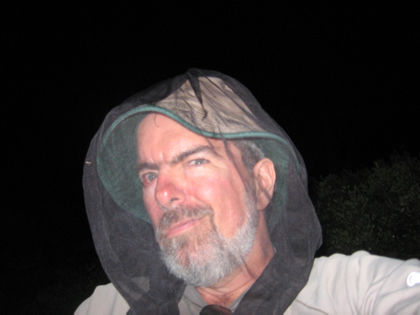 Self-portrait. That's my snazzy new hat with built-in bug net. Many a skeeter buzzed around my head in abject frustration.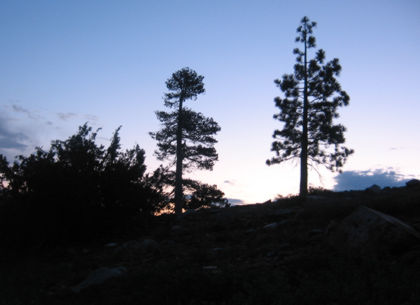 Predawn, Sunday morning. Last night's sunset was a warmup for an excellent sunrise.
I love it when my camera bolsters the delusion that I might know what I'm doing.
Alpen glow on the hillside beyond Penner Lack. I was fiddling around tying my shoes or something and looked up for a second and realized this picture had to be taken. A few minutes later a cloud blocked the sun and the glow faded away.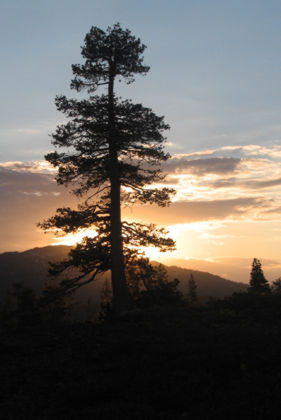 OK, one last sunrise pic and I'll give it a rest.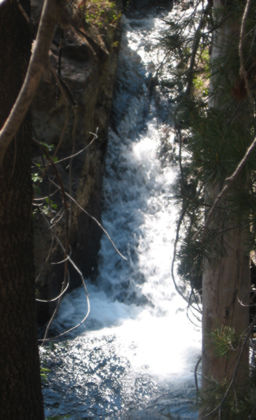 I got myself (and fellow camper Karen) lost looking for this water fall, but we got ourselves found without too much trouble.
A fine, stately dead pine tree.
A few observations about this hike:
It can get crowded early in the summer. We were told that 21 Boy Scouts were camped across the lake from us, which caused a fair amount of consternation early in the day, considering how noisy boys are at that age. After several margarita snow-cones we were yucking it up in such volume that we were half expecting the Scouts to come over and ask us to pipe down.
The trails are not especially well marked: don't come out here without a map and a compass, minimum; all the better if you've got a GPS unit.
It's quite not the High Sierra, but afternoon storms can happen just like in the high country. If you see big clouds building in the distance, get ready for a downpour. Don't be a dunce like me and assume it won't rain because the rainy season's over elsewhere in California.
There are lots of places to camp near a place called Island Lake, which is only about a mile from the trailhead. Perfect excuse load up your pack with extra fun stuff (by which I mean, booze).
This is a great place to hike, camp, fish or walk your dog. It doesn't quite share the jaw-dropping splendor of the ragged peaks you see elsewhere in the Sierra, but it's plenty nice enough to cause unexpected urges to run away and live in the woods.
UPDATE: Expedition leader Theresa's pictures are here.