I've been fixin' to get ready to hike at Almaden Quicksilver County Park for months now. The park in the hills southwest of San Jose is not spectacular — no towering redwoods or fascinating rock formations — but it does have a lot going for it as long as you don't insist on being wowed:
33 miles of hiking trails — some covered, some exposed.
Decaying remnants of an old mercury mining community that thrived during the Gold Rush.
Hills that are merely challenging rather than insufferable.
Two words dear to any urban-area hiker: Free Parking!
Small crowds. I hiked for six hours without seeing more than a dozen hikers and maybe a half-dozen mountain-bikers.
Actually there's not a lot I can say about the park that hasn't already been said at this comprehensive Web site. And for lots of arty pictures by a guy who's put in untold miles on the park's trails, check out Dan Mitchell's Quicksilver page.
I started out early Sunday at the park's Hacienda entrance on the southeast side. It was sunny enough to be a scorcher but a strong Pacific breeze kept everything tolerable.
Yeah, the ol' rising-sun-behind-the-tree trick is useful as ever. One thing about Almaden Quicksilver, it has lots of interesting trees, though most of them are very much alive, which frustrates my craving for cool dead ones.
Like most of the parks around here, you start out in the valleys and hike up into the hills. The tallest elevation I saw on the map topped out at around 1700 feet, which means few climbs of more than a thousand feet. Generally when you're just about fed up with one of the hills here, it'll top out, unlike, say, Henry Coe State Park, where the hills continue upward for another mile beyond your fed-up point.
I headed up Mine Hill Road, the main thoroughfare through the park, for about a half-mile and turned left at the trail to English Camp, where about a thousand UK natives lived in a tidy little mining community till the mercury was gone, and then they were gone too.
This falling-down shack is about all that's left of English Camp. If you had only a couple hours to kill, the hike up to this point might be a nice little jaunt.
Hardy yellow wildflowers hold up well under the summer sun.
An old chimney atop Church Hill.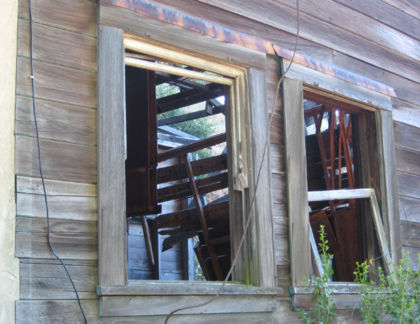 Down the trail a bit, another old building has seen better days.
Yeah, I did find one dead tree.
Along about this time — the first hour of a six-hour trek — my camera's low-battery indicator started flashing. I knew I had forgotten something yesterday. Actually I wasn't too heartbroken — the terrain here was pretty much the same as all the other South Bay parks that aren't named after Coast Redwoods. And besides, I knew that Dan Mitchell had all those cool pictures on his Web site already, so I was content to soak up the sights without getting all shutterbuggy.
From English Camp I made my way back to Mine Hill Road and headed downhill for a few miles to a turnoff at Randol Trail, which headed back in the general direction of where I came from. I could've stayed on Randol but I took a flier at the Prospect #3 trail junction, hanging a left down a steep, grassy hillside. Next junction is the New Almaden Trail, which for my money was the nicest section of the park. It's all single-track, mostly shaded, with mild up-and-downs and multiple dry-streambed crossings. The trailhead is at the park's Mockingbird Hill entrance, which might be good place to launch a cool out-and-back hike on a hot summer day.
By the time I hit the Mockingbird Hill trailhead I'd come eight miles and wasn't really interested in seeing how far up the hill I could climb. I fantasized that perhaps there was a trail curving around the hill and coming out near where I started, and there was a trail on the map that looked as if it might fit the bill. The trail is named after one Virl Norton, who was either a practical joker, a miner exposed to to much Mercury, or both. The trail starts out flat from the trailhead and meanders along the park boundary, at some places so close to the encroaching suburbs that you can see right into a few people's back yards. Alas, no nude sunbathers to report (what's California coming to?), but I can report that this trail, the one I took to avoid another trail going straight up a hillside, started going straight up a hillside of its own.
But as I noted earlier, the hills here are not hellish, merely difficult in the steep parts. In any case I was almost done, with only a couple more downhill miles to get back where I started.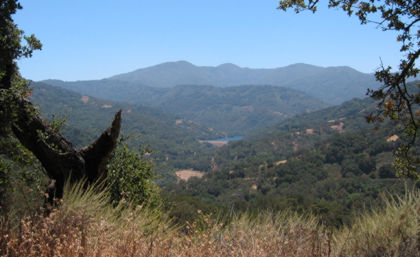 This stop along the Hacienda Trail looks out over much of the park; that blue spot in the middle is a reservoir on the park's northwest border, probably three miles as the buzzard flies from here; more than five miles of hiking from the Hacienda trailhead. So what about my camera's dying batteries? Seems they weren't in such bad shape after all; maybe they just needed a few hours to warm up.
So that's a quick look at Almaden Quicksilver Park. Perhaps not a hiker's paradise but a good way to enjoy a day in the country (vs., like, a round of golf, which is the perfect way to ruin one.)