"Lift your feet higher," the voice behind me says.
"Lean back a little, balance your weight, and relax."
For the first time in two years of hiking, I have a coach. His name is Shiguo, which sounds a lot like "Seagull," which is the English name he has adopted for himself. He's in the United States for six months, studying management techniques at San Jose State University. He has hiked high peaks in his home province of Yunnan, in southwestern China, which is near Tibet. He found this Web site a couple weeks back and sent me an e-mail explaining that he loved to hike but had no means of transportation to the many trails in the hills around San Jose.
I reasoned that a guy who has seen majestic, towering Himalayan peaks might not be so impressed by the small hills of the Bay Area, so I took him to see some majestic, towering trees at the one place which has vast quantities of them: Big Basin Redwoods State Park. The big trees at Big Basin are not merely astounding to look upon; they are immensely friendly to hikers: they block rain in the winter and sun in the summer. Saturday's high temperature in San Jose was north of 100 degrees, but Big Basin was merely uncomfortable rather than intolerable.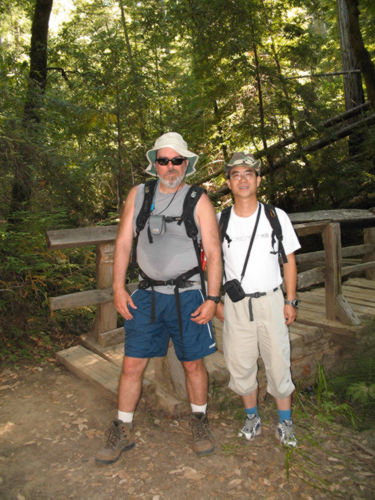 Seagull and Your Host at a popular rest stop a couple miles up the trail. We took the Sunset Trail to the waterfalls about five miles into the park. He politely broke a mild sweat so that I would not have to perspire alone.
The trees, as always, are amazing.
Seagull near the Golden Cascade, the first of the three falls.
Water pours from one layer of the creek down to the next.
Silver Falls is a sight to behold, as always.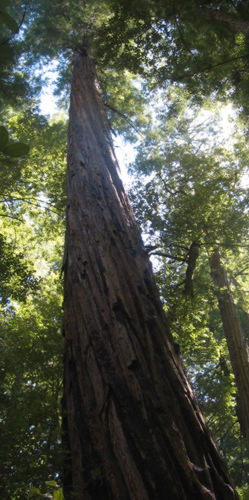 I love the way the trunks twist on some of the mighty redwoods.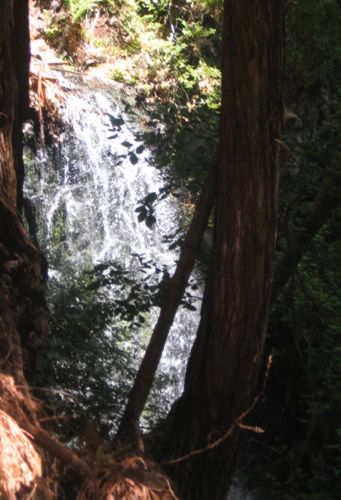 Berry Creek Falls appears behind some trees.
The top of Berry Creek Falls is unfailingly photogenic.
The fallen trees in the park offer a perspective on how tall they are. Which is to say, really, really tall.
Moral of today's story: take your visitors to Big Basin first. The only downside could be the possibility that the rest of the Bay Area's trails don't quite measure up in comparison.
I'm guessing Seagull will want to go on further hikes while he's in town. Which means I'll be working on lifting my feet and perfecting my hiking posture. One must always heed the advice of his coach.