This is the driest, sunniest autumn of the three I've spent trudging through the Bay Area hills. For three weeks running I've had perfect picture-taking weather and pleasant, breezy miles on the trails. I can't imagine how much mud I'll be scraping off everything this winter when karma repays this good fortune, but I'll ford that creek when I get there.
This weeks travels took me to Pleasanton Ridge Regional Park, a 4,000-plus acre expanse just west of Interstate 680. What sane hikers do at Pleasanton Ridge is climb about a mile and a half up to the ridge, soak up the views of the surrounding landscape, and head back down the hill. It's a nice, tidy little three-miler that's probably scenic as all get-out when the spring wildflowers are in bloom. Not being in the possession of even a pebble of sanity, I tend to figure it's hardly worth the trouble of getting into my high-tech outdoor apparel and warming up the Hiker Hauler for less than 10 miles. I ended up hiking around 14 miles in seven hours with only one wrong turn; my feet are making their resentment known (current complaint "you won't even TRY walking on your hands … they train apes to do it, so what's your excuse?") but otherwise it was a satisfying day in the California sun.
Enough rambling, let's check out the pix.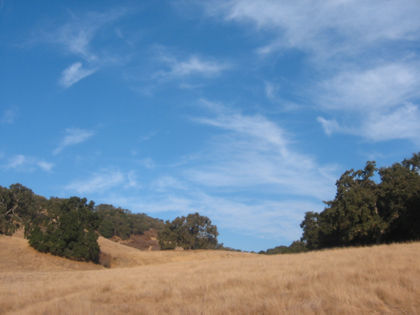 We have hills just like this in our neighborhood. Except that they've been turned the color of toast by last week's grassfire. Every time I felt a good breeze I took a hard whiff through the nostrils to check for the smell of smoke. No fires to report, thankfully.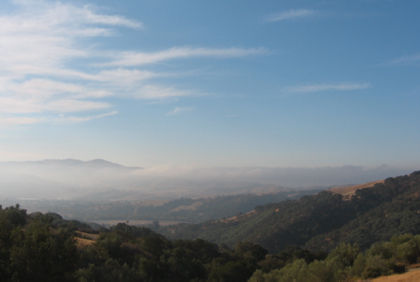 Expansive views of the nearby terrain open up after a mile and a half of climbing up to the ridge. That hill over to the left is Mission Peak.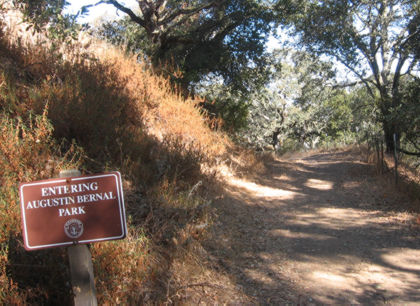 Ridgeline Trail is the main thoroughfare through the park. If you head north it takes you through Augustin Bernal Park for a mile or so, then it returns to the Pleasanton Ridge property. The map at the trialhead shows only Ridgeline passing through Bernal Park, but the park has other trails so you have to be careful about your turns — you could end up on one that takes you a mile in the wrong direction before you discover a sign informing you you're on the wrong trail. Of course you could have a lick of sense and a scrap of trail memory and avoid all this, because you are not me, the thirteenth cousin (twice removed) of Wrong-Way Corrigan.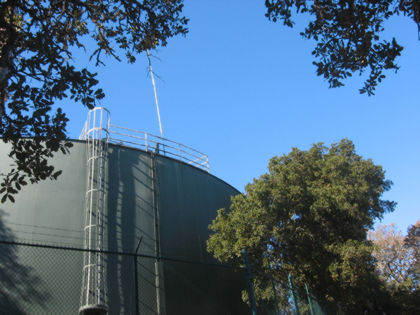 Yeah, it's a big, obnoxious water tank, which I'm posting to salute the many water stops — with working running water — throughout Pleasanton Ridge. At most places around here you're lucky if there's a spigot at the trailhead and you end up hauling a lot of water if your hike's got a lot of miles in it.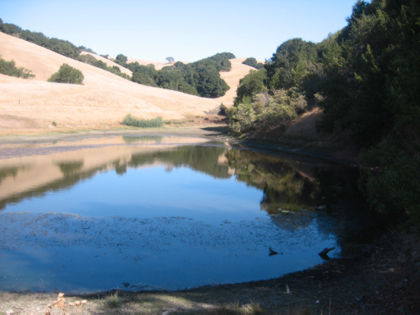 I hiked about six miles out to my turn-back point at Turtle Pond. Once you get this deep into the park you'll be lucky if you see anybody. I saw one guy and his dog and another guy on a mountain bike, and that was it. The roar of the Interstate is a constant companion for the first few miles but out this way there's nothing to hear but the breeze, the birds and the rare jumbo jet on final approach. It's a shame they don't allow camping out this way; it feels like a perfect locale.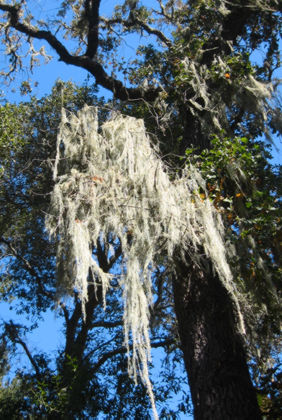 The return route is along a creekbed with much moss hanging from the trees overhead. This part is mostly shaded and should be wonderful in early spring when fresh rains are running in the creek (the gentle sound of splashing water will take your mind off the mud caked on your boots).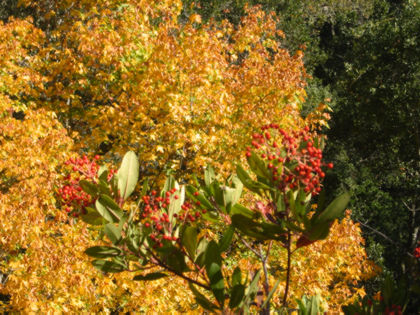 Woo-Hoo, more fall color!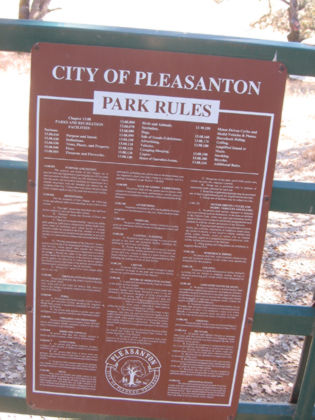 So, do you suppose the city of Pleasanton is just the slightest bit anal about its parkland regulations? Looks like all of its ordinances are spelled out right here on the fence. Oh, by the way: this is the reentry point to Bernal Park, which you have to pass through again on the way back to the Pleasanton Ridge trailhead. If you veer off to the left here you'll end up going downhill for a mile or so till you realize you're northing when you want to be southing.
Ewwww, civilization! As I took this picture I was wondering why I didn't see this view on the way in. But it was pretty and it was downhill so I kept deluding myself that something familiar would turn up pretty soon. Didn't happen.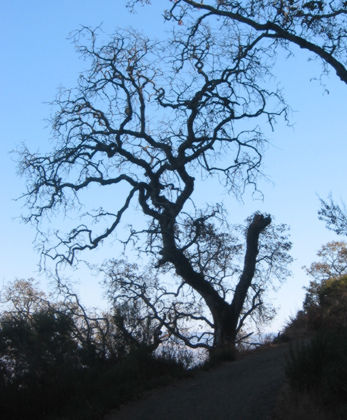 The one reward for the miserable hike back up the hill was seeing this dead tree with perfect backlighting.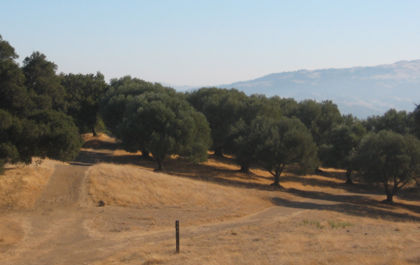 Speaking of trees, one of the coolest things about Pleasanton Ridge is this grove of olive trees, which have been up here for a century. The park brochure says there's no historical record of who planted them. And after all these years, they're still bearing fruit (yeah, I checked, but I had no gin, vermouth or crushed ice so there wasn't much need for an olive.)
From a scenery standpoint, Pleasanton Ridge rates as pretty good, but not great. Sunol Wilderness, which is just down the road a few miles, has much more scenic splendor. Also, the trails here are mostly old ranch roads that tend to attract a lot of mountain bikers, so you have to dodge them now and again. It would be nice to live nearby, though, because it'd be a great place to get in a morning workout — just enough hills to get your heart rate up, but not punishingly high or steep like some of the Bay Area parks. Coupled with the abundance of fresh drinking water is ample free parking, which is mucho rare around here. And once you get to the far reaches of the park, you'll have all the peace and quiet you can stand.