When last we encountered Seagull, my Chinese hiking friend, the two of us traveled to Point Reyes to gaze upon elk and the Pacific Ocean. Since then Seagull came upon a Chinese-American outdoors club based in San Francisco that took him along on treks to the top of the Half Dome at Yosemite and the Mount Whitney summit via the Mountaineers Route. (Whitney is the highest place in the Lower 48; it has a main trail to the top and the more challenging Mountaineers Route for those need more adventure in their lives).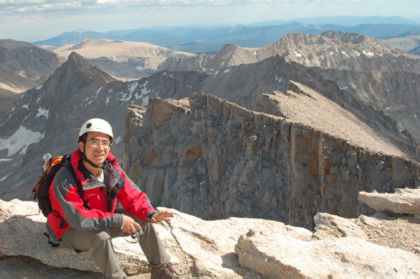 Here he is on the way to the Whitney summit.
Seagull (who's Chinese given name is Shiguo — which is pronounced much like "seagull") is about to wrap up his work in San Jose in the next few days, after which he'll be on his way back to his wife and family in Mainland China. We got together for one more hike, and we took along a couple of his friends who are also visiting the United States.
We went to Castle Rock State Park, which has a fairly easy six-mile loop through pretty forests and expansive overlooks of the Santa Cruz Mountains. It also has excellent rocks that have been eroded in strange ways over the course of thousands of seasons of rainy winters and dry summers.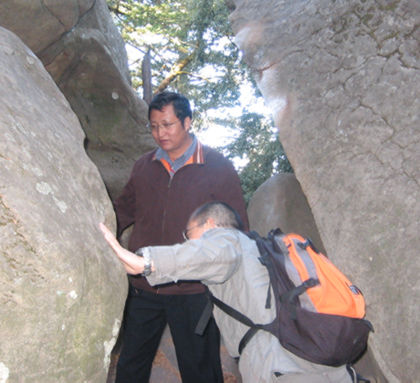 The centerpiece of the park is Castle Rock, a giant hunk of sandstone jutting up out of a hilltop. The rock has a zillion little nooks and crannies caused by the acidity in rainwater seeping into cracks and eroding the rock's interior until gravity causes hunks of rock to fall off. Above, Seagull and and Pingcuowangdui, who is here from Tibet, check out one of the many natural caverns formed at Castle Rock. As Seagull explained it to me, his friend call him either Pingcuo or wangdui, as Tibetans have only one name.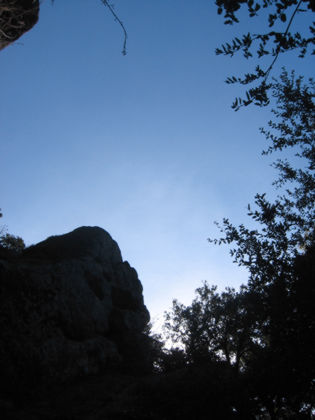 Castle Rock with the morning sun rising behind it.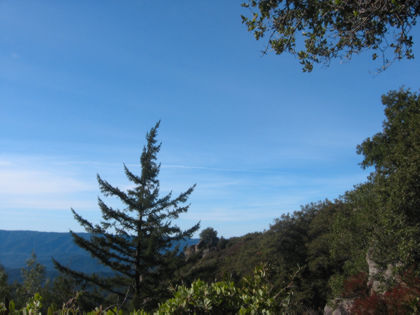 Trees and sky along the Ridge Trail, on the way to Goat Rock.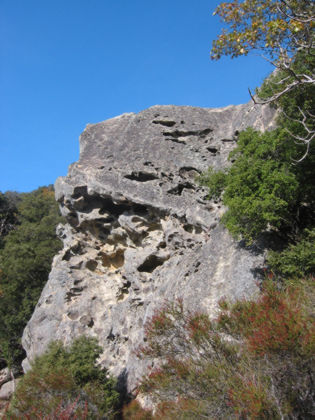 Goat Rock, a prime destination for local rock climbers to practice their moves.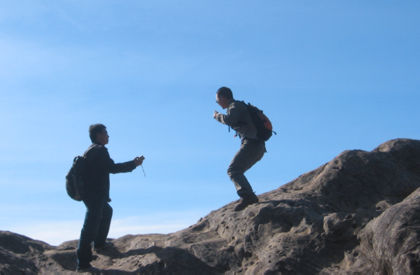 Seagull and his friend Henry at the top of Goat Rock.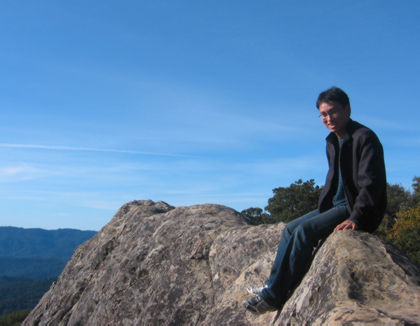 Henry approves of the view.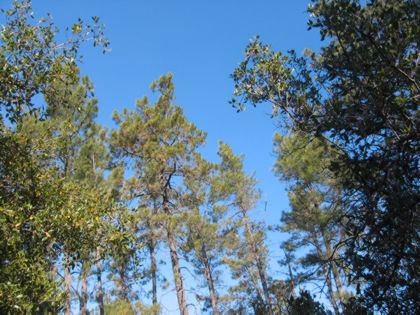 Nice trees, eh?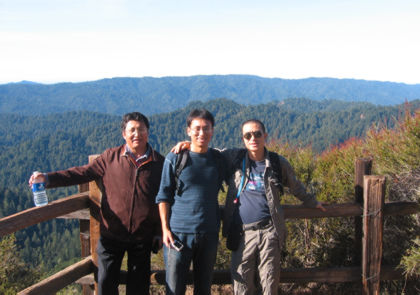 Pingcuo, Henry and Seagull along the Saratoga Gap Trail. Pingcuo serenaded us with Tibetan folk songs near here.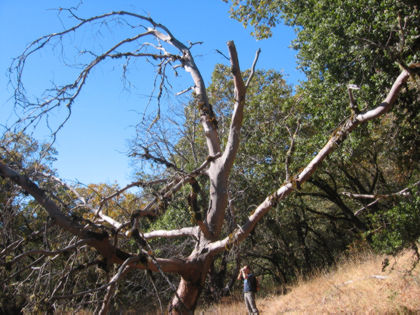 Another cool tree along the Saratoga Gap Trail.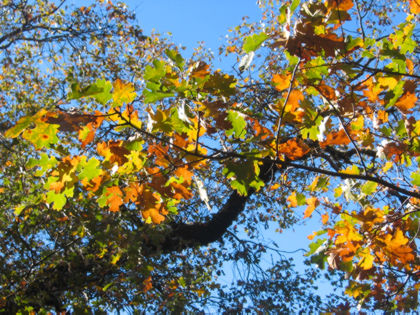 The colors of autumn are hanging in there.
So those are the highlights. Best of luck to Seagull, Henry and Ping in their globe-trotting adventures.