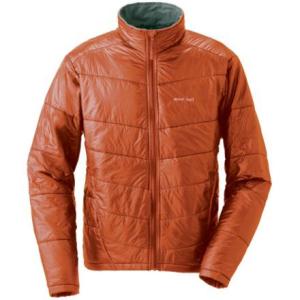 Last winter I picked up a Montbell ThermaWrap jacket mostly because it was on sale, but it's turned out to be something I wear almost every day during the cool, rainy months.
It's not toast-your-innards warm and it's not defy-a-downpour watertight, but it is super light, easily packable and rather snazzy-looking, if I do say so. It kept me dry in a steady rain on a walk across the parking lot at work the other night. The ranger at Henry Coe State Park actually made admiring remarks about it when I showed up for hike on a nippy February morning last year (it's always cool to have stuff that incites the professional outdoorspeople's gear lust).
I don't finish a lot of hikes in this jacket but I do start a lot, particularly if the temperature's in the low 40s or below. I just hike till I feel the sweat buildup, then unwrap and stuff it in my pack. The insulation is synthetic so there's no harm in it getting a little moist.
The fit's a bit snug for me: I ordered a medium, though I'm actually halfway between a medium and a large, but I can use it as a gauge to tell me when the ol' spare tire's getting too well inflated.
Nice thing about having this jacket along on a day hike in the Bay Area: it's an insulating layer for the part of the body that needs to be kept warm if I get stuck spending a night in the woods. Can't say how much use it'd be in really cold weather: it's very thin so there's not much loft.
But for around here, it's great.