It's supposed to be in the 90s or worse in the South Bay this weekend. Finding some Redwoods is an obvious choice: a few summers back I hiked at Big Basin with a Chinese gent and we found it north of 100 when we got back to San Jose. It was steamy in the tall trees, for sure, but nothing like that.
Here's a pic from that adventure: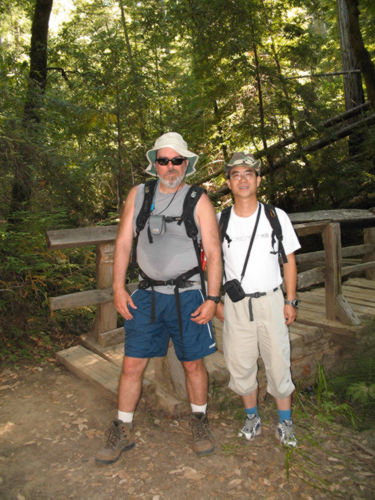 One of my favorite oft-told tales is of camping at Mount Madonna County Park on a Fourth of July weekend when it was blistering in town and knee-chattering cold at the park, whose campgrounds lie almost exactly at the border of the Pacific Ocean marine layer. Hiking should be pretty cool there if you stay on in the redwood forest near the top of the hill. Otherwise, though, it's apt to be steaming.
Another great South Bay option: Uvas Canyon County Park. The waterfalls run at least a little bit all summer and the tree cover is thick pretty much everywhere.
Hikes near the coast are always an option. Wilder Ranch is high on my list of places to revisit soon. You really can't go wrong at Angel Island, either.
Of course anytime's a good one to check out Tomales Point at Point Reyes — it's a little early for the Elk rut but weather won't be much of an issue (trails might be a tad crowded, though).
How about the rest of y'all? Is it worth fighting the mosquitoes and traffic to drive up to the Sierra to get some trail miles in?
Related: Five great hikes for Bay Area travelers.