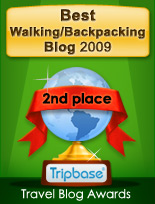 Tripbase.com is drumming up free publicity from link-hungry bloggers spreading the word about its series of awards for notable travel-related blogs. Two-Heel Drive ranks No. 2 in the walking-backpacking category, bested only by a guy attempting 36,000 miles, 4 continents, 25 countries, crossing a frozen sea, 6 deserts, 7 mountain ranges over 12 years.
I'm guessing a few more weekenders to the Sierra would not have pushed me over the top.

More good news: California is oversubscribed in the rankings. Gambolin' Man comes in at No. 4 and John Soares rates as a finalist (as does Rick of Best Hikes, who has covered far more cool California trails than I have.) Proof that it's not where you go, it's how you blog it: all these guys have got way, way more serious trail miles under their shoes.
But anyway: congrats to all who won a place in the rankings. Many quality blogs were left out of the rankings — particularly the lightweight backpacking blogs in the UK. And where is Modern Hiker, the king of L.A. hiking? (Who knows, you might bump into Kevin Bacon on one of his featured trails?)
These things are never fair, of course. But I'm not returning my Oscar, all the same.